Bourses d'étude : Belgique 2018 – The Hasselt University
---
Type de bourse
Bourse d'études Pays
Belgique Niveau d'études
Master Date début de candidature
25 nov. 2017 Date fin de candidature
01 mars 2018
---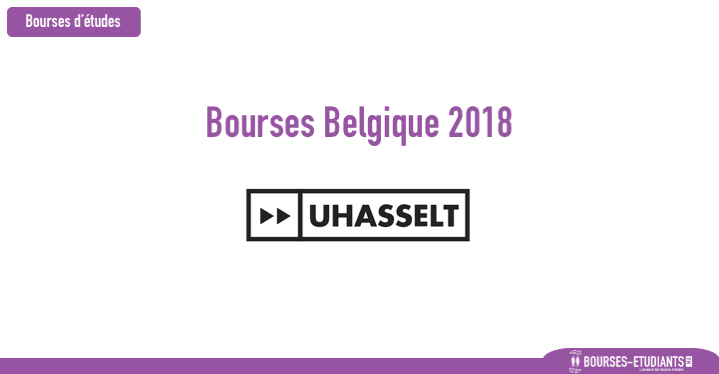 ---
Bourses d'étude : Belgique 2018 – The Hasselt University
Hasselt University
The Master of Transportation Sciences offers twelve students from developing countries a scholarship to obtain a master's degree in Transportation Sciences (specialization: Road Safety). Applications are now open.
The Hasselt University is a university with campuses in Hasselt and Diepenbeek, Belgium.
The Master of Transportation Sciences is happy to announce we now have a call for participants for the ICP programme 2018 "ROAD SAFETY IN LOW & MIDDLE INCOME COUNTRIES".
The International Course Programme (ICP) anually offers twelve students from developing countries a scholarship to obtain an MSc in Transportation Sciences (specialization: Road Safety). The programme takes two years and has a specific focus on road safety in developing countries. Prof. Dr Tom Brijs: "Developing countries face an increase of people participating in traffic, with all its consequences. The World Bank predicts that the number of road victims in Asia will double in the near future. That's why it is incredibly important to build local knowledge and expertise concerning road safety and to strengthen it."
Participants are expected to be proficient in English and to hold an academic bachelor degree in domains such as (transport or civil) engineering, (transport) economy, mathematical and statistical sciences, political and social sciences, psychology or sociology.
Eligibility criteria
With the International Course Programme, VLIR-UOS financially supports English master's programmes focussing on development-related themes. The scholarship sponsor has stipulated a number of eligibility criteria applicants must meet, e.g.:
The maximum age of applicants should be 35 on 1st January 2018
Only people from the below 31 countries are eligible for a scholarship

Africa: Benin, Burkina Faso, Burundi, DR Congo, Ethiopia, Guinea, Cameroon, Kenya, Madagascar, Mali, Morocco, Mozambique, Rwanda, Senegal, Tanzania, Uganda, Zimbabwe, South Africa, Niger
Asia: Cambodia, Philippines, Indonesia, Palestinian Territories, Vietnam
Latin America: Bolivia, Cuba, Ecuador, Guatemala, Haiti, Nicaragua, Peru
Click here to get a full overview of the eligibility criteria.
How to apply
APPLICATION DEADLINE: March 1, 2018
By March 1, 2018, we need to have a completed online application and hard copies of legalized degree certificates and academic transcripts by post. After March 1, 2018, all eligible applications will be reviewed and ranked. The top 12 applications will be selected for a scholarship.
Dossier de candidature
---
Informations de contact
---
Organismes proposant la bourse
Hasselt University's headquarters are in the Old Prison (Oude Gevangenis) on Hasselt Campus. This building on Martelarenlaan in Hasselt is the first place to go when you first enrol al the university and for all contacts with the student administr...