Bourses d'étude : Berlin 2019 – University of Applied Sciences Berlin
---
Type de bourse
Bourse d'études Pays
Allemagne Niveau d'études
Master Date début de candidature
01 août 2018 Date fin de candidature
30 sept. 2018
---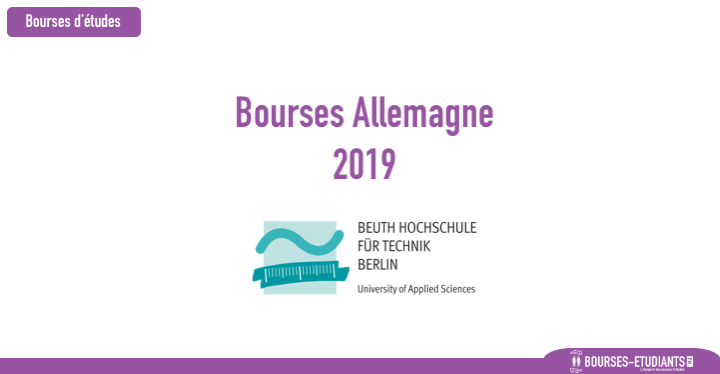 ---
Bourses d'étude : Berlin 2019 – University of Applied Sciences Berlin
Bourses Maroc
Berlin, Germany's capital, has a population of over 3.5 million citizens, making it the largest city in Germany as well as one of the ten largest metropolises in Europe. It is a multicultural city with some 425,000 foreigners from 184 countries and draws on a long cosmopolitan tradition.
Berlin is the most important academic centre in Germany with a large concentration of universities and research facilities. There are currently around 135,000 students enrolled at 15 universities.
HTW is Berlin's most recently founded and largest university of applied sciences. It has over 13,355 students in 70 degree programmes in the areas of business administration, economics and management, engineering, informatics and design.
The Master's in International and Development Economics (MIDE) is an 18-month, full-time programme in the Faculty of Economics. The course, which was first offered in 2003, begins in April each year at the start of the summer semester. It consists of two semesters with lectures and seminars of around 20 hours per week and a third semester dedicated principally to researching and writing a master's thesis.
Target group : The programme is designed for students from developing countries as well as for students from the EU and other developed countries who have a special interest in the economic challenges facing developing and transition countries.
Course language :  The programme is taught entirely in English.
Entry requirements :
Academic degree in Economics, Business Administration or a Social Science with at least 12 courses in Economics and Business Administration, thereof at least three in Economics. (The degree must be equivalent to a three-year Bachelor's degree or German "Diplom". To find out whether you
Applicants holding a three-year degree or equivalent should have a minimum of one year of professional experience. Applicants holding more than a three-year degree can be admitted with no professional experience. Applicants for a DAAD scholarship must have at least two years of professional experience.
Proof of English language skills: TOEFL (580 PBT, 237 CBT, 96 iBT), IELTS (Band 7.0) or equivalent. If English was the language of instruction at the previous university, please supply official proof. You are strongly advised to see the MIDE webpage for details regarding the admission requirements: http://mide.htw-berlin.de/.
Degree awarded : Master in International and Development Economics (Master of Arts)
Course begins : 1 April 2019 – Course duration : 18 months
Duration of German language course prior to beginning of programme : 2 months (for students awarded a DAAD scholarship)
Application deadline : 30 September 2018
Dossier de candidature
---
Informations de contact
---