Bourses d'étude : Bochum 2019 – The Ruhr-University Bochum
---
Type de bourse
Bourse d'études Pays
Allemagne Niveau d'études
Master Date début de candidature
01 août 2018 Date fin de candidature
30 sept. 2019
---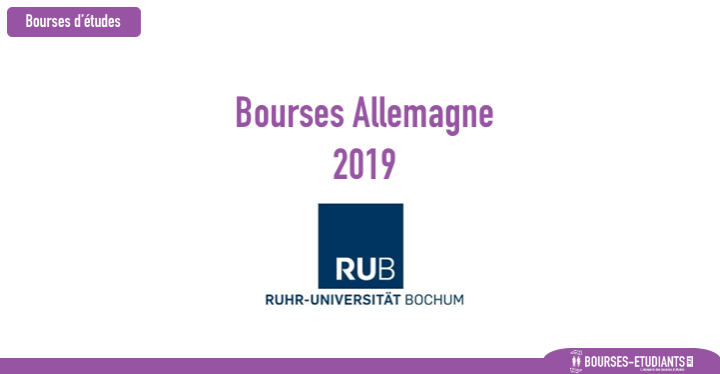 ---
Bourses d'étude : Bochum 2019 – The Ruhr-University Bochum
Bourses Maroc 2019
The Ruhr-University Bochum is located in the industrial heart of Germany. With more than 40,000 students (more than 3,000 of them international students) and a staff of 5,600, the Ruhr-University Bochum is one of the most diversified German universities. Various central facilities, such as the university library, and relaxation opportunities like the botanical gardens, are open to all students. Furthermore, the Ruhr area is one of the most culturally interesting regions in Europe, and numerous parks and green areas form a natural attraction.
The aim of the 18 month long MA in Development Management is the training of professionals to meet the increasing need for experts in programme and project management that has emerged in international development cooperation.
The course provides the student with the necessary tools to deal with practical problems of managing development programmes and projects. Elements of the curriculum are:
An introduction to relevant theories in social science and economics
Methods of empirical social research and project cycle management
The application of theoretical and methodological knowledge
During their first semester, students are given an interdisciplinary intro-duction to relevant theories and strategies of development. Students will learn about actors in international development cooperation and the role of institutions in development and will be faced with relevant case studies. In consultation with the course coordinator, students will select a research problem related to a development programme or project as the starting point for their MA thesis project. This project is preferably related to their home country. After the first semester, students can undertake a minimum two-month internship in Germany in a development organisation or a corporation in the private sector.
Building on the knowledge of relevant theories and tendencies in international development cooperation students acquired during the first semester, the second semester is taken up with learning about the variety of methods for programme and project planning, implementation, and evaluation. Students are required to apply their knowledge to case studies related to the programme or project chosen in the first semester and present the results in a seminar paper.
Target group: Young professionals from all over the world with a BA or relevant degree and practical experience with relevance to development management.
Course language English
Entry requirements ;
BA or relevant degree in political science, social science, law, economics, geography, or in other subjects related to the planning and evaluation of development programmes and projects
At least two years career experience in a relevant field; preference is given to candidates whose employers offer a reintegration guarantee
Minimum certified proficiency in written and spoken English: TOEFL (79-80 iBT equivalent to 213 CBT) or IELTS (Band 6.0)
Degree awarded : Master of Arts in Development Management
Course begins : September 2020
Application deadline: 30 September 2019 at the University for DAAD-EPOS applicants
For further information contact:
Institute of Development Research and Development Policy Ruhr-Universität Bochum
Dr. Tobias Thürer
Universitätsstr. 105
44789 Bochum
Germany
Phone: +49-(0)234-32-22 458/-22 418 Fax: +49-(0)234-32-14-294
Email: [email protected]
Website: www.development-research.org/
Dossier de candidature
---
Informations de contact
---