Bourses d'étude : Bourse Internationale – University of Durham 2019
---
Type de bourse
Bourse d'études Pays
Royaume Uni Niveau d'études
Doctorat Date début de candidature
23 janv. 2019 Date fin de candidature
31 mai 2019
---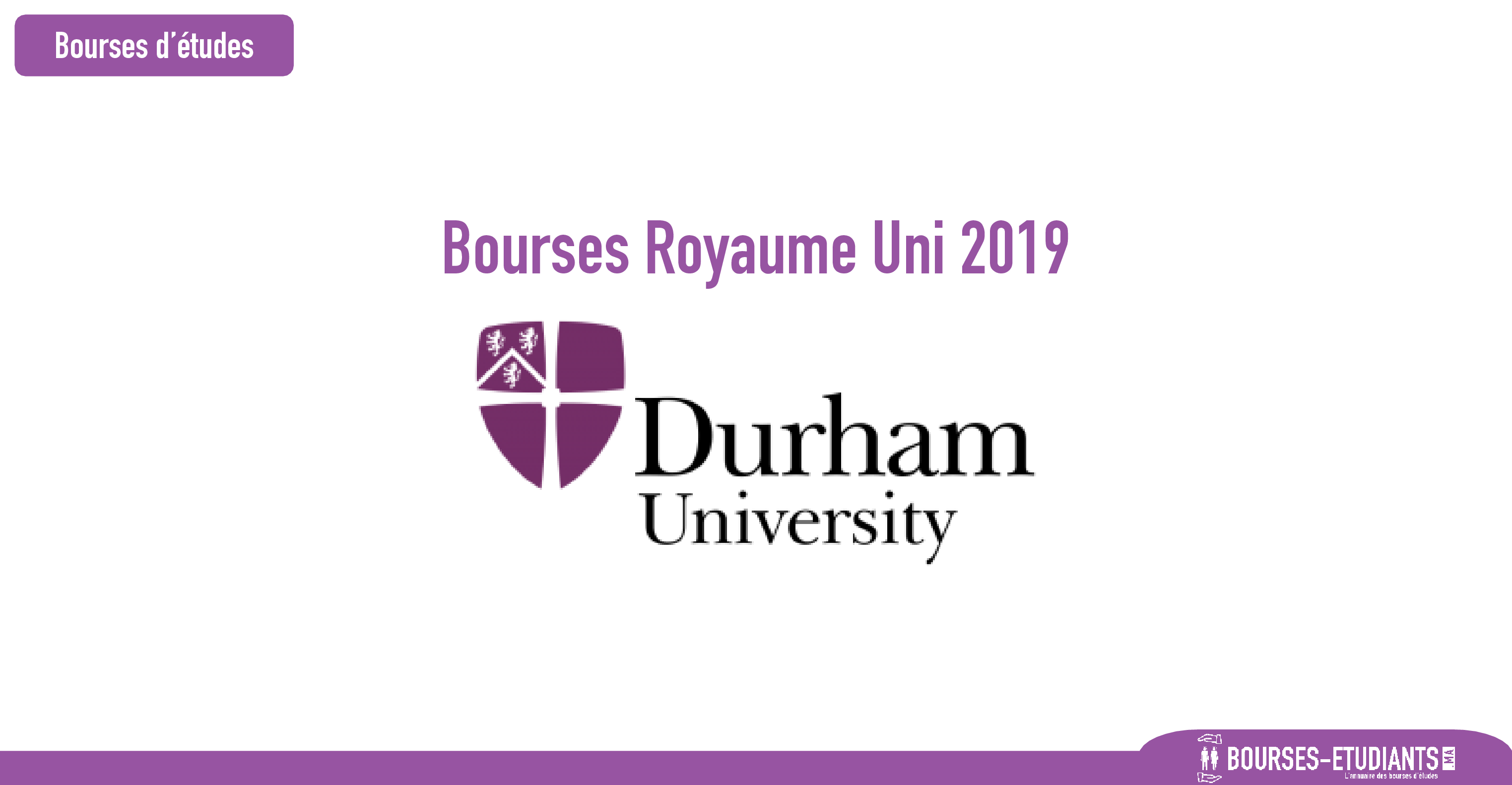 ---
Bourses d'étude : Bourse Internationale – University of Durham 2019
Durham University Business School is delighted to offer a comprehensive package of Scholarships that will celebrate and reward exceptional candidates applying to our Postgraduate Taught Programmes.
All applicants will be automatically considered for applicable scholarships; no separate scholarship application is necessary.
Applicants will be considered based upon:
Academic achievement
Work or voluntary experience relevant to the programme for which they have applied
Any additional skills, experience or extra-curricular activities that will add value and indicate that they will make a significant contribution to the cohort on the programme or the Business School.
All scholarships will be applied as a discount against the full fee for the programme.
Durham University Business School Master's International Scholarships :
Up to 30% of the tuition fee (up to £7,000*).
Number of International Scholarships available: 20+
Open to applicants for Master's Programmes (excluding Master's in Business Analytics).
* Actual amount will depend upon tuition fee status and programme applied for.
To be considered for one of the Durham University Business School Scholarships applicants must:
Complete the appropriate programme application process in full and have received a conditional offer for study by May 31st 2019
Be available to take up your programme place in the 2019/20 academic year
Be willing to participate and cooperate in public marketing activities which the School may organise for the scholarship winners
Be completely self-funding in order to be eligible for a scholarship. Where fees are paid by an employer, private provider or government body, applicants will not be considered for a scholarship
Scholarship fees cover the standard completion timescales of our programmes
Scholarships are not transferable and not deferrable. They are valid only for use by scholarship winners in the academic year for which the scholarship has been awarded. Applicants who choose to defer entry will be considered for available scholarships available in the year of entry. Acceptance of a scholarship before deferral does not guarantee a scholarship offer during the year of entry.
There is no cash alternative to be offered if a place on the programme is not taken up
Applicants awarded a Durham University Business School Scholarship, will not be eligible for any other Durham University awards or discounts such as alumni discounts
To secure the scholarship award applicants must confirm acceptance of the award by the date stated on the scholarship offer email. Failure to confirm acceptance of the scholarship by this date may result in the applicant's right to the scholarship being removed and the scholarship being awarded to another applicant.
The scholarship award will be deducted from your last tuition fee payment. However, if the scholarship award exceeds the amount owed in this payment period, the remainder will be deducted from your penultimate tuition fee payment.
If you choose to withdraw from the programme before completion you will be responsible for the full cost of the programme up to the point of withdrawal and your scholarship will no longer be valid.
Dossier de candidature
---
Informations de contact
---