Bourses d'étude : Bourse pour Master en Management – ESMT Berlin 2019
---
Type de bourse
Bourse d'études Pays
Allemagne Niveau d'études
Master Date début de candidature
25 janv. 2019 Date fin de candidature
31 juill. 2019
---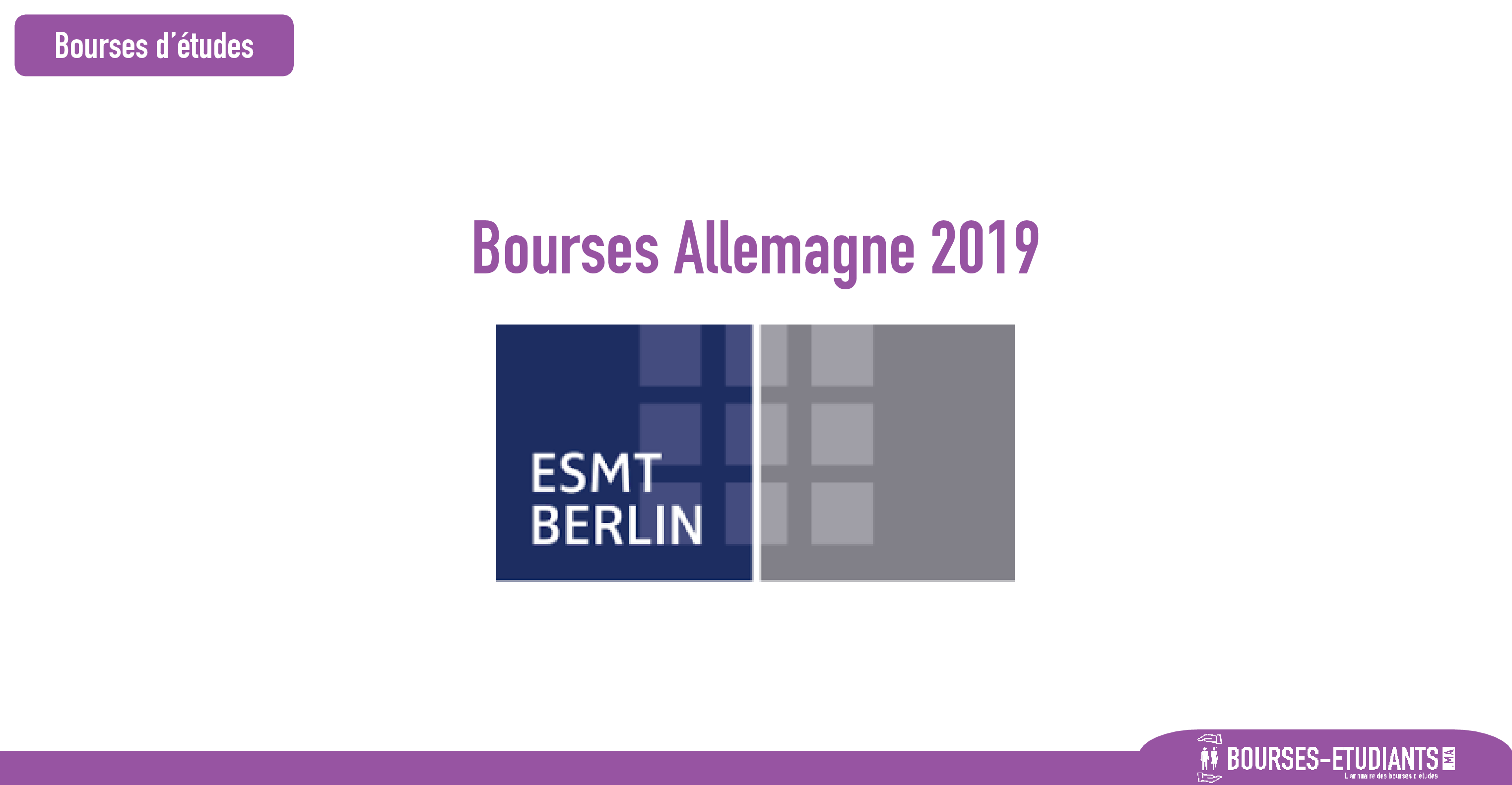 ---
Bourses d'étude : Bourse pour Master en Management – ESMT Berlin 2019
ESMT Berlin is offering a scholarship for its Master's in management. ESMT designed the Master's in Management admissions process to find the most talented individuals who will benefit from the program's international and interdisciplinary nature.
When evaluating applications, ESMT is looking for the following qualities:
International outlook, intercultural competency, and a responsible approach to business
Potential for high-performance career growth in a global environment
Willingness to learn from others, collegial behavior in high-stress situations
Excellent analytical problem solving abilities
MIM application deadlines and process :
Applications to the MIM program are reviewed on a rolling, first-come, basis. The deadline schedule below should serve as a guide for your application planning.
Application Round
Deadline
Admissions Decision
Round 1:

Early Decision: Accepted candidates from this round will receive a € 2,000 discount on tuition

March 31
April 30
Round 2:

++For applicants who require a student visa to study in Germany.

May 30
June 30
Final Round: 

Final deadline for all applicants (see note below**)

July 31
August 10
++Due to long visa process times, citizens of countries that require a student visa to study in Germany are strongly advised to apply by the May 30 deadline. Applications submitted after this deadline WILL STILL be considered for admission. However, ESMT can only provide minimal visa support for applicants from non-EU countries submitted after May 30, and can take no responsibility for students who may not be able to start their studies due to a late application submission.
**Please note that after the July 31 deadline the available seats will be limited. However, ESMT WILL STILL receive applications on an individual basis, taking into consideration visa situations.
Scholarships and financing :
A degree from ESMT is an excellent investment in your future. Our students receive exceptional career advancement resulting in a high return on their investment. For top candidates, ESMT offers a variety of scholarships. ESMT also partners with organizations like Prodigy Finance and Brain Capital to fund your degree. Candidates from Germany also have a number of financing options available.
To apply, Master's in Management candidates need to have:
A previous degree (at least Bachelor's equivalent). Applications will also be accepted from final-year undergraduate students awaiting completion of their degree.
In order to enroll in the Quantitative Business track:

Proof of strong quantitative abilities, whether with a degree in an analytical field (science, technology, engineering, or mathematics) or quantitative economics, finance, or a similar topic
OR a degree in any discipline with a strong GMAT score (top 20% globally in the quantitative section). A GMAT is highly recommended for all applicants to this stream.
The average GMAT score is 640. ESMT's GMAT code is H4D-SJ-86 or simply search for the school name. We also accept GRE scores, and our Designated Institution (DI) code is 7768.
In order to enroll in the Innovative Management track:

A degree in any discipline with excellent grades
GMAT or GRE is optional but may be requested in certain cases by the Admissions Team
Ideally no more than 18 months of postgraduate work experience
TOEFL scores (95 minimum), PTE score (64 minimum), IELTS  score (7 minimum) or other proficiency test. The ESMT TOEFL institution code is 8707
Completed application, including essays and recommendations
Individual interview over Skype
You can start your online application any time.
The application is easy to follow, and will ask you for the following information:
Basic personal data
Your academic and professional background
Short essay questions
Additionally, you will be asked to submit the following documents with your application:
Your CV
Transcripts to all higher education institutions attended
Two recommendations (forms provided by ESMT)
GRE/GMAT and TOEFL scores, if needed
ESMT cannot begin assessing your application until all of the above documents are received.
When complete, the ESMT Admissions Team will review your application and all supporting documents. If successful, you will receive an invitation to complete the next application step.
The ESMT Admissions Office will invite you for a short interview with an ESMT administrator or professor.
All interviews for the Master's in Management program will be via Skype or on-campus. Interviewers will assess your competency under pressure, your interpersonal communication skills, and any questions arising in your application.
Step 4: Admissions and Scholarship Committee 
After the interview, ESMT's Admissions Committee reviews your application file and makes a decision. Following the Admissions Committee decision, the Scholarship Committee meets to review applications for scholarship consideration.
Applicants receive an email with the admissions decision and scholarship award (if any) directly after these meetings. Successful applicants also receive details about the next steps to enroll in ESMT's MIM program.
To confirm attendance, admitted candidates must pay a deposit toward their tuition to the ESMT Master's in Management program.
After accepting your offer of admission and paying the tuition deposit to confirm your enrollment, your seat in the class is confirmed.
At this stage, you will receive access to an internal student portal which will provide you with all necessary information regarding the next steps: How to look for and find housing in Berlin, student visa application, health insurance, registering upon arrival in Berlin, and much more.  A dedicated Student Services manager will also be available to assist you with any further needs and answer any questions you may have.
Dossier de candidature
---
Informations de contact
---