Bourses d'étude: Chine 2018 – Nankai University
---
Type de bourse
Bourse d'études Pays
Chine Niveau d'études
Bac | Doctorat | Master Date fin de candidature
15 Juin 2018
---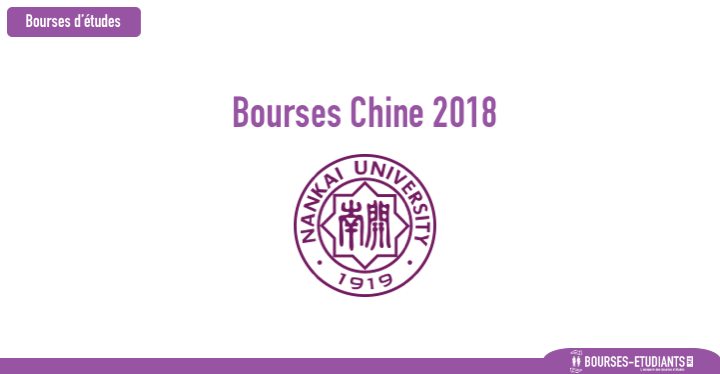 ---
Bourses d'étude: Chine 2018 – Nankai University
Bourses Maroc
Based on the guiding principle 'Enlarging scale, Raising level and Regulating management' proposed by MOE, Nankai University Award is offered by Nankai University to outstanding international students who pursue degrees at Nankai University.
Category:
Bachelor's degree: 4-6 years
Master's degree: 2-3 years
Doctoral degree: 3 years
Criteria and Eligibility
Applicant must be a non-Chinese citizen.
Bachelor's degree applicants must have a high school diploma.
Master's degree applicants must have a bachelor's degree.
Doctoral degree applicants must have a master's degree.
Value of Award
Undergraduate:CNY 10000 /students/year
Master& PH.D: CNY 15000 /students/year
Application Deadline and Place
Deadline: June 15th of each year.
The application materials may be submitted to:
Admissions Office: International Students' Section
Nankai University
A201, Aichi House, 94 Weijin Road, Tianjin, P.R. China 300071 
Ms. Li
Application Procedures
Submit application materials to the International Student Office prior to June 15th.
Interview (Informed by email).
Upon completing the application process and being formally accepted into Nankai University's programs, the applicant's information will then be submitted to the foreign students admission committee for review. Only after being accepted to Nankai University can a student qualify for a scholarship.
The International Student Section will announce scholarship results by the end of June.
Upon announcement, Nankai University International Student Office will mail applicants an Acceptance Letter as well as Form JW202 – Visa Application for Study in China and any other relevant documents.
Please register in http://nankai.17gz.org/member/login.do and finish the online application, submit and print it out.
Highest diploma. If applicants are university students or are already employed, they should also provide documents of being university students or on-post employees. Documents in languages other than Chinese or English must be attached with translations in Chinese or English.
Official transcripts. Transcripts in languages other than Chinese or English must be attached with translations in Chinese or English.
Personal Statement, including study or research plan, personal background, financial situation, personal strengths etc., written in Chinese or English (no less than 800 words for Master and Doctor Degree, no less than 300 words for Bachelor' degree application).
Two letters of recommendation in Chinese or English written by professors or associate professors. (Bachelor's degree application should submit one recommendation letter.)
Applicants applying for the Chinese-teaching discipline are required to have HSK level 4 or above. Those who have not reached the required HSK 4 level or have no knowledge of Chinese can apply for two months or one year of scholarship-covered remedial Chinese language studies before entering their major studies. Applicants whose native language is not English applying for the English-teaching discipline should provide TOEFL (above 87) or IELTS (above 6.0) scores.
Photocopy of Foreigner Physical Examination Form (printed by Chinese Quarantine Authority – only required for those whose period of studies in China lasts more than six months) filled out in English. The medical examinations must cover all of the items listed in the Foreigner Physical Examination Form. Incomplete records or those without the signature of the attending physician, official stamp of the hospital, or a sealed (stamped) photograph of the applicants are invalid. The medical examination results will be valid for six months. All applicants are kindly requested to take this factor into consideration while determining when to take the medical examination.
Photocopy of Passport.
Copy of Application Fee Receipt. The application fee for graduate study is CNY600 or US$100, and for undergraduate, CNY400 or US$75. can be submitted in person to the Nankai University Registry (the ground floor of Nankai University Student Activity Center) or wired to the following account:
Ⅰ.RMB Account
Account Name: Nankai University
Bank Name: ?Bank of Communications, Tianjin Branch, Nankai University
Sub-Branch
SWT NUM: COMMCNSHTJN
Account No: 120066032010149600156
USD Account
Account Name: Nankai University
Bank Name: Bank of Communications, Tianjin Branch, Nankai University Sub-Branch
SWT NUM: COMMCNSHTJN
USD Account No: 120066032146300000768◆ When submitting the payment, please clearly state that these are « Self Supported Entry Fees » as well as the name and nationality of the applicant. Also, please note that this application fee is non-refundable.◆ Whether admitted or not, the above application materials will not be returned.
Bourses Maroc
Dossier de candidature
---
Informations de contact
---
Organismes proposant la bourse
Nankai University est une université publique située dans le district de Nankai, à Tianjin, à seulement 30 minutes de Pékin, établi en 1919. Jouissant d'une très bonne réputation,  elle doit sa renommée, entre autres, au Premier minis...