Bourses d'étude : Chine 2019 – Yenching Academy of Peking University
---
Type de bourse
Bourse d'études Pays
Chine Niveau d'études
Master Date fin de candidature
07 déc. 2018
---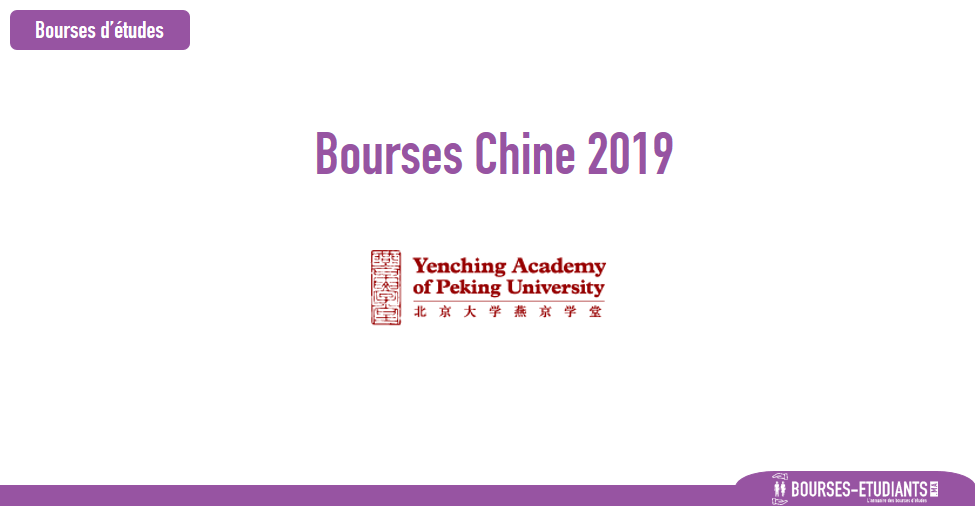 ---
Bourses d'étude : Chine 2019 – Yenching Academy of Peking University
The Yenching Academy provides a generous postgraduate scholarship that covers tuition fees, a travel stipend for one round-trip journey between each Scholar's base city and Beijing, accommodation, and living costs on Peking University's campus. The Academy offers a residential program aimed at creating a community of enthusiastic, globally oriented young innovators in the heart of China's top university. Such close proximity to the academic infrastructure of Peking University provides a unique opportunity to participate and fully immerse oneself in the life of the university.
Enrolled international students and students from Hong Kong, Macao, and Taiwan spend 12 months in residence at the Yenching Academy. For students from Mainland China, the program lasts 24 months. Coursework is completed during the fall and spring semesters, and it is supplemented by additional study during the summer. Upon completion of their year in residence, students have up to one more year to finalize projects and defend their thesis. During this period, students in good academic standing may apply for a limited number of Teaching, Research, or Administrative Assistantships. In addition, Dean's Research Grants will be awarded on a bi-annual basis to help fund selected research projects related to China Studies.
Dossier de candidature
---
Informations de contact
---
Organismes proposant la bourse
Since its founding in 1898, Peking University has played a central role in China's modern history. Established as the country's first comprehensive institute for higher education during the Hundred Days of Reform of the Guangxu Emperor...