Bourses d'étude : City University of London – Royaume Uni 2018
---
Type de bourse
Bourse d'études Pays
Royaume Uni Niveau d'études
Bac | Licence Date fin de candidature
30 sept. 2018
---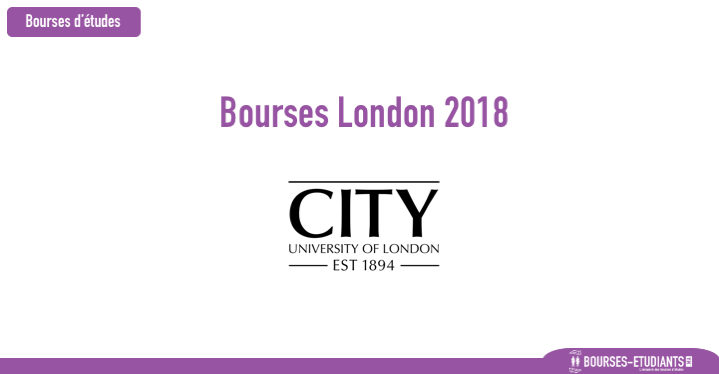 ---
Bourses d'étude : City University of London – Royaume Uni 2018
We believe that exceptional academic performance should be recognised and rewarded. That is why City University of London offers the President's Scholarship to international undergraduate students who achieve exceptional grades at 'A' Level, International Baccalaureate or other qualifications.
The President's Scholarship is aimed at international students starting an undergraduate course for the first time. This scholarship, received in the first year only, is available to you if you achieve exceptional grades at 'A' level or International Baccalaureate and meet the other eligibility requirements.
Registration and deadline
Eligible applicants will be contacted directly with an invitation to register for the scholarship. If you believe you should have received an email or have deleted or lost your email invitation, please contact [email protected].
Registrations for 2018 entry must be submitted by 30th September 2018 in order to be considered for the scholarship. Please note that if you have not registered for the scholarship by 30th September 2018 we will not be able to consider your application. By applying for this scholarship, you confirm that you have read and agreed to the terms and conditions of the scholarship as set out in the tabs below.
Value and duration
The Scholarship is worth £2,000 each year towards tuition fees and is paid for a maximum of three years, subject to satisfactory academic performance each year.
Scholarship funds for the first year for 2018/19 will be applied to the January 2019 tuition fee instalment and, subject to satisfactory performance, to the January instalment in subsequent years.
Eligibility criteria
To qualify for the President's International scholarship, you must:
Be an international student (i.e. from outside the UK/EU and paying the overseas fee)
Be applying for your first year of undergraduate study in 2018/19
Achieve grades AAA or above in 'A' levels or IB 35 or above in the International Baccalaureate* with the exception of courses in the Cass Business School and the School of Arts and Social Sciences
For courses in the Cass Business School, achieve grades A*AA or above in 'A' Levels (or A*A*A for Actuarial Science) or IB 38 or above in the International Baccalaureate (or IB 39 for Actuarial Science)
For Journalism based in the Schools of Arts and Social Sciences, achieve grades A*AA or above in 'A' Levels or IB 38 or above
Accept an offer from City University of London as your first choice
Terms and conditions
Please also see the full terms and conditions for the Scholarship Here
---
Informations de contact
---