Bourses d'étude : État-unis 2018 – University of Houston Victoria
---
Type de bourse
Bourse d'études Pays
États-unis Niveau d'études
Bac Date début de candidature
15 juin 2017 Date fin de candidature
15 nov. 2017
---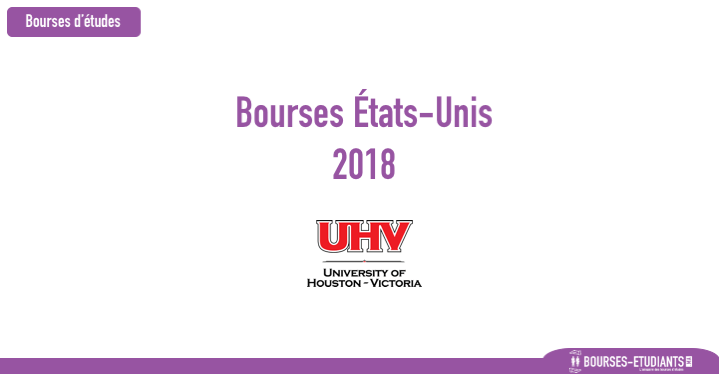 ---
Bourses d'étude : État-unis 2018
University of Houston – Victoria
. 
International Student Merit Scholarship
Award
All undergraduate and graduate F-1 and J-1 international students are eligible to apply for the International Student Merit Scholarship. The scholarship will reduces the student's tuition and fees cost to reflect the residency tuition rate. Other costs such as housing, meals, transportation, personal expenses, books, supplies, and health insurance are not included in this scholarship. The scholarship award can only be used for study at UHV. The awards and waivers are available for Fall recipients for the Fall, Spring, and Summer semesters, and for Spring recipients this scholarship and waivers will be awarded for Spring and Summer semesters for undergraduate and graduate full-time study at UHV.
Eligibility Requirements
Applicants Must:
Be admitted to UHV and registered full-time (minimum of 12 credits for undergraduate and minimum of 9-credits for graduate). Students may apply for the scholarship before being admitted to UHV. However, a scholarship applicant must be admitted to UHV as a full-time, degree-seeking student before the scholarship application can be reviewed. Please visit International Student Admissions for more information.
Spring semester scholarship recipients will receive the scholarship only for the Spring and Summer semesters. In order to maximize the scholarship opportunity, all Spring scholarship recipients must be registered for full-time course load online (Summer only) or Face-to-Face. All Spring scholarship recipients must re-apply for the Fall merit scholarship before the deadline (see below).
Have  F-1 or J-1 student visa.
U.S. Transfer International students must be in good academic and immigration status.
Have a demonstrated record of academic achievement.
Submit the completed International Student Merit Scholarship Application Form.
Attend the mandatory international student orientation and plan to arrive to UHV five business days prior to the first class day.
When to Apply
Completed applications need to be submitted by the following dates:
Fall semester deadline: June 15th 
Spring semester deadline: November 15th
Merit scholarship for spring semester is only awarded for spring and summer semester. All spring scholarship recipients must take  part time or fulltime summer course load (online or F2F) and is required to take summer courses. All spring merit scholarship recipients must re-apply for the following year Merit Scholarship.

New Students
Students must apply for admission to UHV before applying for the scholarship. Once an admissions application is submitted, the student may then apply for the scholarship. The scholarship application will be reviewed once the student is admitted to the university. Applications received after the deadline will not be reviewed.
Current and Returning Students
Current/Returning students must apply for the competitive scholarship no later than the date listed above. All conditions and requirements applies to current and returning international students at UHV.
Additional Conditions
If the recipient is a new international student to UHV, the student must attend the mandatory international student orientation
Recipients must maintain full-time status.
Scholarship recipients must maintain a cumulative GPA of 2.5 for undergraduate students and a cumulative GPA of 3.0 for graduate students throughout the duration of the scholarship.
Contribute 10 volunteer hours every semester (fall and spring) to UHV, Victoria community, showcasing/sharing your culture. International Programs Office will host such events, taking part in International Programs sponsored events will cover all the 10 volunteer hours per semester. The events will be emailed to students every Wednesday when school is in session. Mandatory international student orientation will cover instructions of the scholarship in depth.
Scholarship only applies to the tuition and tuition associated fees. Recipients will be required to pay all other fees such as program fees, course fees, housing costs, international student fee, medical insurance costs, books and supplies.
Scholarship recipient must pay all outstanding university bills on or before the due dates.
Recipients continuing from a bachelor's to a master's degree program must reapply for the scholarship.
Notification Process
Students will be notified via email. To learn of the International Programs scholarship notification timeline, please connect with a staff member. New students will be notified during the first week of July, the current/returning students will be notified once the grades are posted for the current semester. It is the student's responsibility to apply and reapply for the scholarship and be aware of the respective deadlines. Students will be emailed of the deadlines and the application process via email three months prior to the deadline.
Students who are NOT eligible:
Graduate students receiving a graduate assistantship or tuition scholarship
UHV Athletes receiving Athletics Scholarships
Students receiving International Student Cultural Scholarship
Students receiving any other UHV tuition scholarship
Students receiving any other UHV competitive scholarships
Students on other non-immigrant visa categories
Dossier de candidature
---
Informations de contact
---