Bourses d'étude: États-unis 2017 – Knight-Hennessy Scholars Program
---
Type de bourse
Bourse d'études Pays
États-unis Niveau d'études
Doctorat | Master Date début de candidature
27 juill. 2017 Date fin de candidature
27 sept. 2017
---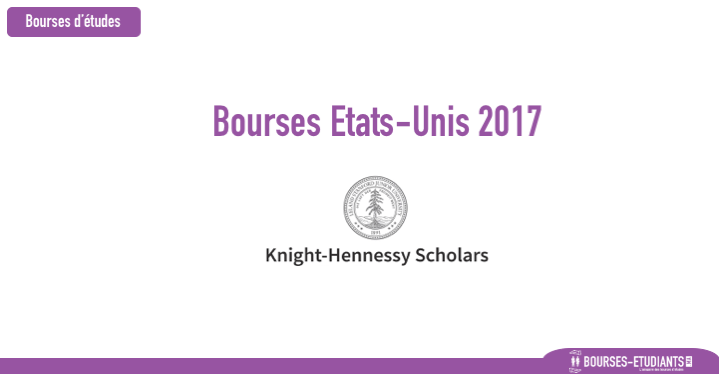 ---
Bourses d'étude: États-unis 2017 – Knight-Hennessy Scholars Program
Knight-Hennessy Scholars Program
The Knight-Hennessy Scholars Program is designed to build a multidisciplinary community of Stanford graduate students. The program will annually identify a group of 100 high-achieving students from around the world with demonstrated leadership and civic commitment. As a Knight-Hennessy Scholar you will develop both the depth and range of subject expertise to confront the numerous grand challenges and opportunities of the future. You will be part of a unique community of change agents from a diverse range of backgrounds. This is a community that will support you, motivate you, and hold you accountable for achieving your goals even when the odds of success seem likely against you.
Knight-Hennessy Scholars will have the opportunity to spend time with established leaders in both informal and formal settings. These encounters will be available both as intimate conversations exclusively within your community as well as one-on-one meetings with experts in your areas of interest. The presence of a Fellow in Residence, a distinguished global leader residing on campus, will allow for the chance to build meaningful relationships and go in depth in the Fellow's area of expertise.
U.C. Berkeley applicants are encouraged to meet with Alicia Hayes the CLS advisor for the campus designated to assist students with the application process.
Eligibility requirements
Open to citizens from ALL countries
You are eligible to apply to the Knight-Hennessy Scholars program if you are applying to enroll in a full-time graduate degree program at Stanford (e.g., JD, MA, MBA, MD, MS, or PhD) or if you plan on pursuing one of Stanford's many joint- and dual- graduate degree options (e.g., MD+PhD, JD+MA, MBA+MS).
You are eligible to apply to the Knight-Hennessy Scholars program if you apply within four years, and enroll within five years, after you earn your first/bachelor's degree. For the pioneer class that enrolls in 2018, that means you must have graduated in 2013 or later and must apply in 2017. We will select Scholars who enroll at Stanford in 2018 or later.
You must complete the entire application process for your department – including any standardized test that your discipline requires (GMAT, GRE, LSAT, MCAT, etc.) and, if needed, an English proficiency test.
* The Knight-Hennessy Scholars Program DOES NOT defer Scholar offers.
Selection Criteria
The Knight Hennessy Scholars Program is looking for the following criteria in prospective scholars:
1. Independence of Thought (First-step mental sharpness; Seeks out knowledge and new experiences; Full of original ideas; Makes sense of ambiguous situations; Can hold a contrarian or dissenting point of view)
2. Purposeful Leadership (Ambitious, in the best sense of the word; Driven to improve self; Willing to take risks; Self-aware, Persists and bounces back from adversity)
3. Civic Mindset (Personally humble and kind, Inclusive, Respects differences, Concerned for and helpful to others, Low ego)
Application Requirements
The Knight Hennessy Scholars Program is looking for the following criteria in prospective scholars:
Online application for admission (including personal and academic information, etc.). You must complete the application and submit it online. We will ask for basic biographic and demographic information, as well as information about your activities and interests.
An unofficial or self-reported transcript
Scores on standardized tests
Resume / C.V.
Two personal essays
Video submission
 Two recommendation letters.  (Currently enrolled undergraduates will need to obtain a « institutional assessment » letter as one of the two letters. This letter must come from a U.C. Berkeley affiliated individual on university letterhead. Applicants SHOULD NOT repeat letters that were submitted with the Stanford Graduate Admission application. Please contact Ms. Alicia Hayes with any questions on the UCB affiliated letter.)
In-person assessment (Finalists for the Knight-Hennessy Scholars program will be invited to visit Stanford for Immersion Weekend)
All U.C. Berkeley Knight-Hennessy Scholars Program applicants, including recent graduates and alumni, should make an advising appointment with Alicia Hayes, the Knight-Hennessy Scholars Program campus representative.
Deadline: September 27, 2017
Dossier de candidature
---
Informations de contact
---