Bourses d'étude : États-Unis 2018 – Leakey Foundation
---
Type de bourse
Bourse d'études Pays
États-unis Niveau d'études
Doctorat | Master Date début de candidature
19 nov. 2017 Date fin de candidature
15 févr. 2018
---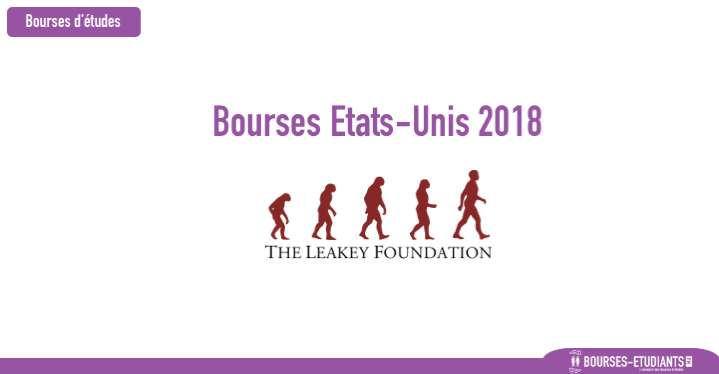 ---
Bourses d'étude : États-Unis 2018 – Leakey Foundation
Leakey Foundation
The Baldwin Fellowships help students from developing countries get advanced education and training in paleoanthropology and primatology.
Franklin Mosher Baldwin Memorial Fellowships are intended for scholars and students with citizenship in a developing country who wish to obtain education or training from an institution outside of the student's home country. This award is for a program of approved, advanced special training or studies leading towards an MA or PhD. It is limited to two years of support. The maximum award is limited to $15,000 per year.
The Baldwin Fellowship program is based on a realistic assessment of needs and priorities. Many countries possess extraordinary resources in the field of prehistory but lack educational opportunities in the field of human origins research. By enabling bright young scholars to obtain graduate education, The Leakey Foundation is helping to equip these individuals to assume a leadership role in the future of paleoanthropology and primatology.
Deadlines
There are two different deadlines depending on whether you have previously received a Baldwin Fellowship:
New Applicants:  February 15th
Returning Applicants:  March 1st
Please Note:  If the deadline falls on a weekend, the application will be due the end of the next business day.
Baldwin Fellowship Eligibility
Only scholars with citizenship in a developing country are eligible.
Amount and Duration of Awards
Awards are limited to two years. The maximum award is limited to $15,000 per year.
Budgetary Guidelines
Baldwin Fellowships may be used to cover tuition, travel, living expenses, student fees, insurance, books, and other relevant categories of expenditure. Aid is not provided for family expenses or dependent support, salary and/or fringe benefits of the applicant, nor institutional overhead.
Application
The original completed formal application should reach the Foundation office by February 15th in order to be considered for funding in the following academic year, which begins in the Fall. A copy of the application must be sent to the Host Sponsor for his/her signature. Please instruct the Host Sponsor to forward this second signed copy to our office. Formal letters of support from both the Home and Host Sponsors must also reach the office by this deadline.
Dossier de candidature
---
Informations de contact
---