Bourses d'étude: États-unis 2018 – Programme Fulbright
---
Type de bourse
Bourse d'études Pays
États-unis Niveau d'études
Master Date début de candidature
28 oct. 2017 Date fin de candidature
15 janv. 2018
---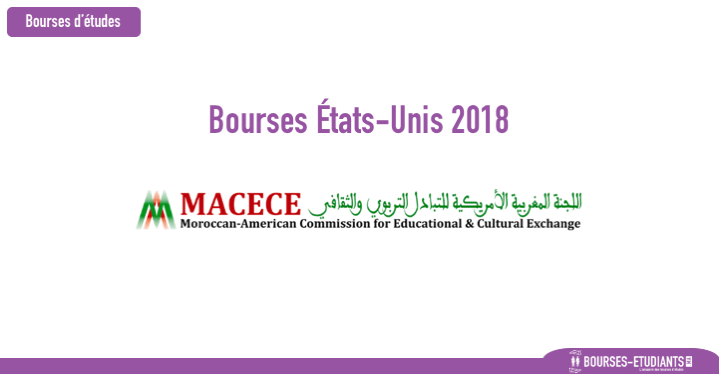 ---
Bourses d'étude: États-unis 2018 – Programme Fulbright
Each year the Moroccan-American Commission awards Master's scholarships for Moroccan students to pursue their studies in the United States. These scholarships are funded by the governments of Morocco and the United States.
Applicants must meet the following criteria:
The application is due June 15, 2018. 
Students studying in the United States are not eligible to apply.
Candidates who have worked overseas for more than two years are not eligible to apply.
Preference will be given to those who have not previously studied or lived in the U.S. for an extended period.  Preference will also be shown to candidates who have not lived outside Morocco for extended periods of time or hold dual nationality.
Scholarships are not awarded for medicine, dentistry or pharmacy.
Those proposing to pursue the degree of Master of Business Administration (M.B.A) must have at least one year of work experience before June 15, 2018.  Unpaid  internships do not qualify as work experience.
Candidates applying to complete a dual M.S. degree in the context of an institutional agreement are not eligible to apply.
Applicants must provide the Commission with scores on two tests:
TOEFL
GRE (Graduate Record Examinations General Test) for most fields of study, or the
GMAT (Graduate Management Achievement Test) for Business Administration. 
These tests are administered in Morocco on specific dates by AMIDEAST, 35 rue d'Oukaimeden, Agdal, Rabat, Tel: 0537-67-50-82. You must register in advance at AMIDEAST. The GRE is given in October only at Amideast.
Most American universities require a minimum TOEFL score of 550 for the paper-based test and 213 for the computer-based test.  For the MBA, the minimum GMAT score is 550.
9. Applicants are warned that the MBA is the most competitive area of Fulbright grants.
Students who are eligible and interested to apply for the Study grant Program are welcome to complete the application online using the Embark system. The link will be provided in February 1, 2018, incha'Allah.
11. Candidates should be available for an interview in September.
Further information could be obtained by contacting Program Officer in charge of the Study Grant Program, Mrs. Laila Meftah <[email protected]> or <[email protected]>
A Note  Concerning Plagiarism: 
Plagiarism is extremely serious business, and no hint of plagiarism will be tolerated on student grant applications.  Plagiarism by students at American universities often results in the students receiving a zero for plagiarized work, expulsion from the course, or more drastic action, such as expulsion from the university for a semester or more.
University students in America typically receive warnings concerning plagiarism and in many universities, students must sign an "academic integrity policy" (or something identified along those lines) in which they pledge, on their honor, not to plagiarize.
What is plagiarism? Here we quote from a typical warning, and this from the Clemson University Undergraduate Catalog and repeated on the Clemson University website:
"plagiarism is a form of academic dishonesty defined (in the Undergraduate Catalog) as 'the intentional or unintentional copying of language, structure, or ideas of another and attributing the work to one's own efforts' (p. 29). The catalog also states that 'when, in the opinion of a faculty member, there is evidence that a student has committed an act of academic dishonesty, the faculty member shall make a formal written charge of academic dishonest, including a description of the misconduct, to the Associate Dean of Undergraduate Studies.'" (p. 29).   
http://www.clemson.edu/academics/integrity/plagiarism.html, accessed January 6, 2015.
Note how we have used this statement, taken directly from the Clemson University website:
1)      The website is identified, below the material;
2)      The material is quoted and the source identified;
3)      To further note that the material is not our own, we have put it in a separate paragraph and put it in italics.
Please focus on this University's definition of plagiarism:  …"the intentional or unintentional copying of language, structure, or ideas of another and attributing the work to one's own efforts." "Copying," especially copying and pasting from the web without attribution, is the biggest problem to be aware of.  The issue is taking language out of the web and not citing it.
Using language judiciously from another source, such as a hard-copy book or online on the web, and using proper citation, is okay.
What then is proper citation?  While this is a big and technical subject, the above material provides you, especially when read against the source, an example of the proper use of someone else's material – in this case, Clemson University's website. The simplest thing to say is this:  when it's someone else's material, you may use it IF you put it in quotes and provide the source (the citation).
The best guide to methods of citation may be The Chicago Manual of Style Online, for which you can sign up for a free 30-day trial membership: http://www.chicagomanualofstyle.org/home.html
Dossier de candidature
---
Informations de contact
---