Bourses d'étude: États-unis 2018 – Vanderbilt University
---
Type de bourse
Bourse d'études Pays
États-unis Niveau d'études
Bac Date début de candidature
01 oct. 2017 Date fin de candidature
07 nov. 2017
---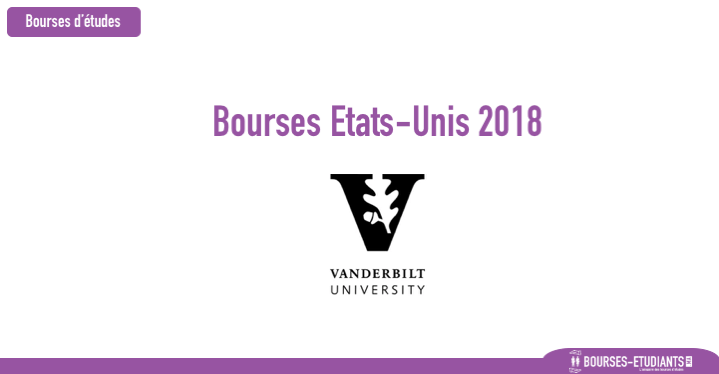 ---
Bourses d'étude: États-unis 2018 – Vanderbilt University
Vanderbilt University
Vanderbilt University
For financial aid purposes, you are considered to be an international student if you do not meet the eligibility criteria to receive federal student financial assistance. To qualify for federal assistance, students must be a United States citizen or eligible non-citizen.
Vanderbilt University will offer renewable need-based financial aid to a limited number of international freshman undergraduate applicants. International students should be prepared to finance, either privately or through a sponsor, the full cost of their Vanderbilt education. A student requesting consideration for need-based financial aid is required to submit the College Board Financial Aid PROFILE showing their sources of financial support.
At the time of submission, the only document we require is the PROFILE. We reserve the right to ask for additional documentation to verify information submitted on the PROFILE. Vanderbilt is need aware for international citizens. Should an international citizen apply for financial assistance, the financial aid application and the amount of financial aid required may be a factor in a final admissions decision. Based upon an evaluation of academic qualities, financial need, and availability of resources, an international student may be considered for financial assistance.
The priority dates to submit the PROFILE application for international citizens are as follows:
Early Decision I Applicants – November 7
Early Decision II & Regular Decision Applicants – January 2
International freshmen applicants are eligible to apply for all Vanderbilt merit-based scholarships offered at Vanderbilt. To be considered for merit-based scholarships, complete the appropriate applications online. Students should be aware that merit-based scholarships are awarded only to a select few of our most exceptional applicants each year.
Additional information regarding International Students at Vanderbilt may be found here !
Dossier de candidature
---
Informations de contact
---