Bourses d'étude : Etats-Unis 2019 – Columbia School of General Studies
---
Type de bourse
Bourse d'études Pays
États-unis Niveau d'études
Licence Date début de candidature
01 sept. 2018 Date fin de candidature
01 mai 2019
---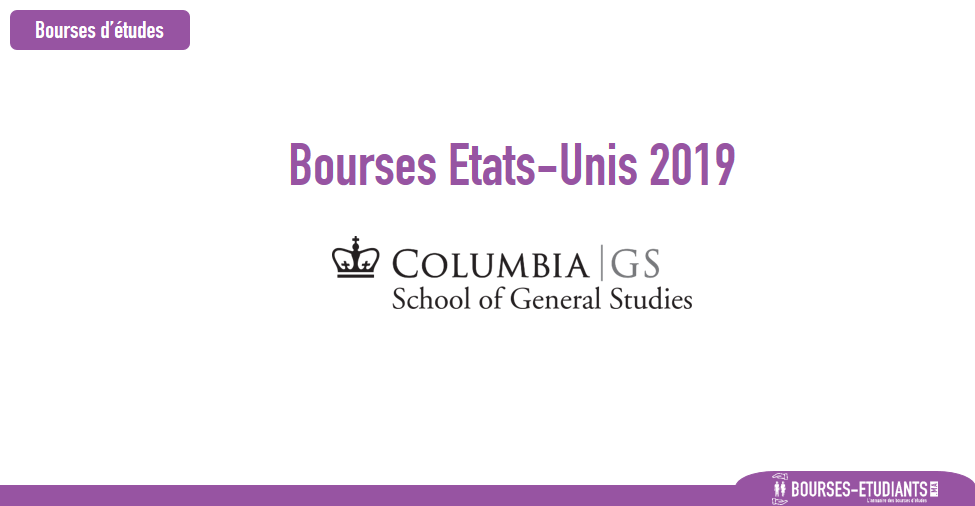 ---
Bourses d'étude : Etats-Unis 2019 – Columbia School of General Studies
Students at Columbia School of General Studies may be eligible to receive scholarships, grants, loans, and work-study. Financial aid may come from GS, federal and state governments, or private sources. Approximately 70 percent of all GS students receive some form of financial aid.
The GS Office of Educational Financing, located in 408 Lewisohn, administers all financial aid for GS students, including institutional, federal, and state aid.
Applying for Aid
Financial Aid Initiatives
Need EnhancementsIn 2008, GS announced a plan to enhance financial aid that targeted continuing students with the highest demonstrated economic need and substantial loan debt. This enhancement constituted a 29 percent increase in the financial aid budget for the 2008-2009 academic year, resulting in an additional $1.7 million being disbursed for GS institutional aid. GS will sustain this need enhancement for continuing students who met published deadlines for all aspects of the financial aid process in the 2009-2010 academic year while also increasing the overall financial aid pool by an additional 17 percent, or approximately $1.3 million.Funding for Columbia's financial aid enhancements is provided entirely by generous alumni and friends of the University, through annual fund gifts and permanent endowments.
Endowed ScholarshipsIn March 2009, GS received generous gifts of $1.5 million each from Larry Lawrence '69, BUS '71 and an anonymous donor. This $3 million will be used as a challenge matching fund, to encourage alumni and friends to establish endowed scholarships for $100,000 or more, matched dollar for dollar from the new fund. The ultimate result will be an increase of $6 million to the GS financial aid endowment, or 30 percent.
Columbia Campaign for Undergraduate EducationThe Columbia Campaign for Undergraduate Education seeks to raise more than $440 million in new gifts to undergraduate financial aid endowment. Success in meeting the campaign goals for GS will increase the endowment by $15 million, a 68 percent increase, and make an additional $10 million in current use funds available for undergraduate financial aid over the campaign period.
Dossier de candidature
---
Informations de contact
---