Bourses d'étude : Etats-Unis 2019 – Northern Arizona University
---
Type de bourse
Bourse d'études Pays
États-unis Niveau d'études
Licence | Master Date fin de candidature
01 oct. 2018
---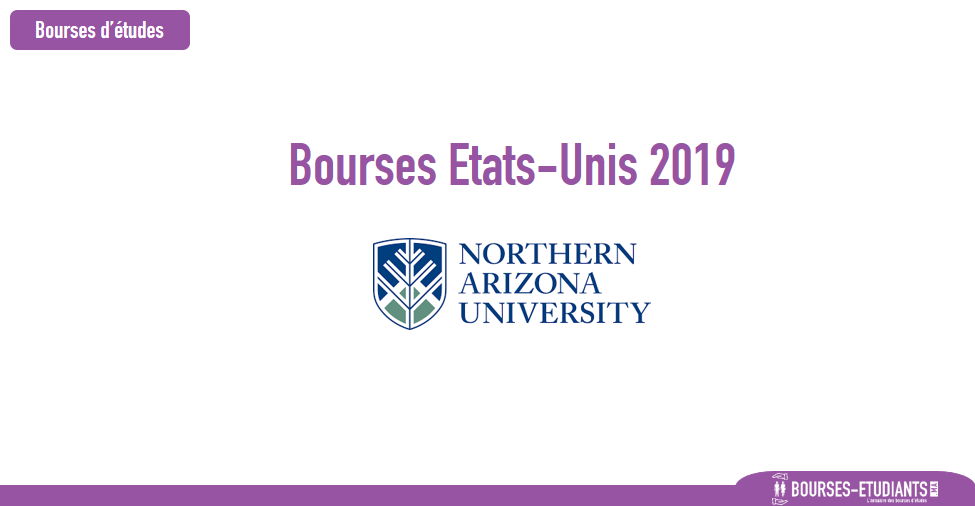 ---
Bourses d'étude : Etats-Unis 2019 – Northern Arizona University
The Northern Arizona University offers many bursaries and scholarships available for international students at Northern Arizona University :
International Excellence Award
The International Excellence Award is a merit-based tuition waiver for new F-1 undergraduate, degree-seeking international students admitted directly into a university bachelor's degree program.
Eligibility
All new F-1 undergraduate, degree-seeking international students applying to the Flagstaff campus will be considered.  There are a limited number of these scholarships and priority will be given to applicants that apply by the recommended deadlines of March 1 for fall semester and October 1 for spring semester.  In addition, students with at least 3.0 GPA or equivalent will be given priority consideration for this award.  Students entering under an agreement are excluded from consideration.
The award cannot be deferred and the acceptance of the award must be signed, scanned and returned to [email protected] no later than May 1 for students accepted for fall semester and November 1 for students accepted for spring semester.
Value
The award is for $10,000 for the first academic year only; $5,000 for the first fall and $5,000 for the first spring semester of enrollment and is applicable to tuition only.
How to Apply
Priority consideration is given to applicants that apply by March 1 for fall semester and October 1 for spring semester.  All applicants are automatically considered.
Notification
Recipients will be notified of this award in their official Northern Arizona University acceptance packet.
Community Service Requirements for Recipients  
Students receiving this award are required to attend a meeting with the scholarship program officer early each semester to plan their community service activities and projects, and then to carry through with their commitment to community service with various activities on and off-campus each academic term. Past community service activities included school visits and presentations to elementary students on your country, student calling campaigns and international events on campus like the International Student Festival. Student participation in community service projects through CIE is mandatory for all scholarship recipients. Please note that student participation with community service projects will be evaluated as part of the consideration process for future scholarship applications. Additional information about the required community service will be provided by the scholarship program officer.
International Baccalaureate Scholarship
If you are a student receiving an International Baccalaureate diploma and are admitted to Northern Arizona University as an undergraduate, first-degree seeking student, you are eligible to receive $5,000 per year for tuition.
You may not combine this award with other tuition awards. It is renewable for up to eight semesters if you maintain a 2.5 GPA and complete 30 credit hours per year. Learn more about the award.
Khursheed Fatima Scholarship
This fund is established by Samia Ashraf in memory of her mother, Khursheed Fatima.
The scholarship, up to $11,000 for two semesters at Northern Arizona University, is awarded to one student to cover tuition and fees, then books and supplies.
Eligibility
To be eligible for this award, you must meet these requirements:
be an enrolled, degree-seeking undergraduate
have a cumulative GPA of at least 2.8
demonstrate financial need
demonstrate academic promise
preference shall be given to a female student from South Asia (Pakistan, India, Nepal, Sri Lanka, Bangladesh, Bhutan, or Afghanistan)
For more details, as well as an application, please contact your international student adviser.
Dossier de candidature
---
Informations de contact
---