Bourses d'étude : Family Scholarships – University of Adelaide 2019
---
Type de bourse
Bourse d'études Pays
Australie Niveau d'études
Licence | Master Date début de candidature
01 janv. 2019 Date fin de candidature
31 déc. 2019
---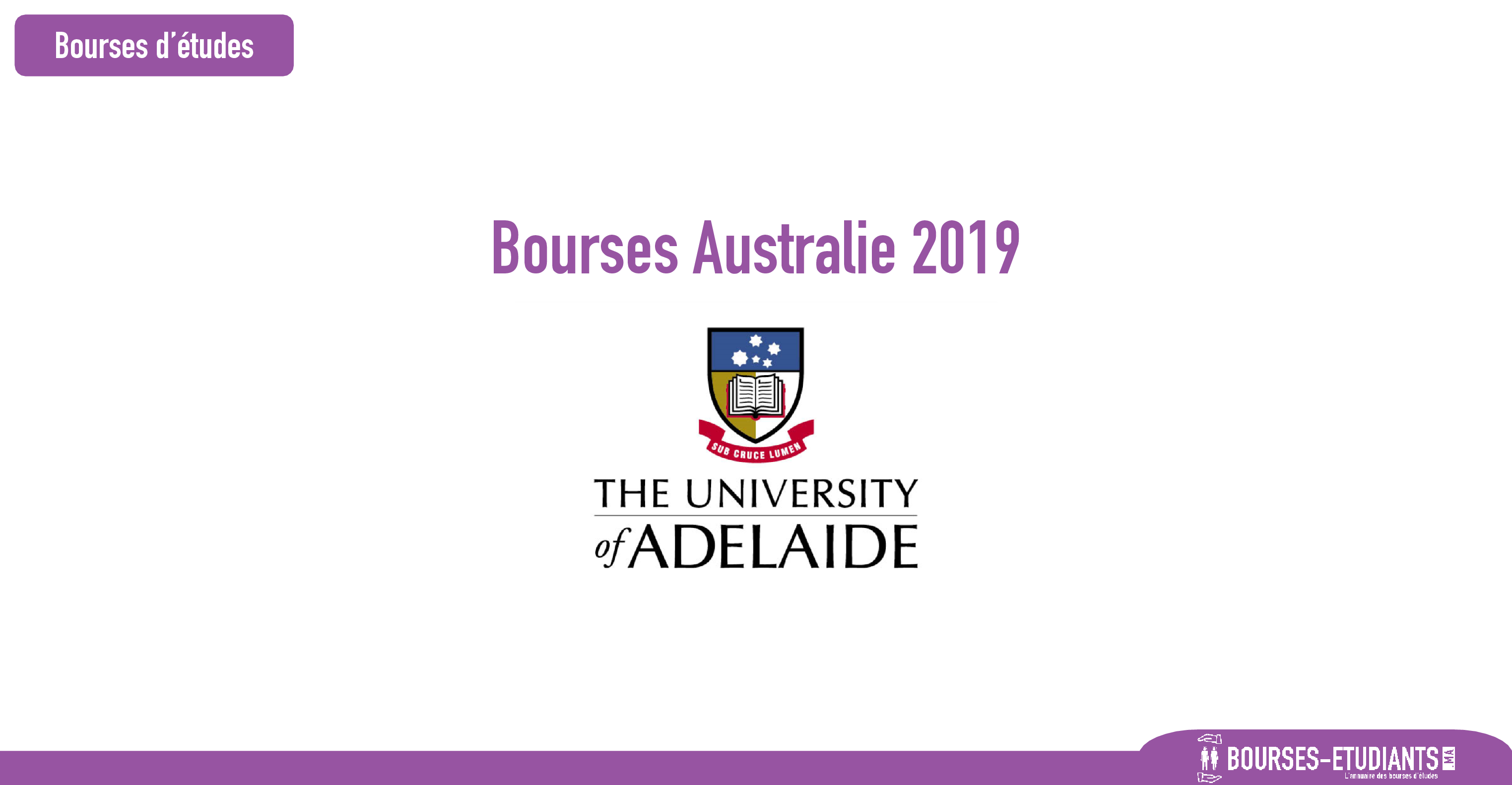 ---
Bourses d'étude : Family Scholarships – University of Adelaide 2019
The University of Adelaide offers the Family Scholarship (International) to commencing international undergraduate and postgraduate students who are either spouse or immediate family of an existing University of Adelaide student or alumnus.
Value of the scholarship:
The scholarship offers a 25% tuition fee reduction for the minimum standard full-time duration of the scholar's chosen undergraduate or postgraduate degree.
Scholarships in this program have the following conditions:
Available for students commencing in 2019 only;
Available for commencing direct-entry international undergraduate and postgraduate coursework students, including those who are required to undertake a Pre-Enrolment English Program (PEP) prior to their degree commencement;
Open to citizens of any country (except Australia and New Zealand);
Provides a waiver of 25% of the annual tuition fee for each year of the program for the full duration of the degree.
To be eligible for this scholarship, you must:
Have a University of Adelaide offer of admission (full offer or conditional offer) as a full-fee-paying international student;
Complete the acceptance process as outlined in your offer of admission.
Note: Scholarship applicants who are eligible for more than one scholarship offered by the University of Adelaide will only be entitled to receive one scholarship (the highest value scholarship award that they are eligible for)
Exclusions
The following applicants are not eligible to receive these scholarships:
Current University of Adelaide students who are transferring from one program to another prior to successful completion of their program of study (internal transfers);
Students who are recipients of a scholarship covering tuition fees awarded by a recognised scholarship awarding body such as a government ministry or department;
Applicants for Masters by Research or Phd programs
Applicants for certain programs; see the scholarship terms and conditions  for a list of excluded degree programs.
Terms and conditions of the scholarship:
Please download a copy of the scholarship terms and conditions .
Note: The University of Adelaide reserves the right to award, amend or cancel the Scholarship at its discretion. The terms and conditions of the Scholarship may be subject to change without prior notice.
How to apply for the scholarship:
Applicants may apply online for a scholarship at any time
Applicants must have received an offer of admission from the University before lodging their scholarship application (applicants with a conditional offer may apply, but will need to accept and meet the conditions of their offer before a scholarship can be confirmed)
Note: Scholarship applicants who submit incomplete and/or inaccurate scholarship applications will not be eligible to receive a scholarship.
Scholarship closing date:
Scholarships are open throughout the year but applicants are encouraged to finalise their admissions process and scholarship application as early as possible to allow enough time for them to apply for a visa and prepare for their studies.
Dossier de candidature
---
Informations de contact
---