Bourses d'étude : France 2018 – Université de Lille
---
Type de bourse
Bourse d'études Pays
France Niveau d'études
Master Date début de candidature
01 Déc. 2017 Date fin de candidature
15 Mars 2018
---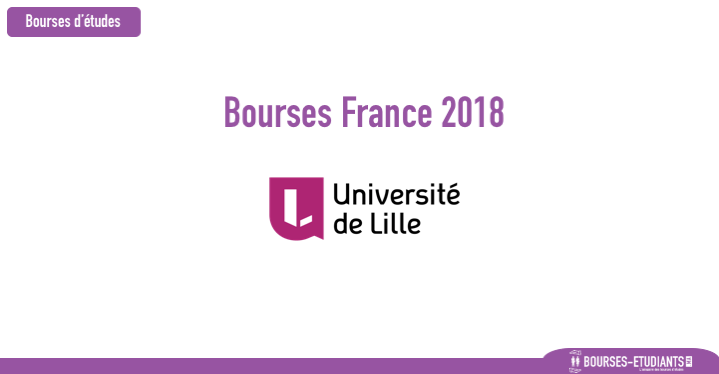 ---
Bourses d'étude : France 2018 – Université de Lille
Lille
Master Atmospheric Environment: international master degree
The International Master 2 « Atmospheric Environment » of Lille 1 University is providing a 1-year program in physics and chemistry of the atmosphere at the highest level.
It is supported by the French Laboratory of Excellence CaPPA (Chemical and Physical Properties of the Atmosphere).
Training is dedicated to students in physics and chemistry having validated 4 years of study (Master 1st year / Bachelor / 240 ECTS-credits), wishing to follow a specialization in atmospheric sciences to get a strong background in theory and practical works.
Students are immersed in an international environment and all courses are delivered in english.
The first semester (Sept-Jan) is dedicated to lectures/practical works, and the second semester (Feb-Jul) is a full-time research training in Laboratory
Additional documents:
The brochure
The poster
Prerequisite
This program is open to students in chemistry and/or physics having validated 4 years of study (Master 1st year / Bachelor / 240 ECTS-credits) in Physics, Chemical Physics or Chemistry.
The advised language level in the Common European Framework correspond to B2.
A copy of your certificate with your score for either TOEFL, or IELTS or TOIC should be provided.
If you don't hold any English language certification when filing your application, please proceed to your self- assessment by creating your own Europass Language Passport.
If English is the medium of instruction in your university, then an official certificate stating this, issued by an officer of your university will be accepted instead of IELTS or Toefl.
Fellowships
Scholarships (7000 €/year) are granted each year by the « laboratoire d'excellence CaPPA ». They are dedicated to students having the highest academic records and who are willing to follow the Atmospheric Environment 1-year training program.
To apply, candidate will have to notice it in the application form. In addition, candidates will be asked to furnish an additional recommandation letters from a Professor of their Bachelor degree. The final answer will be given to every candidate by the end of March.
Scholarship students will have to make their internship in one of the labs involved in the "laboratoire d'excellence" CaPPA.
Check the wide list of internship offers by following that link
The scholarship comes to 7 000 € for the academic year:
3 500€ for the Semester 3
3 500€ for the Semester 4 only if the Semester 3 is validated
Contacts
Person in charge of the training
Prof. Denis PETITPREZ
Building C11 – office 7 (ground floor)
Person in charge of the Speciality of the Master of Chemistry (CEE)
Prof. Pascal GRANGER
Building C3 – office 12 (ground floor)
Secretary of the Speciality of the Master in Chemistry
Jean-Alexandre CNOCKAERT
Building C15 – office 001
Person in charge of the Speciality of the Master of Physics (LM)
Prof. Thérèse HUET
Building P5 – office 133 (1st floor)
Secretary of the Master in Physics
Mrs Michelle MARET
Building P1 – office 028 (ground floor)
Dossier de candidature
---
Informations de contact
---
Organismes proposant la bourse
L'Université de Lille – sciences et technologies constitue un pôle scientifique et technologique de tout premier plan. Impliqués dans les enjeux du futur, les laboratoires de renommée internationale sont dotés d'équipements scientifiq...