Bourses d'étude France 2019 : MBA Internationale à IESEG Ecole de Management
---
Type de bourse
Bourse d'études Pays
France Niveau d'études
Master Date début de candidature
31 oct. 2018 Date fin de candidature
31 mai 2019
---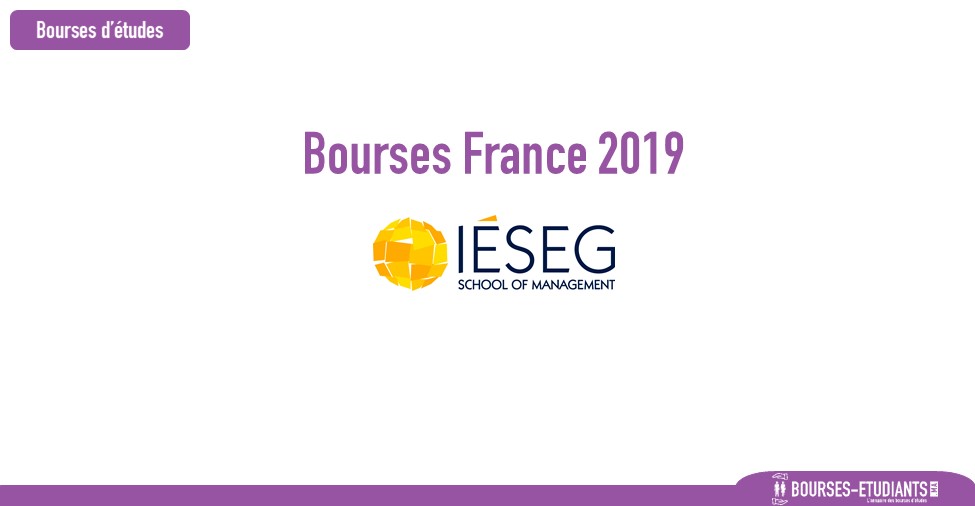 ---
Bourses d'étude France 2019 : MBA Internationale à IESEG Ecole de Management
The International MBA is aimed at those who already have significant work experience and yet still wish to improve their skills and pursue a successful post‐MBA career in companies operating at an international level. The International MBA is aimed at graduates with at least 3 years of full time and post-graduate work experience. They are committed and open-minded while demonstrating substantial potential for leadership and excellence.
The program is open to candidates with a Bachelor's degree from a recognized university with strong academic performance and a good command of English (IELTS 6.5, TOEFL IBT 85, TOEIC 800, Duolingo 61, Cambridge Exam). Students with 6.0 IELTS may also be eligible for admission after successful interview. Native English speakers or students who have had three years of courses taught in English are exempt.
No prior knowledge of French is needed; however French language classes are mandatory for non-French speakers as part of the program.
A GMAT score is a plus, not mandatory.
The student body is extremely diverse and we encourage students from a wide range of academic and professional backgrounds who are looking to sharpen their skills for the global market to join us!
How to apply?
Step 1: Complete your online application
Our application process is entirely online. Create your account online and fill in the required sections with your contact details, your academic and professional background, your achievements, as well as your motivation for pursuing the program.
You may save your work until you are ready to submit the application portfolio.
Application deadline for September 2019 intake: May 31st, 2019.
Step 2: Submit your application
To apply, please prepare the following supporting documents:
Undergraduate degree in any field from a recognized university (transcripts and diploma in English, French or Spanish)
English Proficiency test score: IELTS (6.5), TOEFL (85 IBT), TOEIC (800), Cambridge (C1), Duolingo (61) if applicable. Native English speakers or students who have had two years of courses taught in English are exempt
CV/Resume
Copy of passport
Once you complete the form, you are required to pay an 80 € application fee online (via our secure platform) and to submit online your signed application portfolio.
Please note your application will not be reviewed by the Admissions Jury unless it is complete.
IÉSEG offers large numbers of scholarships in the form of tuition waiver (more information below). There is no separate application for scholarships and decisions are made by the Admissions Jury at the same time as applications are being reviewed.
Step 3: Interview
Once your application is submitted to your recruitment contact, you will be asked to attend a skype or phone interview with the recruiter. Successful candidates will be invited for a video interview with the Admissions Jury.
Step 4: Final Decision
It will take approximately 2 weeks for the Admissions Jury to provide a final decision (admission and scholarship award – if any). Rolling admission is offered to qualified candidates from October 2018. Your official acceptance letter will be sent once you have secured your seat in the program.
Funding & Scholarships
Tuition fees
€24,000 for domestic and international students.
Other mandatory fees can go up to €500 (including, for example, the Alumni Association fee).
Unlike some other countries where international students pay a much higher tuition than domestic students, there is NO difference between tuition for French and international students at IÉSEG.
IÉSEG MBA scholarships
IÉSEG offers large numbers of scholarships in the form of tuition waiver up to 50% for students who meet the various criteria for each case. No separate application is needed. Decisions will be made during admission commission and released along with admission decision.
PARTNER
SCHOLARSHIP
EARLY BIRD
SCHOLARSHIP
1ST NATIONALITY
SCHOLARSHIP
GMAT
SCHOLARSHIPS
MERIT-BASED
SCHOLARSHIPS
10% tuition reduction
for all admitted
applicants coming from
one of our 285+ partner
universities worldwide
10% tuition reduction
for all applications
submitted before
February 15th
10% tuition reduction
for the first admitted
applicant of any
nationality that secures
his/her seat
25% tuition reduction
for admitted applicants
with a GMAT score
between 600 and 640,
40% tuition reduction
for admitted applicants
with a GMAT score
between 650 and 690,
50% tuition reduction
for admitted applicants
with a GMAT score of
700 or higher
up to 50% reduction
based on the applicant's
overall portfolio
(academic background
professional experience
etc)
An applicant can combine any of the scholarships received up to a maximum of 50% tuition reduction.
All admitted applicants will be considered for scholarship automatically. There is no separate scholarship application.
Decisions are made by the admissions jury during admission commission.
These scholarships can be compiled up to 50% at the maximum.
Financial Aid
The choice to study abroad is not only an academic decision, but also a financial one. Students need to be aware of the various cost involved in pursuing a postgraduate's degree at IÉSEG.
All international students are encouraged to check with Campus France and their own government to see if there are any scholarships available.
For American students please check with Sallie Mae for private loan options.
For Canadian students, please note that IÉSEG is recognized by Canlearn.ca and OSAP.
Dossier de candidature
---
Informations de contact
---