Bourses d'étude : Italie 2018 – NABA Académie
---
Type de bourse
Bourse d'études Pays
Italie Niveau d'études
Licence Date fin de candidature
19 oct. 2018
---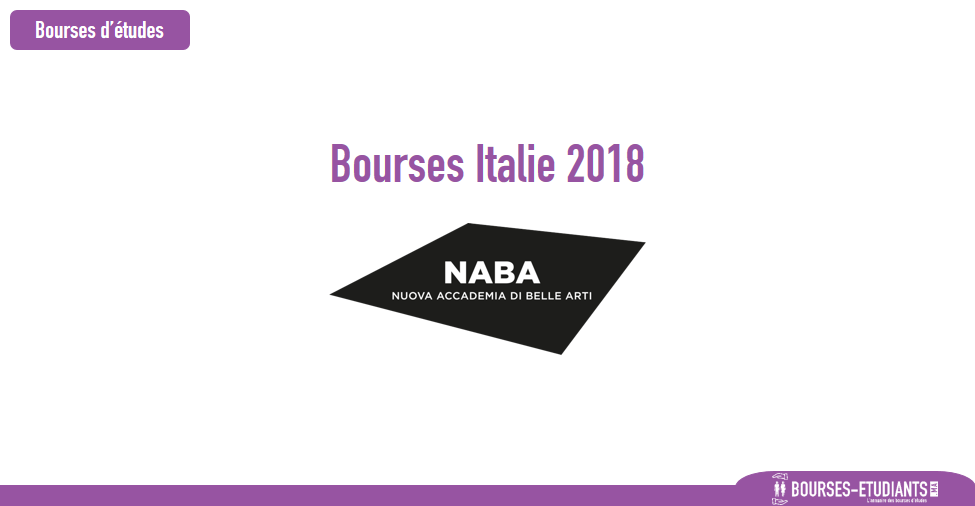 ---
Bourses d'étude : Italie 2018 – NABA Académie
In order to promote excellence in academic disciplines, NABA intends to support highly motivated and talented young people, by offering 35 scholarships that partially cover (60%, 50%, 40%, 30% and 20%) the tuition fees to attend two-year postgraduate degrees in Communication Design, Design – Specialization in Product Design, Design – Specialization Interior Design, Fashion & Textile Design, Visual Arts and Curatorial studies. Scholarships will be awarded according to the candidates' portfolio and/or curriculum vitae assessment by the Coordinating Director of the chosen program.
WHO CAN PARTICIPATE?
• Students having a university degree certificate or a first-level academic diploma, or earning that qualification within the last term of a. y. 2017/18.
• The selection will be also open to students having non-academic qualifications or having a proven professional experience in relevant fields for the chosen educational path.
DEADLINE
The deadline for sending applications is October 19th 2018.
WHAT TO SUBMIT
Candidates willing to participate must submit the following materials:
application for participation (p. 3/3)
application for admission (download it here )
curriculum vitae
artistic/professional portfolio
motivation letter
previous study plans and university degree certificate or first-level academic diploma (if already earned when making the application)
certificates of other courses or seminars attended, if any
valid Passport copy
certificate of knowledge of English or Italian – level B1.2 (according to the chosen program)
HOW CAN I SUBSCRIBE TO THIS INITIATIVE?
All interested students can submit their application by filling in the Application for Participation (p. 3/3) and uploading complete digital documentation.
alternatively materials can be sent by email to:
[email protected]
or shipped to:
NABA Nuova Accademia di Belle Arti Milano
International Admissions Office
Via Darwin, 20 – 20143 Milan, Italy
When you submit your application, you will receive a confirmation within 48 hours that your submission was received. If you do not receive a confirmation, let us know at: [email protected]
WHEN WILL THE RESULTS BE COMMUNICATED?
The list of scholarship awards will be published on www.naba.it, and results will be communicated by email to students within November 8th, 2018.
HOW DO I ACCEPT MY SCHOLARSHIP?
Candidates who have been awarded a scholarship must enrol within and no later than November 15th 2018, otherwise the scholarship will be revoked.
The scholarships awarded but not accepted will be transferred to the following candidate in the list, provided that the latter will be deemed as eligible.
Dossier de candidature
---
Informations de contact
---