Bourses d'étude : Italie 2018 – Politecnico Milano
---
Type de bourse
Bourse d'études Pays
Italie Niveau d'études
Bac Date début de candidature
03 déc. 2017 Date fin de candidature
22 janv. 2018
---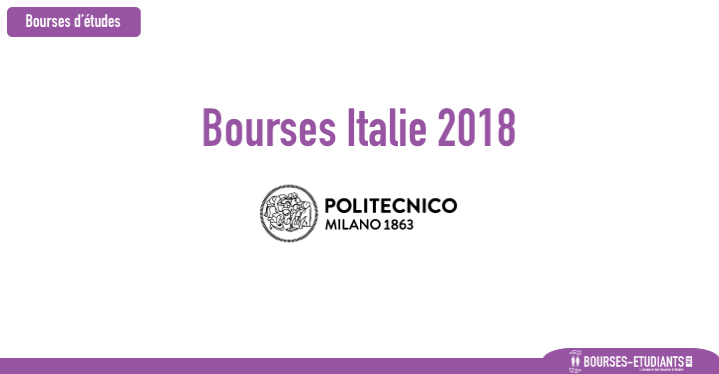 ---
Bourses d'étude : Italie 2018 – Politecnico Milano
Politecnico Milano
Considering the membership of Politecnico di Milano in UNITECH International,
Considering the decision taken by the UNITECH International General Assembly on September, 1st, 2017,
Considering the availability of funds
decrees that
the Unitech International Call for Applications (19th Cycle) for POLIMI students of any nationality for the Academic Year 2018/2019 has been launched.
1) UNITECH at a glance
Unitech is an International Mobility programme addressed to Engineering students interested in deepening their technical scientific knowledge and at the same time developing managerial skills in an international context, by integrating a period of studies abroad with an internship in a multinational company. The programme is coordinated by the Unitech International Society, consisting of 9 technical universities and 20 companies.
It consists of one semester exchange in one of the UNITECH Academic Partners, one internship in one of the UNITECH Corporate Partners and 3 UNITECH Joint Modules in English, which are unique to the programme.
The UNITECH Call is addressed to:
a) students enrolled in the third year of a Laurea course in Engineering at Politecnico di Milano for the academic year 2017/2018 with the aim of continuing their studies in a Laurea Magistrale course at Politecnico di Milano in the academic year 2018/2019.
b) students enrolled in a Laurea Magistrale course in Engineering offered by Politecnico di Milano for the academic year 2017/2018 (first semester) by October 10th, 2017.
2) Admission Requirements
Students are eligible to apply if they fulfil the following requirements:
a) A minimum weighted average score of 25/30.
In case of enrolment in the first year of a Laurea Magistrale course:
i) Candidates in possession of a Laurea degree from Politecnico di Milano or from other Italian Universities will be evaluated on the weighted average of Laurea exams.
ii) Candidates in possession of foreign qualifications will be assigned an average score based on the average mark obtained at their universities of origin calculated in 30ths.
b) Proficiency in English: a good knowledge of both written and spoken English (Please refer to the requirements for admission to the Laurea Magistrale of the Politecnico di Milano and to the specific requirements of the potential host institutions)
c) Motivation to participate in the UNITECH programme.
d) Certificate of Proficiency in other foreign languages (depending on the specific requirements of the potential host institutions).
e) Not having already been admitted to other programmes such as Alta Scuola Politecnica, IDEA League Challenge Programme.
f) Any other specific requirement indicated by the potential host institutions on the UNITECH Programme 2018/2019 Handbook downloadable on the UNITECH website at http://www.unitechinternational.org/the-programme/application
g) All the applicants are invited to verify if they also are in line with the regulations of the Degree Programme they belong to by contacting the professor in charge of international mobility.
3) Application requirements and deadline
a) Candidates must apply by January 22th 2018 through the UNITECH dedicated link: http://www.unitech-international.org/the-programme/application
b) UNITECH does not assume any responsibility whatsoever for failure or delay in communications caused by inaccuracies due to the candidates.
c) UNITECH reserves the right to verify the validity of information provided and to request further information, if necessary.
d) For information applicants can contact: [email protected] or Tel. +39/02 2399 976
Dossier de candidature
---
Informations de contact
---