Bourses d'étude : Italie 2018 – Sapienza University
---
Type de bourse
Bourse d'études Pays
Italie Niveau d'études
Master Date fin de candidature
11 juin 2018
---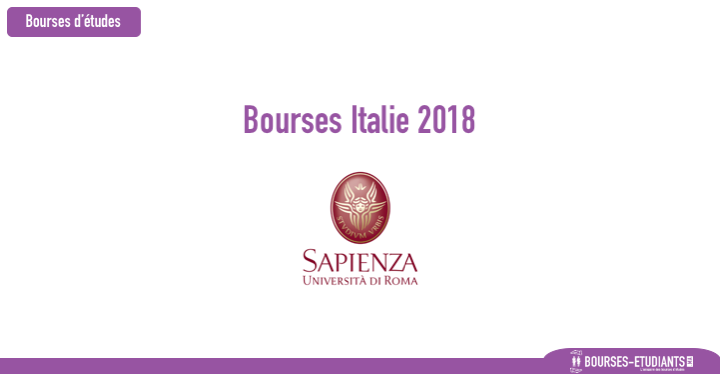 ---
Bourses d'étude : Italie 2018 – Sapienza University
Bourses Maroc 
Bourses Maroc 
Twenty-four two-year "Don't Miss Your Chance" scholarships (€4300 gross/year) are available for students enrolling in a Masters Degree Programme at Sapienza University for academic year 2018-19. Italian students are not eligible
Scholarship winners will be exempt from all tuition fees, except for the €30 registration fee for each year of enrolment.
Application deadline: June 11, 2018
Requirements
University degree or equivalent qualification issues by a foreign university that allows enrolment in a Masters degree programme;
EU or Non-EU citizenship (with the exception of Italian citizens);
Maximum age: 26
A competition based on assessment of qualifications called "Don't miss your chance" is open, to award 24 two years duration scholarships of the amount of € 4.300,00 for each year (before taxes chargeable to students are paid and net of taxes chargeable to the University) to EU (Italian citizens excluded) and non-EU graduates.The winners will be exempted from paying the whole amount for tuition fees but they will have to pay a single contribution of € 30,00 each year.
The scholarship will be allocated in two payment instalments as follows:
– The first instalment after the actual enrolment of the successful student in a degree programme at Sapienza. in the academic year 2018-19, in accordance with the enrolment deadline prescribed in the call for applications of the master degree programme and provided that the student holds a Visa for study purposes. (The catalogue of the degree programmes is available at the following web page https://corsidilaurea.uniroma1.it/)
– The second instalment is awarded only if the student still holds a visa for study purposes and if he/she achieves, within the 2018-2019 academic year, all the credits (ECTS/CFU) indicated in his/her first year study programme and enrols, within the deadline prescribed in the degree programme Manifesto ("Manifesto degli studi" in force. https://www.uniroma1.it/it/pagina/regolamento-studenti). For the purposes of the achievement of the credits prescribed by the degree programme Manifesto (Manifesto degli studi) for the first year, the exams that will be considered are the exams that have been taken until the last session available fo the 2018-2019 academic year.
Students who obtain the second instalment of the scolarship are also exempt from paying second year tuition fees.
Bourses Maroc 
Dossier de candidature
---
Informations de contact
---