Bourses d'étude : Leipzig 2019 – Leipzig University
---
Type de bourse
Bourse d'études Pays
Allemagne Niveau d'études
Master Date début de candidature
01 août 2018 Date fin de candidature
01 oct. 2018
---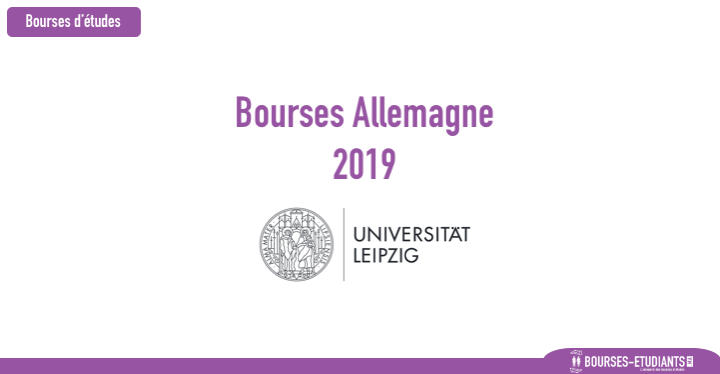 ---
Bourses d'étude : Leipzig 2019 – Leipzig University
Bourses Maroc
Founded in 1409 as the second university in Germany, Leipzig University has always been committed to the principle of universitas litterarum. The University consists of 14 faculties with 128 institutes. 35,000 persons research, teach and study at the university. An even wider choice of individual study programmes leads to Master degrees and teaching qualifications. The courses offered at the university cover traditional subjects such as law, medicine, economics, social and natural sciences as well as new fields of academic interest like environmental sciences, media and communication studies. This wide range of study programmes reflects the needs of the various industries settled in and around Leipzig, a city which is frequently described as both a commercial and a cultural centre. Currently, close to 29,000 students are enrolled at the Universität Leipzig.
Target group :
The Master programme targets upcoming professionals and resource persons with practical experience in promoting and/or managing small and medium-sized enterprises.
German and foreign graduates with degrees in subjects such as economics, business management, geography, law, politics, administration and related areas can apply.
Course language English
Entry requirements :
The general ability to undertake this MBA must be verified by a qualifying degree; viz. a 4-year university degree at Bachelor level in economics, business, social, natural or engineering sciences or an equivalent degree from a renowned university after a minimum of 4 years of study
Broad knowledge of economics and/or economic issues
At least 2 years of relevant work experience
Fluent spoken and written English: TOEFL (79 iBT, 550 PBT, 213 CBT) or IELTS (Academic-minimum overall Band 6.0)
Written application
Degree awarded  : Master of Business Administration
Course begins : Every year in October
Course duration : 22 months
Duration of German language course prior to beginning of programme : Basic German language skills are not compulsory but highly recommended; 2 months (for students awarded a DAAD scholarship)
Application deadline Scholarships: 1 October 2018 at Leipzig University
For further information contact : International SEPT Programme Ritterstraße 9-13 04109 Leipzig Germany Phone: +49 341 97-39762 Fax: +49 341 97-39279 Email: [email protected] 22 Website: www.sept.uni-leipzig.de
Dossier de candidature
---
Informations de contact
---