Bourses d'étude Liban 2019 : the Tomorrow's Leaders Graduate (TLG) Scholarship – Lebanese American University
---
Type de bourse
Bourse d'études Pays
Liban Niveau d'études
Master Date début de candidature
13 mars 2019 Date fin de candidature
31 mars 2019
---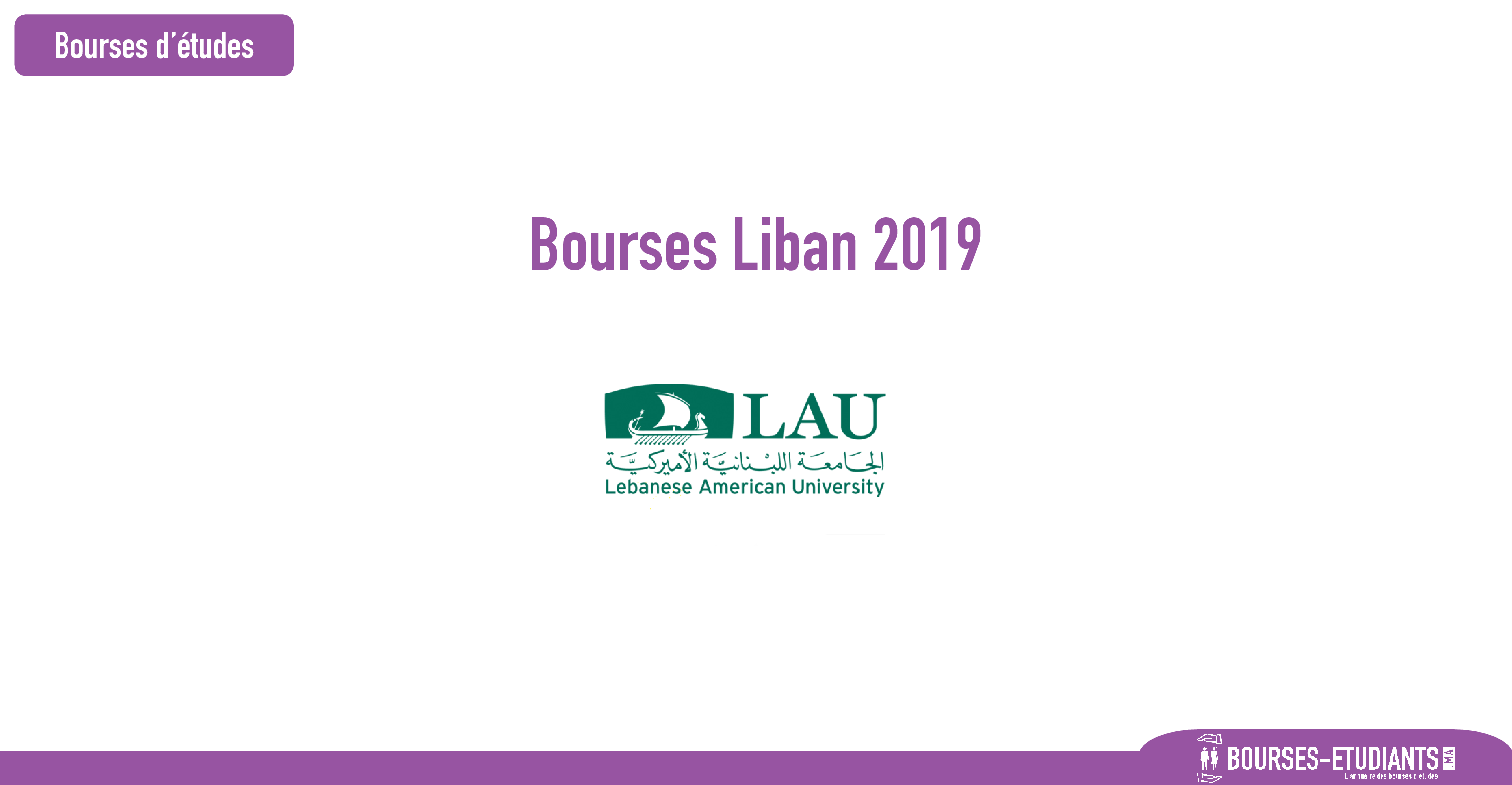 ---
Bourses d'étude Liban 2019 : the Tomorrow's Leaders Graduate (TLG) Scholarship – Lebanese American University
The Lebanese American University is announcing the Tomorrow's Leaders Graduate (TLG) Scholarship funded by the U.S. Department of State U.S. MEPI (Middle East Partnership Initiative).
Students who are committed to complete their Master's degree within two-years-starting Fall 2019 are welcome to apply. The scholarship program gives educational opportunities to Arab youth to help pursue higher quality education in an American education system.
Scholarship Provider: Lebanese American University (LAU) is an accredited American university operating in Beirut and Byblos, Lebanon, under a charter from the State of New York. It is a secular and private American University.
Degree Level: Master
Scholarship Benefits: A $500 USD monthly stipend, Full tuition fees,Medical insurance, Student housing during school months, Laptop, Internship opportunity, Annual round-trip economy air ticket
Available Subjects: The scholarship will be awarded to pursue Master degree in the following field Applied Economics, Interdisciplinary Gender Studies, International Affairs, and Migration Studies.
Eligible Nationalities: Citizen of Algeria, Jordan, Lebanon, Libya, Morocco, Syria, Tunisia, or Yemen are eligible for this scholarship.
Eligibility Criteria: To be eligible, the applicants must meet all the following criteria:
Students who are committed to pursue hands-on public policy research and work as a part of aster's program are eligible to apply. To apply, you need to demonstrate financial need status per MEPI and LAU's Financial Aid policies.
Application Procedure:
The application mode of the scholarship is offline:
To apply, the applicants must download the application form.
The applicants need to submit the complete application form with all financial aid supporting documents to [email protected] (make sure you indicate "TLG-MEPI applicant" in the subject line).
As part of the application, the applicants must submit all the following required documents:
Completed LAU-TLG admission application for 2019-2020
A recent passport-size photo.
Identity card or passport (should be the same as the nationality to be used in the registration process at LAU).
Educational certificates or diplomas (Bachelor, License, etc).
Official transcript(s) of grades from all colleges or universities attended.
Personal Essay of at least 1,000 words
A research statement
Recommendation letters from two professors who are familiar with your academic performance.
Certificate(s) of employment with a CV, if you have relevant work experience(s).
Official scores of English proficiency test (depending on the university/college attended) by submitting one of the below:

Internet-based TOEFL (IBT), with a minimum score of 90. The code for LAU is  2595. The institutional TOEFL is not accepted.
Academic IELTS with a minimum score of 7.

Applicants with Internet-based TOEFL (IBT) scores between 80 and 89 and IELTS scores of 6.5, have to register for ENG009 Remedial English, a three-credit course, or retake and pass the English test within the first year of enrollment. IBT and IELTS scores below 80 and 6.5 respectively are not acceptable.
N.B. English proficiency exams may not be required from applicants from universities recognized by LAU where the language of instruction is English.
Dossier de candidature
---
Informations de contact
---