Bourses d'étude: London 2018 – Reed Innovation Scholarship
---
Type de bourse
Bourse d'études Pays
Royaume Uni Niveau d'études
Bac Date début de candidature
01 janv. 2018 Date fin de candidature
19 mars 2018
---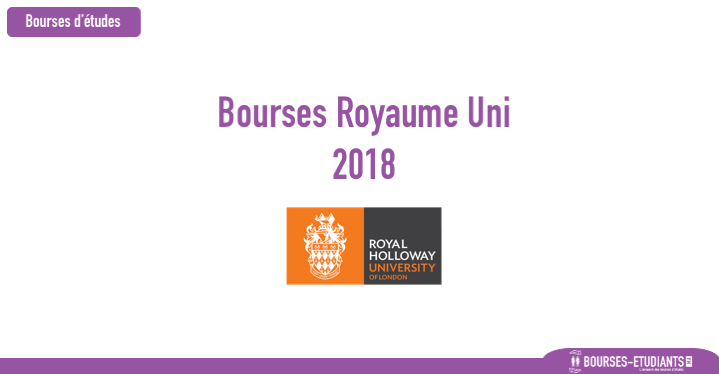 ---
Bourses d'étude: London 2018 – Reed Innovation Scholarship
Royal Holloway
Reed Innovation Scholarship
One scholarship is available to a new undergraduate studying any subject. It celebrates and rewards outstanding and creative problem solving skills and is sponsored by Sir Alec Reed.
The scholarship is a £10,000 cash award, paid in three instalments in year 1.
Am I eligible?
You must be a Home, EU or international new undergraduate student, with minimum expected or final grades at GCE A-level of AAA or equivalent and a strong scholarship statement.
You must demonstrate outstanding innovation and creative problem solving skills, which will be assessed via your scholarship statement.
You will also need to hold a current conditional or unconditional offer to study at Royal Holloway before you can apply for the scholarship.
How do I apply?
You need to complete an online scholarship application form before the deadline: 19 March, 2018.
Before starting your application, please ensure that you have read the Application Guidelines and the eligibility criteria for this scholarship.
You will need to complete a scholarship statement as part of your application. This should include three ideas of entrepreneurs which you admire and three original ideas of your own. Your ideas could be inspired by the following themes:
Solving an artistic, scientific or technical problem in a new or unusual way
A unique and distinctive solution to a problem faced by your school/college, club or community
Creating a new group, organisation, institution or product that meets an important need.
Shortlisted applicants may be invited to interview by Sir Alec Reed for final decision-making on the scholarship award. Interviews will be conducted via Skype if the candidate is unable to travel to London.
Additional terms and conditions
The award is paid in three instalments and will be paid into the successful student's bank account at the end of each academic term in December, March and June.
This scholarship can be held alongside other scholarships,with the exception of the Future Leaders scholarship.
Dossier de candidature
---
Informations de contact
---