Bourses d'étude : Making Matters Award for International Students – University of Dundee 2019
---
Type de bourse
Bourse d'études Pays
Royaume Uni Niveau d'études
Master Date fin de candidature
30 juin 2019
---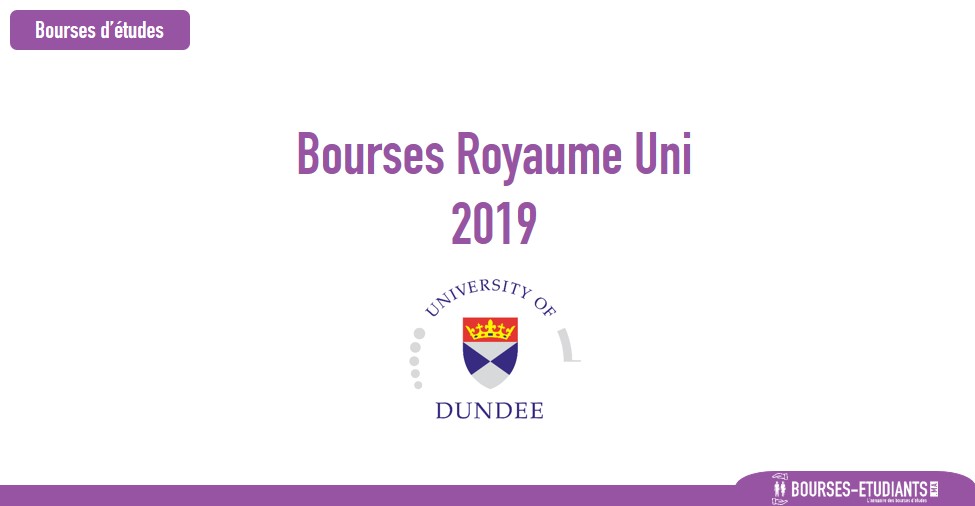 ---
Bourses d'étude : Making Matters Award for International Students – University of Dundee 2019
Scholarship Description: The University of Dundee is pleased to announce the Making Matters Award for International Students 2019. The scholarship is available for pursuing a postgraduate degree program in the field of Art and Design, English / Creative Writing / Film Studies.
The Making Matters Award has been founded by a DJCAD alumnus with the specific purpose of assisting students on the MFA Art & Humanities who may require extra financial resources in order to undertake the one-year full-time course.
Scholarship Provider: The University of Dundee, Scotland, is one of the UK's leading universities, internationally recognized for its expertise across a range of disciplines. The mission of the university is to transform lives, working locally and globally, through the creation, sharing, and application of knowledge.
Degree Level: The scholarship is open to pursuing a postgraduate degree program.
Available Subject: The scholarship will be awarded in the field of Art and Design, English / Creative Writing / Film Studies
Scholarship Benefits: The applicants have an opportunity to win £1,200 in entry year only.
Eligible Nationalities: UK: England, Northern Ireland, Scotland, Wales, EU: Austria, Belgium, Bulgaria, Croatia, Cyprus, Czech Republic, Denmark, Estonia, Finland, France, Germany, Greece, Hungary, Ireland, Italy, Latvia, Lithuania, Luxembourg, Malta, Netherlands, Poland, Portugal, Romania, Slovakia, Slovenia, Spain, Sweden, Overseas: Afghanistan, Albania, Algeria, Andorra, Angola, Antigua and Barbuda, Argentina, Armenia, Australia, Azerbaijan, Bahrain, Bangladesh, Barbados, Belarus, Belize, Benin, Bhutan, Bolivia, Bosnia and Herzegovina, Botswana, Brazil, Brunei, Burkina Faso, Burma, Burundi, Cambodia, Cameroon, Canada, Cape Verde, Central African Republic, Chad, Chile, China, Colombia, Comoros, Congo, Congo (Democratic Republic), Costa Rica, Cuba, Djibouti, Dominica, Dominican Republic, East Timor, Ecuador, Egypt, El Salvador, Equatorial Guinea, Eritrea, Ethiopia, Fiji, Gabon, Georgia, Ghana, Grenada, Guatemala, Guinea, Guinea-Bissau, Guyana, Haiti, Honduras, Hong Kong, Iceland, India, Indonesia, Iran, Iraq, Israel, Ivory Coast, Jamaica, Japan, Jordan, Kazakhstan, Kenya, Kiribati, Kosovo, Kuwait, Kyrgyzstan, Laos, Lebanon, Lesotho, Liberia, Libya, Liechtenstein, Macedonia, Madagascar, Malawi, Malaysia, Maldives, Mali, Marshall Islands, Mauritania, Mauritius, Mexico, Micronesia, Moldova, Monaco, Mongolia, Montenegro, Morocco, Mozambique, Namibia, Nauru, Nepal, New Zealand, Nicaragua, Niger, Nigeria, North Korea, Norway, Oman, Pakistan, Palau, Panama, Papua New Guinea, Paraguay, Peru, Philippines, Qatar, Russia, Rwanda, Samoa, San Marino, Sao Tome and Principe, Saudi Arabia, Senegal, Serbia, Seychelles, Sierra Leone, Singapore, Solomon Islands, Somalia, South Africa, South Korea, South Sudan, Sri Lanka, St Kitts and Nevis, St Lucia, St Vincent, Sudan, Suriname, Swaziland, Switzerland, Syria, Taiwan, Tajikistan, Tanzania, Thailand, The Bahamas, The Gambia, The Occupied Palestinian Territories, Togo, Tonga, Trinidad and Tobago, Tunisia, Turkey, Turkmenistan, Tuvalu, Uganda, Ukraine, United Arab Emirates, United States, Uruguay, Uzbekistan, Vanuatu, Vatican City, Venezuela, Vietnam, Yemen, Zambia, Zimbabwe
Entrance Requirements: To apply for this scholarship, applicants must meet the following criteria:
Applying to study an MFA Art & Humanities at the University of Dundee to the value of the annual giving total from the donor plus gift aid. To assists students at the outset of the course, the award will be paid at the beginning of the academic year (September 2019)
The student receiving the award must be studying the MFA Art & Humanities at the University of Dundee.
When assessing the award the student will be considered on their potential as well as on their current academic achievement.
Application Procedure:
Submit a short 300-word statement along with 6 images of your work.
The statement should include supporting reasons why and how this award is relevant and helpful to your practice moving forward.
To apply for the scholarship, the application should be emailed to [email protected]
Dossier de candidature
---
Informations de contact
---