Bourses d'étude Nouvelle Zélande 2019 : Culture And Society Doctoral Scholarships – Auckland University of Technology
---
Type de bourse
Bourse d'études Pays
Nouvelle-Zélande Niveau d'études
Doctorat Date début de candidature
30 mars 2019 Date fin de candidature
15 juin 2019
---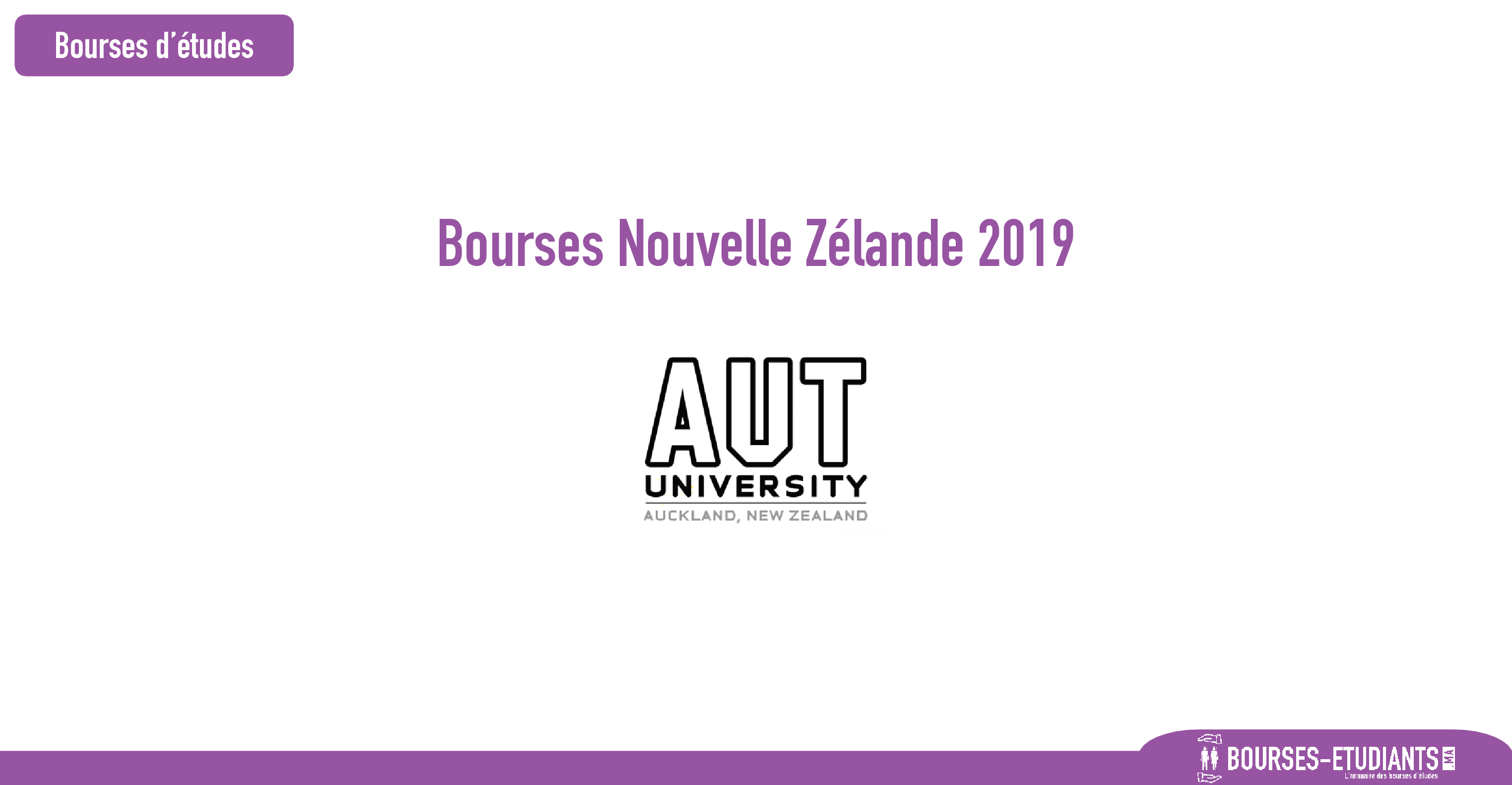 ---
Bourses d'étude Nouvelle Zélande 2019 : Culture And Society Doctoral Scholarships – Auckland University of Technology
Auckland University of Technology (AUT) provides postgraduate scholarships to encourage postgraduate study and research and to recognise student academic achievement.
The Faculty of Culture and Society will offer these AUT Postgraduate Scholarships in eligible postgraduate programmes in the:
·        School of Education
·        School of Language and Culture
·        School of Hospitality Tourism and Gastronomy
·        School of Social Science and Public Policy
AUT Postgraduate Scholarship (coursework) is available to full-time students undertaking study at Level 8 or above (New Zealand Qualifications Framework) who have demonstrated the potential to achieve highly.   The Scholarships are available to recent AUT students and alumni and graduates from other NZ universities intending to enrol in one of the following programmes: – A Postgraduate Diploma  – A one year AUT Honours programme. Fourth year Law and Engineering students are not eligible to apply. – A coursework master's programme.  The scholarship will cover a fees contribution for a total of 120pts including coursework and a research project or dissertation of up to 60pts. – The coursework year of a Professional Doctorate (120pts of coursework may be spread over two years).
Selection criteria:
·        Applicants must be either studying at AUT at the time of application or have completed their qualifying degree in a relevant field at AUT or another New Zealand University no more than two years prior at the time of application.   ·
Applicants must:
o   achieve a minimum GPA  minimum of 7.00 (A-) across a minimum of 120pts in the final year of their qualifying   degree; or
o   Be registered in ARION as having Māori or Pacific first ethnicity and achieve a minimum GPA of 6.5 (B+/A-) across 120pts in the final year of their qualifying degree; or
o   Be able to prove significant financial hardship and achieve a minimum GPA of 6.5 (B+/A-) across 120pts in the     final year of their qualifying degree.
·        When an applicant has undertaken an approved international exchange programme during the final year of their qualifying degree the GPA will be assessed across the AUT papers only. Evidence of grades for papers undertaken as part of the exchange will be required once available.
·        Recipients of this scholarship are not eligible to reapply to support the same programme of study in subsequent years.
·        An applicant wishing to be considered as under financial hardship will be required to provide evidence i.e. IRD statement of income plus supply a reference from someone other than a family member supporting the financial need.
·        Applicants must intend to enrol full-time (no less than 120pts per annum) in the twelve months following application. The successful candidates will be selected by a panel of representatives from the Faculty of Cuture and Society.
How do students apply?
Applicants must complete the AUT Postgraduate Scholarship Application online available through the AUT Scholarships Database www.aut.ac.nz/scholarships six weeks peior to the closing date. Applications will open in October of the year preceding study for Semester 1 study or May for study in Semester 2.  The following documentation must be received on or before the closing date.
·        A one-page personal statement outlining the applicant's academic goals and career aspirations stating why they believe they merit the scholarship. If the applicant is applying under the category Māori or Pacific they must outline their cultural involvement.
·        The personal statement should also attach an outline of recent leadership positions or responsibilities held within the University or community.
·        If an applicant wishes to be considered under the Financial Hardship category they must address this in their personal statement and upload evidence of their financial position i.e. an IRD statement of income and provide the details of a referee, other than a family member or friend, who can support the applicant's financial need.
·        A copy of the applicant's transcript will be added to the application by the Scholarships Office once grades have been finalized.
For more information about this scholarship, visit the officiel website of AUT here.
Dossier de candidature
---
Informations de contact
---