Bourses d'étude : Pays-Bas 2019 – Hague University of Applied Sciences
---
Type de bourse
Bourse d'études Pays
Pays-Bas Niveau d'études
Licence | Master Date fin de candidature
31 mars 2019
---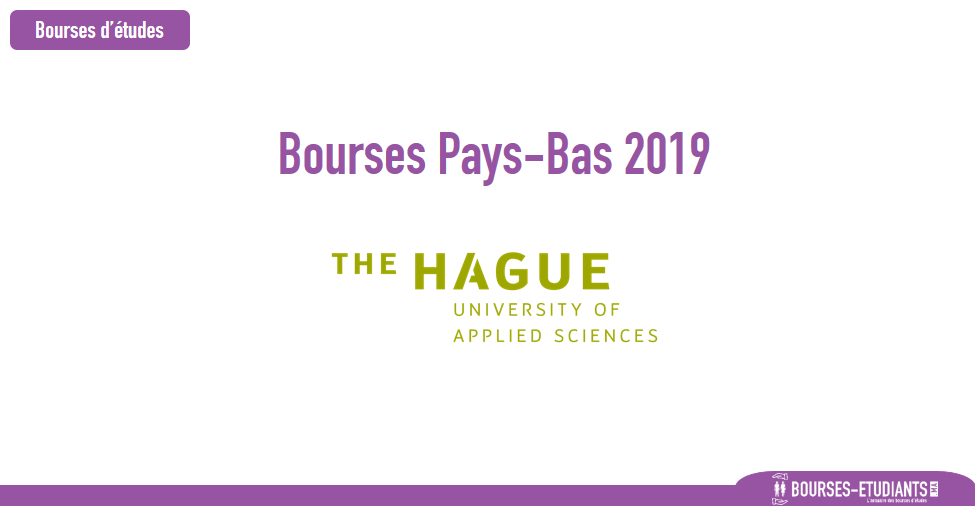 ---
Bourses d'étude : Pays-Bas 2019 – Hague University of Applied Sciences
Do you consider yourself a global citizen?
Each year, a maximum of three (one-time) scholarships each worth EUR 5,000 are available to prospective master students at Hague University. We are seeking intelligent, talented and ambitious people who view themselves as citizens of the world.
You are eligible for a World Citizen Talent Scholarship if you:
Come from outside The Netherlands and don't live in the Netherlands.
Are enrolling for the first time at The Hague University of Applied Sciences.
Have never applied for this scholarship before.
Have been conditionally accepted as a student (also-called offer of student position) on or before 1 May for the upcoming academic year.
Application Process
Step 1
Apply for the Master programme of your choice by using the online Osiris application tool.
Step 2
Write an essay (in English, 950 to 1100 words ) explaining why and how you can contribute to the multinational, multicultural beehive that is The Hague University of Applied Sciences. Please read our essay guidelines and information on the assessment procedure below before you start writing.
Step 3
Submit your essay by completing the scholarship application form between 1 November – 31 March.
Scholarship assessments and results
We have appointed a committee to judge all essays. The judges will select the three students whose essays will have impressed them most to receive the scholarship. The decision of the jury is binding and you will be informed about it via email before 15 May.
Please note that you will only be awarded the scholarship after you have been conditionally accepted and have met all terms and conditions of enrolment. Once the scholarship has been definitively awarded, the relevant amount will be waived from the tuition fee as being the last instalment.
By submitting your essay, you are giving us the right to publish it, if we wish to. Scholarship winners are also expected to participate in evaluations, and contribute to the internationalisation of our institution.
If you have any questions before applying, please email us via [email protected].
Please make sure you read the 'Regulations for Financial Aid Master Programmes. It contains detailed information regarding this scholarship programme.
Dossier de candidature
---
Informations de contact
---