Bourses d'étude Pays Bas 2020 : University of Twente Holland Scholarship
---
Type de bourse
Bourse d'études Pays
Pays-Bas Niveau d'études
Licence Date fin de candidature
01 févr. 2020
---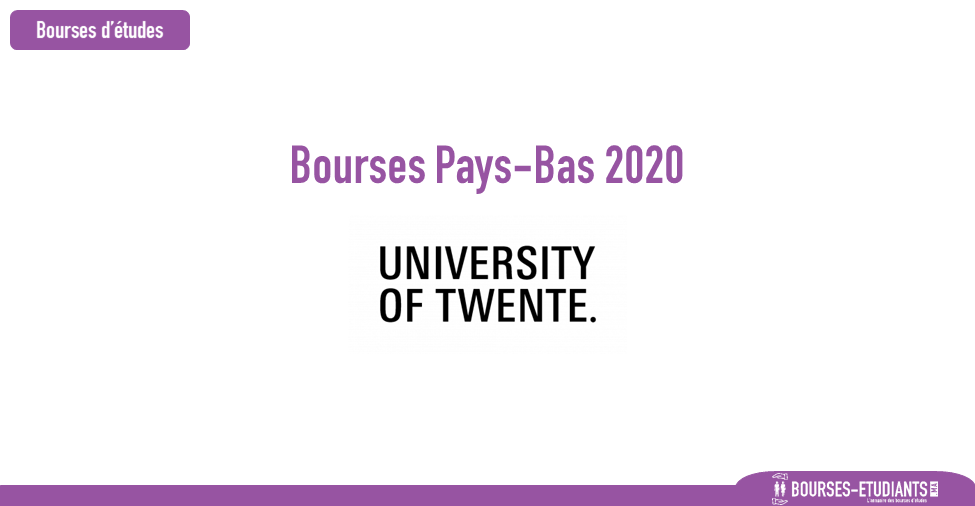 ---
Bourses d'étude Pays Bas 2020 : University of Twente Holland Scholarship
University of Twente Holland Scholarship is offered for Bachelors, Masters degree in the field of All mentioned eligible subjects . The deadline for the sending your application is 01 Feb 2020. This scholarship is provided by Dutch Ministry of Education, Culture and Science and the value of this scholarship is Partial Funding, €5,000 . This scholarship is open for: Open to all nationalities except EU and EEA countries.
Degree: Bachelors, Masters
Deadline: 01 Feb 2020
Scholarship value: Partial Funding, €5,000
University of Twente Holland Scholarship offered by the Dutch Ministry of Education, Culture and Science for students planning to pursue their Bachelors or masters course at the University of Twente. The value of the scholarship is € 5,000 for the first year of studies as compensation for study-related costs.
The UT collaborates with Delft University of Technology, Eindhoven University of Technology and the Wageningen University and Research Centre under the umbrella of 4TU and is also a partner in the European Consortium of Innovative Universities (ECIU). A European collaboration project by innovative universities. Together we combine our knowledge in the field of education, research and valorization in order to increase our innovative strength and use it to contribute to enhancing the position of the Dutch and European knowledge economy.
The UT is ranked 65th in the Reuters's 2017 European Most Innovative Universities, and, 184th worldwide in 2019 according to the Times Higher Education magazine.
Eligibility:
Applicant must have applied for a course that starts in the academic year 2020/2021
Applicant must not have studied in the Netherlands before for a full degree (e.g. a Bachelor's or Master's degree), or 
Applicant must not have a degree from an education facility in the Netherlands;
Must be from a non-EU/EEA country;
Must be an excellent student
Must have been (provisionally) admitted to one of the qualifying study programs 
Must comply with the conditions for obtaining an entry visa in the Netherlands
Must comply with the general English language test requirement 
Must not be eligible for a Dutch study grant
To apply for the Holland Scholarship complete and submit the application by the deadline: 1st February 2020.
Dossier de candidature
---
Informations de contact
---
Organismes proposant la bourse
Studying at the University of Twente is different than studying anywhere else. Why? Because our vision of the world you will live and work in after leaving us has led us to develop a distinct view on ...