Bourses d'étude : PhD Scholarships – University of Nottingham
---
Type de bourse
Bourse de Recherche Pays
Chine Niveau d'études
Doctorat Date fin de candidature
14 oct. 2018
---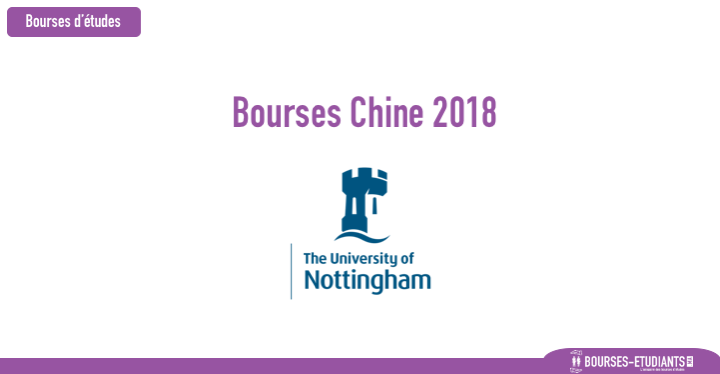 ---
Bourses d'étude : PhD Scholarships – University of Nottingham
PhD Scholarships : 
University of Nottingham Ningbo China (UNNC) offers a wide variety of scholarships to potential PhD students seeking to study at UNNC. In addition to faculty full scholarships, we also offer research strategic scholarships attached to our prestigious research institutes. The following PhD scholarships are open to applicants for 2018 entry only.
Available Scholarships :
Alumni and Family Scholarship
Doctoral Training Partnership (DTP) scholarships at UNNC and CNITECH (18103DTPNB)
PhD Scholarship in Environmental Sciences and Engineering (18013ESE)
PhD Scholarship in Chemical Engineering (18013LPY)
General MRI – UNNC MRI Research Centre Scholarship (18013CBW)
International Academy of Marine Economy and Technology (IAMET) Scholarships (18103IAMET)
New Materials Institute Scholarships (18063NMI)
Ningbo Municipal Innovation Team Scholarships (17023JH)
Operations Management and Information Systems Scholarships(18023HKC)
VR and AR Crowdsourcing Project Scholarship (18013EGC)
Strategic Research Scholarship (18053ARS, 18053BRI and 18053HLC)
Eligibility : 
Applicants must have a first class honours undergraduate degree or 65% and above for a Masters' degree from a British university, or the equivalent from other institutions;
Applicants must meet the required English language proficiency for the relevant subject area;Please be advised that IELTS 6.5 ( minimum 6.0 in any element) or its equivalent is required for FOSE Faculty scholarship.
More details can be found on the 'entry requirements' page of the website.
How to apply the Scholarships : 
Please email scanned copies of the following documents to [email protected] by specified closing date for the relevant scholarship. All documents must be in English. If original documents are not in English, a translated English version is required in addition to the original one. An application missing any of the following document (except for English language score) is incomplete and won't be considered.
Document list :
A completed application form
A research proposal
Copies of degree certificates for undergraduate and postgraduate studies (Xueli certificates are required too for applicants from Chinese universities)
Official transcripts with marks for all individual modules/courses from undergraduate and postgraduate studies (with official university stamp)
English language test score (IELTS/ PTE academic) (not required for native English speakers)
Two references (must be emailed directly by the referees)
A copy of ID or passport (both sides of an ID card required)
An electronic copy of passport-sized photo taken within three months of  this application
A copy of your Masters' dissertation, or a published paper or conference paper, or a sample of your writing work (for applicants to the School of International Studies only)
The scholarships are competitive and we advise you to apply as early as possible. It normally takes 5-6 weeks after the closing date for us to process your application.
Dossier de candidature
---
Informations de contact
---