Bourses d'étude : Royaume Uni 2018 – University of Leicester
---
Type de bourse
Bourse d'études Pays
Royaume Uni Niveau d'études
Master Date début de candidature
01 janv. 2018 Date fin de candidature
10 mars 2018
---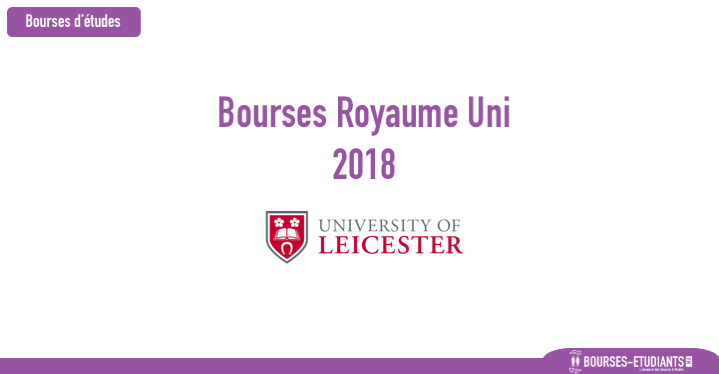 ---
Bourses d'étude : Royaume Uni 2018 – University of Leicester
Leicester
President's Postgraduate Scholarship Scheme
Maximum number of scholarships available each year: 50
Value of Scholarship: £3,500 in the form of reduction in tuition fees
Criteria: Academic merit
Application deadline – there will be two deadlines during the year:

30 March 2018 if you receive your offer to study with us before 10 March 2018
31 July 2018 if you receive your offer to study with us after 10 March 2018
Eligibility
This scholarship is for new international (non-EU) students on a full-time, taught, campus-based Masters course starting in September 2018 or January 2019.
This scholarship is open to applicants who already have an offer (conditional or unconditional) to study for a Masters degree programme at the University.
You cannot combine this scholarship with a full scholarship (for tuition fees and living costs) from any other source. You are able to receive only one partial scholarship from the University. If you have a partial scholarship from other sources you will still be considered for the President's Postgraduate Scholarship.
If you meet the eligibility criteria for this scholarship but are unsuccessful with your application, you will automatically be considered for the Head of College Scholarship Scheme. There is no need to make a separate application.
How to apply
Complete the application form and return it to:
Email: [email protected]
Mail: Scholarship Applications, International Office, University of Leicester, Leicester LE1 7RH, UK.
Dossier de candidature
---
Informations de contact
---