Bourses d'étude : Royaume Uni 2018 – University of London
---
Type de bourse
Bourse d'études Pays
Royaume Uni Niveau d'études
Licence | Master Date fin de candidature
01 juin 2018
---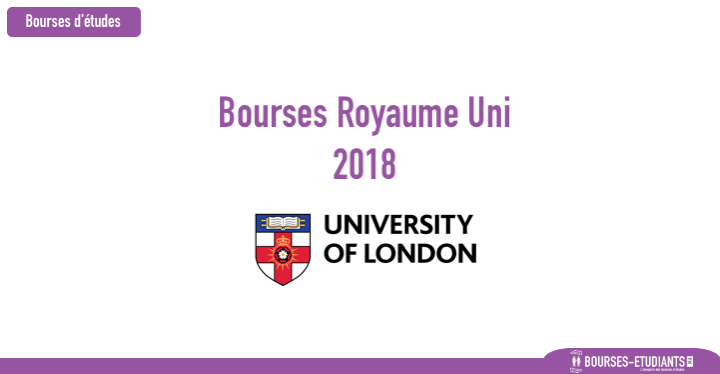 ---
Bourses d'étude : Royaume Uni 2018 – University of London
Bourses Maroc :
University of London offers 3 prestigious scholarships at £5,000 per year for each year of studies as part of our 130th anniversary celebration of the People's Palace (subject to meeting progression standards). This is for 2018 entry only.
This scholarship is available to all nationalities and across all programmes except the BDS and MBBS (i.e. quota-controlled programmes). The scholarship will be awarded based on academic merit and can be renewed each year, throughout your undergraduate degree.
Eligibility criteria
Students must achieve AAA in key A-levels, or international equivalent – UG 2018 Overseas Equivalences [XLS 14KB]. Please note students that achieve the equivalent to AAA i.e. A*AB are also eligible for the award. This award will be confirmed after A-level results day due to this criterion.
Students must be planning on paying their own tuition fees. Those who already have funding from another Queen Mary scholarship are not eligible.
Students must be applying for entry in September 2018.
The qualifying grades must be in the subjects expressed in the offer of admission.
Our policy on payment of the Scholarship during years in industry and study abroad is under consideration.
Please note the award amount will not increase during your studies, but may decrease in proportion with any decreases in regulated fees in future years.
Payment in second and third years is contingent on an overall academic achievement mark of above 80% in each year of study at Queen Mary (i.e. you must achieve an overall mark of above 80% in every progression year to maintain the Scholarship).
This scholarship scheme operates independently of the Queen Mary Bursary Scheme. You could receive a bursary in addition to the scholarship.
This scholarship will be awarded as a stipend to Home and EU students and a fee discount to overseas fee paying students.
Level : Undergraduate
Course : Open to all programmes starting in September 2018, except MBBS and BDS
Country : All
Value : £5,000 per year for each year of study (subject to meeting progression standards).
No. of awards : 3
Deadline : 1st June 2018
Dossier de candidature
---
Informations de contact
---