Bourses d'étude Royaume Uni 2019 : Chancellor's International Scholarship – University of Sussex
---
Type de bourse
Bourse d'études Pays
Royaume Uni Niveau d'études
Master Date début de candidature
08 mars 2019 Date fin de candidature
01 mai 2019
---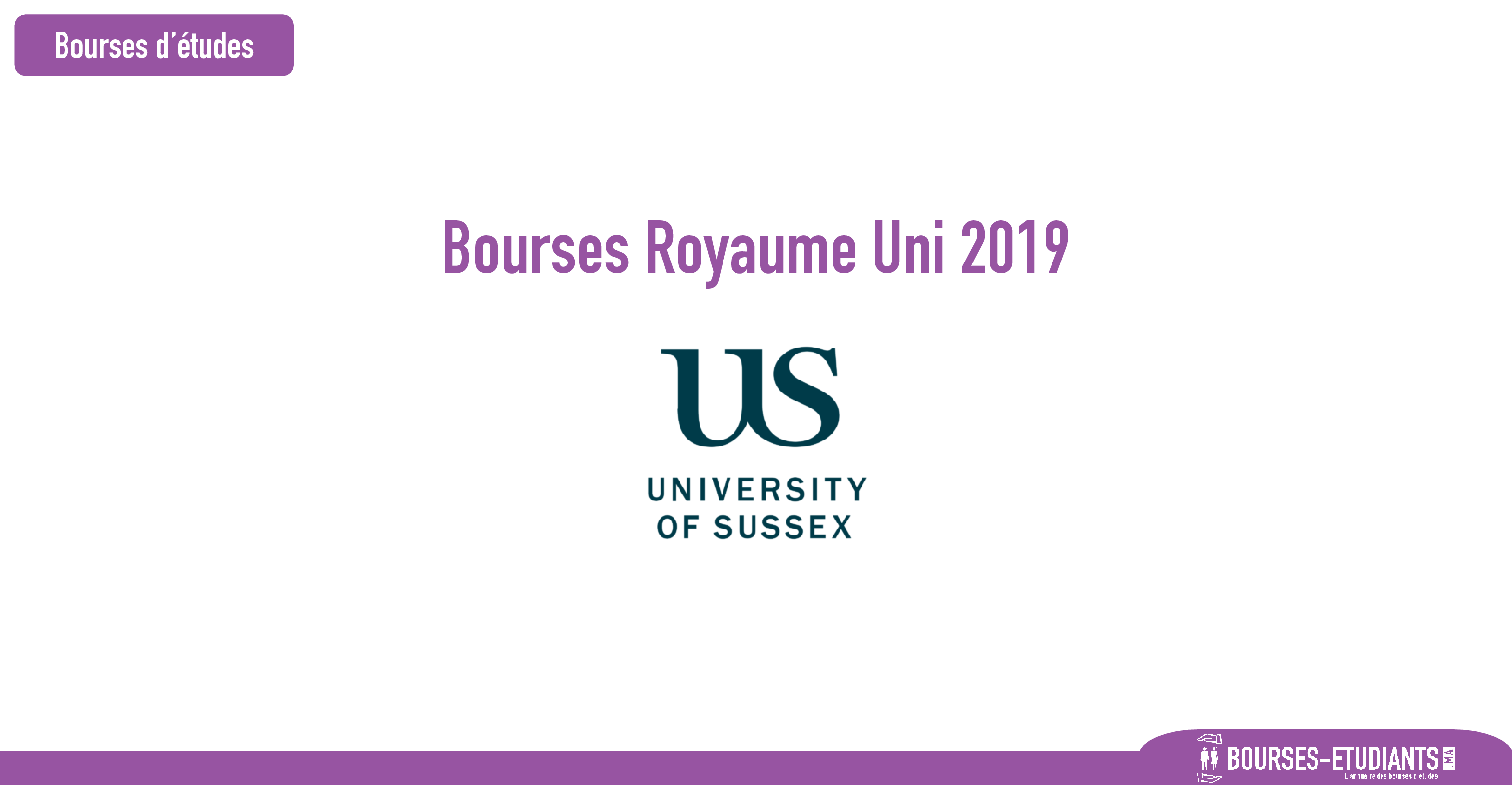 ---
Bourses d'étude Royaume Uni 2019 : Chancellor's International Scholarship – University of Sussex
International students are invited to apply for the 2019 Chancellor's International Scholarship funded by the University of Sussex. The scholarships are open for the new commencing students.
The university looking for ambitious, enthusiastic and motivated students. The scholarships are available to support the students who are enrolling in a full-time postgraduate degree program at the university.
Scholarship Provider: The University of Sussex is a public research university in Sussex, England. It particularly has known for its Humanities and Social Sciences departments, with its Development studies program being placed at number 1 globally in the QS World University Ranking.
Degree Level: Scholarships are open to study postgraduate degree program
Scholarship Benefits: The scholarships will cover 50% reduction of the overseas tuition fee
Numbers of Scholarship: There are 25 scholarships are available for the international students
Eligible Nationalities: International students are eligible to apply for this scholarship
Available Subject: Scholarship is available to pursue a postgraduate degree program in any subject offered by the university
Eligibility Criteria: To be eligible for the scholarship, the applicant must meet the following criteria:
The candidate must be classified as overseas for fee purposes
Applicant must have accepted a place on a full-time eligible Masters, commencing at the University of Sussex in September 2019
Applicant must have excellent grades
Applicant must have clear and specific goals with defined links to your course
Application Procedure:
To be considered for the Chancellors International Scholarship, you need to have received and accepted an offer of a place on an eligible Masters at Sussex. You will need to demonstrate excellent grades in your most recent qualification (i.e. a first class degree if you are studying in the UK).
To apply for the scholarship, please complete the application form.
The applicants are required to provide a statement of academic interests.  You should include information about:
your drive and ambitions
your potential for positive impact when you return to your home country
any relevant work experience, skills or extra-curricular activity that relate to your ambitions and/or chosen a course
Admission Requirements: To apply for the scholarship, you need to take the admission in eligible master's degree program at Sussex. You can apply for a master degree program through the link: How to Apply
Dossier de candidature
---
Informations de contact
---