Bourses d'étude Royaume-Uni 2019 : EU & International Hardship Fund – University of Strathclyde
---
Type de bourse
Bourse d'études Pays
Royaume Uni Niveau d'études
Licence Date début de candidature
02 mars 2019 Date fin de candidature
28 juin 2019
---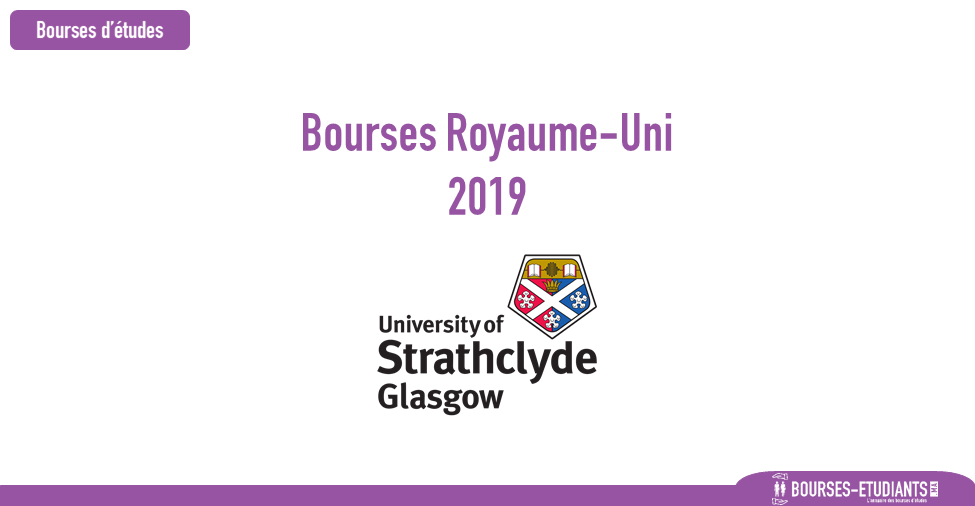 ---
Bourses d'étude Royaume-Uni 2019 : EU & International Hardship Fund – University of Strathclyde
The University of Strathclyde is pleased to announce the EU & International Hardship Fund 2019. The scholarship is available to students who are pursuing undergraduate, postgraduate taught, postgraduate research degree program.
This fund is for the assistance of the European Union and international students who have got into financial difficulties after starting their course. Prizes are around 300-500 and the objective is to meet the immediate short-lived life cost.
Scholarship Provider: The University of Strathclyde located in the heart of Glasgow city is a multi-award winning UK university. With students and staff of more than 100 countries, this is Scotland's third largest university.
Degree Level: The scholarship is open for Undergraduate, Postgraduate Taught, and Postgraduate Research degree program.
Available Subject: The scholarship will be awarded in the subjects offered by the university.
Scholarship Benefits: Awards are around £300-£500 and are intended to meet immediate short term living costs.
Number of Scholarships: Varies scholarships are available.
Eligible Nationalities: Scholarships are available to students from all around the world.
Entrance Requirements: Registered students of the University shall be eligible to apply to the Fund if they meet the following criteria:
You have fallen into financial hardship after starting your course of study with an appropriate funding arrangement in place
You are not eligible to apply to the University Discretionary Fund by virtue of your residence status
A payment from the fund would make a significant contribution to your ability to continue your studies successfully; and
You are unable to meet your immediate living costs through your existing funding.
Application Procedure:
Submit the following with your application:
3 months bank statements for all bank accounts
Any other documents you feel would support your application
To apply for the scholarship, the applicants must download the application form and submit to the Financial Support Team in the Advice Centre on level 1 of the McCance Building.
Dossier de candidature
---
Informations de contact
---