Bourses d'étude Royaume Uni 2019 : Goldsmiths International Scholarships – Goldsmiths, University of London
---
Type de bourse
Bourse d'études Pays
Royaume Uni Niveau d'études
Licence Date fin de candidature
19 mai 2019
---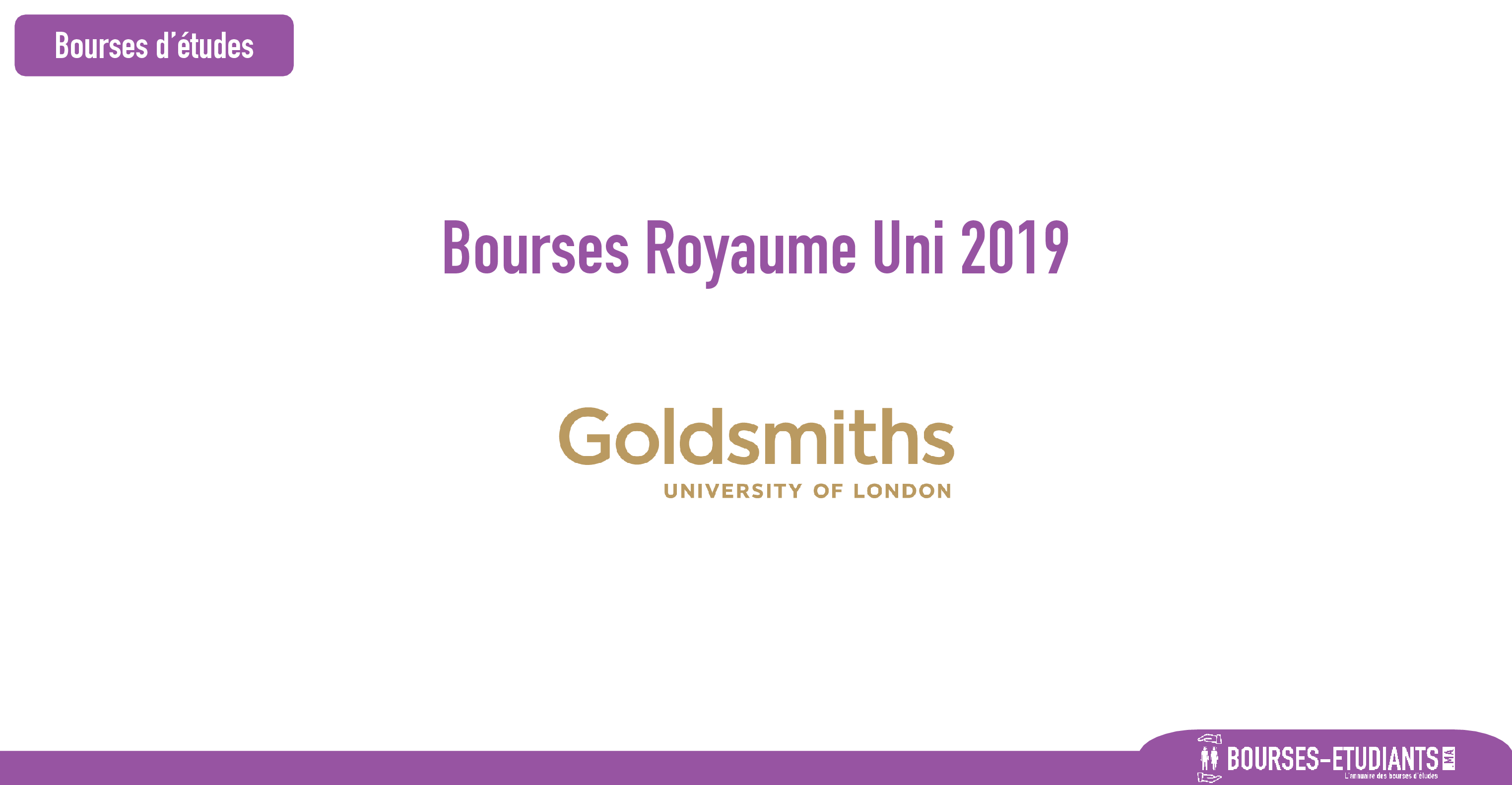 ---
Bourses d'étude Royaume Uni 2019 : Goldsmiths International Scholarships – Goldsmiths, University of London
Goldsmiths, University of London is offering this year a number of £2,000, £4,000, and £5,000 scholarships to international students starting full-time study at Goldsmiths in September 2019.
The scholarship provides a tuition fee waiver for your first year of study.
Eligibility
To be eligible to apply you must have received and accepted a conditional or unconditional offer of a place on a full-time taught programme starting in September 2019. The following levels of study are eligible to apply:
Undergraduate
Postgraduate
International Foundation Certificate
Graduate Diploma
You must be regarded as an international student for fee purposes, and must not be in receipt of official financial sponsorship to pay all of your tuition fees. This means that you have been assessed as an international student for the purposes of your tuition fees, and this should be confirmed in your offer letter from Goldsmiths. You can still apply for this scholarship if you are going to receive partial official sponsorship, including a departmental bursary or scholarship.
The Goldsmiths scholarship panel will consider a range of factors when awarding the Goldsmiths International Scholarship. Students with a wide range of academic achievements, combined with evidenced commitments to a range of extra-curricular activities, are particularly encouraged to apply.
Please note that students who have already started their course are not eligible to apply for this scholarship. This scholarship cannot be used in conjunction with any other Goldsmiths financial award.
How to Apply
You will need to apply using our online application form. As part of the application, you will need to submit a 500-word supporting statement about your academic and non-academic achievements, and how you think this degree, and your experience of studying in the UK, will contribute to your future academic and career plans.
Deadline
Applications open on 11 February, 2019, and consist of two rounds.
If you apply by 31 March, 2019, 23:59 (GMT), you will hear back about your application on or around 12 April, 2019. This round may be well suited to US applicants, or those studying a US/alternative curriculum abroad, who have to consider early commitment deadlines in home countries (e.g. National Decision Day on May 1st).
If you apply by 19 May, 2019, 23:59 (GMT), you will hear back about your application on or around 3 June, 2019.
Selection Criteria
Applications will be considered fairly and on a range of criteria, including:
Programme of study (subject and level)
Supporting statement
Academic qualifications
Extra-Curricular activities
We will assess your circumstances in full, taking into account your overall academic achievements and extra-curricular activities.
If you have any queries regarding these scholarships, you can email [email protected].
Scholarship awardees will be required to support the International and Student Marketing teams at Goldsmiths by supplying two student profiles of no more than 500 words each, along with a photograph (headshot), and are encouraged to attend an induction meeting at the start of the year. They may be asked if they would like to undertake a range of other promotional activities on an ad hoc and paid basis, such as attending recruitment events, social media activity, or digital content development. These additional activities are not guaranteed, and would be non-obligatory and at the scholarship holder's discretion.
Dossier de candidature
---
Informations de contact
---