Bourses d'étude Royaume Uni 2019 : International Scholarships Award – University of Greenwich
---
Type de bourse
Bourse d'études Pays
Royaume Uni Niveau d'études
Licence Date fin de candidature
15 nov. 2019
---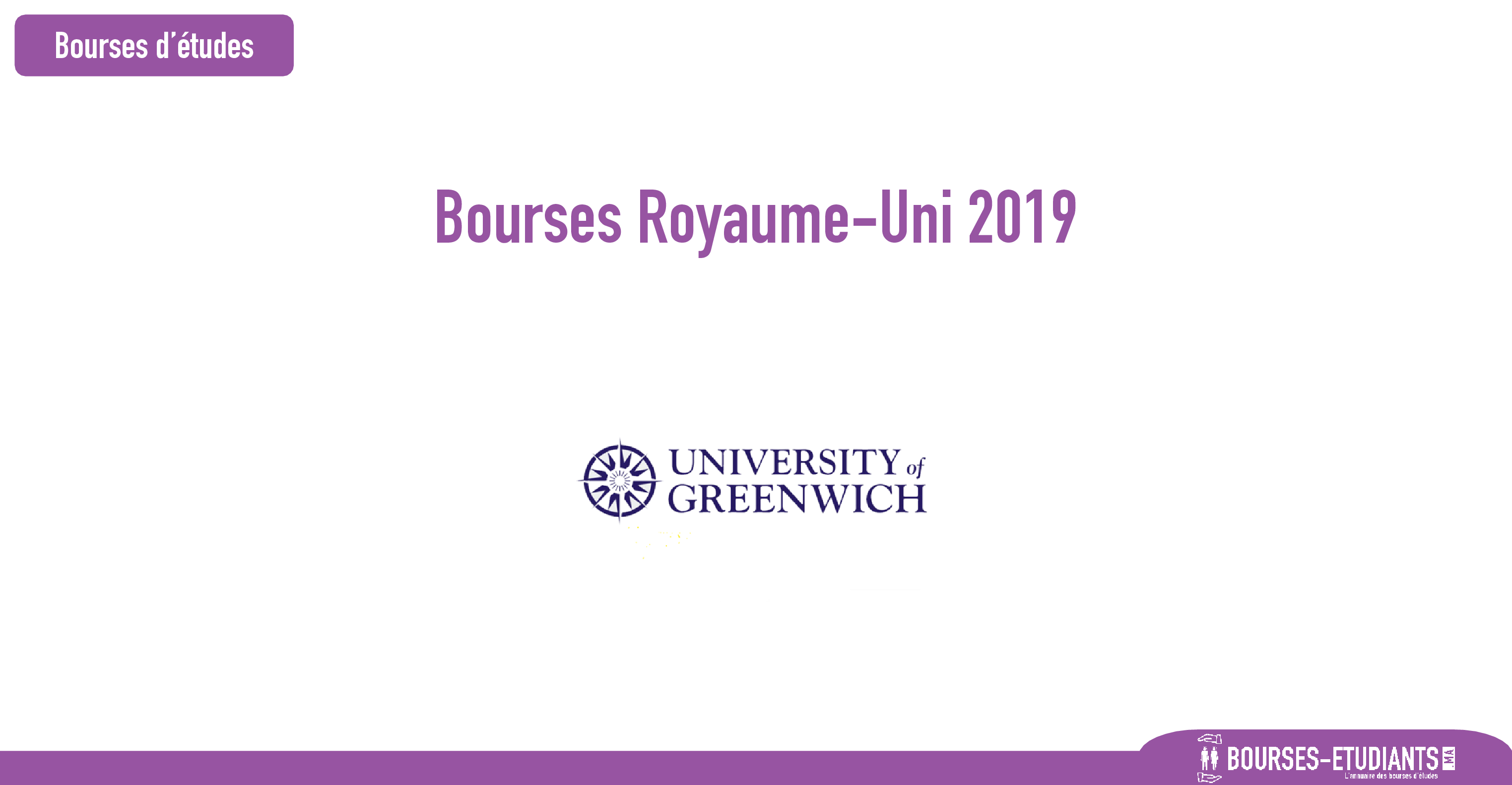 ---
Bourses d'étude Royaume Uni 2019 : International Scholarships Award – University of Greenwich
The University of Greenwich is one of the most international universities in the world, with students from over 140 countries coming each year to advance their education with us. We have a large scholarship fund available to help the best and brightest international students achieve their academic potential. We strive to encourage our students to widen their outlook and expand their horizons. The International Scholarship Award is our scholarship designed to support your opportunity to study with us here in the UK, and add to our international community.
Please note that you must be an international fee paying student, and already hold an offer to study with the University of Greenwich for September 2019 or January 2020 to be eligible to apply for this scholarship award. If you are in receipt of any alternative scholarship (from the University or otherwise), you will automatically be removed from consideration.
Your eligibility will be assessed on the basis of your answers to the following questions, with a 2,000 character limit for each answer. The scholarship will be awarded as a discount from your tuition fees for your first academic year at the University of Greenwich. Awards will be between £500 – £3,000.
Am I eligible?
To apply, you will need to meet the following criteria:
You have been offered a place to begin a University of Greenwich course in September 2019 or January 2020
You will pay fees at the international rate.
You are not receiving any alternative scholarships from the university or another source.
Students on a work placement during the 2019/20 academic year are not eligible to apply. However, University of Greenwich International College (UGIC) students who are progressing to the university component of their course will be considered.
How to apply
Please complete the international scholarships award form.
Handwritten or scanned copies will not be accepted.
Key dates and deadlines
The International Scholarships Panel meets five times per year to consider applications. You can apply at any time, but we encourage you to apply as early as possible. The deadlines for application are:
15 March 2019 (for panel meeting 1 April)
17 May 2019 (for panel meeting 1 June)
19 July 2019 (for panel meeting 1 August)
18 October 2019 (for panel meeting 1 November)
15 November 2019 (for panel meeting 1 December)
Successful applicants will be notified within four weeks of the panel meeting.
Conditions
You must have been offered a place on a full-time undergraduate or taught postgraduate course for the first time.
You must be assessed as paying fees at the international rate.
Payment of this award is by way of a tuition fee reduction for the first year of study. Students must pay the full cost of tuition in subsequent academic years.
Applicants must not be in receipt of any other award such as a bursary or scholarship. For Greenwich alumni, we offer a separate alumni scholarship.
Students on work placement are not eligible to apply.
Recipients of the award will participate in university promotional activities, such as interviews and attendance at university events.
Questions?
If you would like further details about this bursary, including full terms and conditions, please contact us:
Dossier de candidature
---
Informations de contact
---
Organismes proposant la bourse
University of Greenwich The University of Greenwich is a public university located in London, in the United Kingdom. It has three campuses in London and Kent, England. These are located at Greenwi...