Bourses d'étude : Royaume unis 2018 – Santander 600 Scholarships
---
Type de bourse
Bourse d'études Pays
Royaume Uni Niveau d'études
Master Date début de candidature
01 janv. 2018 Date fin de candidature
11 avr. 2018
---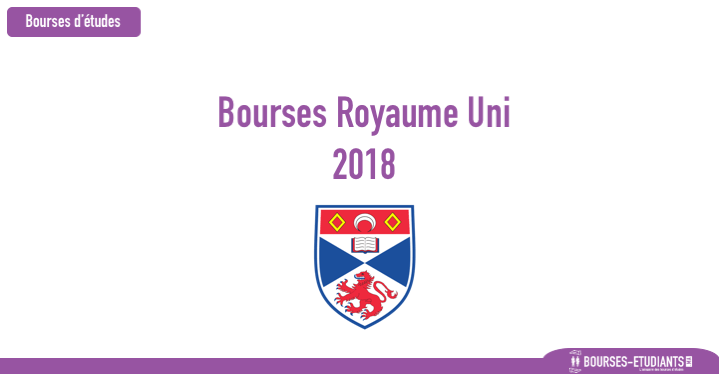 ---
Bourses d'étude : Royaume unis 2018 – Santander 600 Scholarships
The University of St Andrews is calling applications from international students to apply for its Santander 600 Scholarships for 2018 entry. Scholarships are open to full-time Postgraduate Taught applicants from any country, the whose intended course is related to fields that are a focus of Santander: finance and big data.
 Santander Universities provides support for scholarships, mobility grants, special projects and non-academic achievement awards as a means to contribute to the development and prosperity of society.
The University of St Andrews is one of the UK's top universities and is one of Europe's most research-intensive seats of learning.
All students entering the University must provide evidence that they can use English well enough to study effectively at St Andrew's.
Eligibility
Geographical criteria :
No restrictions
Domicile for fee status :
No restrictions
Level of study :
Postgraduate Taught
Year of entry :
Entrants in 2018
Subjects :
Course must be related to the fields of finance and/or big data.
Schools :
No restrictions
What does it cover?
Duration of award :
1 year
Value of award :
£5,000
Tuition or maintenance award ?
Tuition fees
Number of awards available :
Up to 10 awards
How to apply
This scholarship is available for application through the Scholarships and Funding catalogue.
If you have applied to a Postgraduate Taught course beginning in the 2018-2019 academic year, you can access Scholarships and Funding through My Application.
If you are a current student at St Andrews, you can access Scholarships and Funding through MySaint. However, you should wait until after you have applied for your intended postgraduate programme before doing so, to ensure that the scholarship application is linked to that course.
Scholarship application deadline
11 April 2018
At what stage of my course application can I apply?
You must apply for a place on your chosen course at St Andrews before applying to the scholarship. You do not need to wait until you have received an offer of a place before applying for the scholarship.
When will I hear if my scholarship application has been successful?
The outcome of your scholarship application will be available on « View my applications » in Scholarships and Funding by early June 2018.
Dossier de candidature
---
Informations de contact
---