Bourses d'étude : Suède 2018 – The Swedish Institute
---
Type de bourse
Bourse d'études Niveau d'études
Master Date début de candidature
01 déc. 2017 Date fin de candidature
16 janv. 2018
---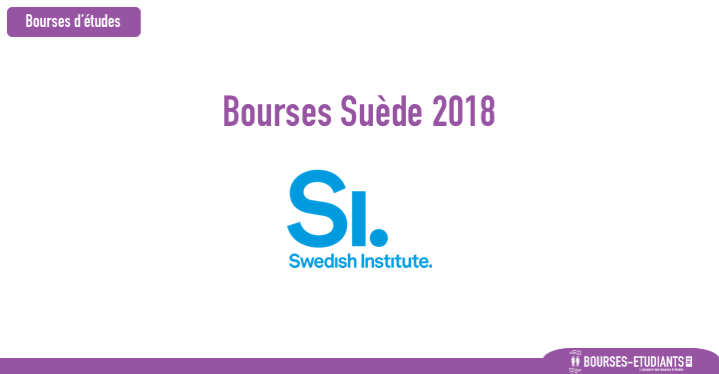 ---
Bourses d'étude : Suède 2018 – The Swedish Institute
The Swedish Institute Study Scholarships (SISS) are awarded to students from selected countries for full-time master's level studies in Sweden starting in the autumn semester 2018. The scholarships cover both living costs and tuition fees. An estimated 275 scholarships will be available.
Details
To apply for a SI scholarship, you must first complete your separate application to the master's programme(s) before the university deadline 16 January 2018. The application process and the selection criteria for the Swedish Institute Study Scholarships are separate from the application process to master's programmes at University Admissions. Note that you should also look for scholarship opportunities from your Government or from other sources in your country, as well as for opportunities from Swedish universities, since the competition for SI scholarships is very fierce.
Application procedure and key dates
The application process consists of two steps. The first step will take place 1 December 2017 – 16 January 2018 through an online application form. Successful candidates will be notified by the end of January 2017 (preliminary date: 25 January 2018), and asked to submit a detailed application for the second step 1 – 10 February 2018. The two-step application process aims at offering transparency in the selection criteria and to avoid students dependent on the scholarship from paying the application fee (SEK 900) to University Admissions in vain.
To be considered for a scholarship, you must first complete your separate application to the master's programme(s) before the university deadline of 16 January 2018. To be considered for a scholarship in the second step, you must pay your university admissions application fee (SEK 900) to University Admissions before 1 February 2018 (deadline for receipt of the fee). There is no application fee for applying for SI scholarships.
For the second step of the scholarship application you will be required to submit a Motivation letter, a Europass CV, a passport copy, one letter of reference and one proof of work experience. The documents must be in English. If any mandatory document is not used or completed in English the application is deemed ineligible.
Opportunity is About:
Administration & Government, Agriculture, Forestry & Animal Science, Architecture & Construction, Arts & Design, Biology & Chemistry, Computers & ITEconomics, Business, Management & Finance, Education, Energy, Engineering, Environment, Geography & Outer Space, History & Anthropology, Human Rights, International Affairs, Languages, Law, Media, Marketing & PRMedicine, Nursing & Psychology, Military & Security, Physics & Math, Politics, Religion, Society, Sport & Fitness, Theater, Video & Photography, Tourism, Transportation & Communication.
Description of Ideal Candidate:
Who we are looking for?
SISS is the Swedish government's international awards scheme aimed at developing global leaders. It is funded by the Ministry for Foreign Affairs of Sweden and administered by the Swedish Institute (SI). The programme offers a unique opportunity for future leaders to develop professionally and academically, to experience Swedish society and culture, and to build a long-lasting relationship with Sweden and with each other.
The goal is to enable the scholarship holders to play an active role in the positive development of the societies in which they live. Ideal candidates are ambitious young professionals with academic qualifications, demonstrated leadership experience and a clear idea of how a study programme in Sweden would benefit their country.
Priority will be given to applicants choosing study programmes with an emphasis on gender equality, sustainable development, democracy, human rights or poverty reduction.
Selection and eligibility criteria:
Applicants must be from an eligible country and have at least 3,000 hours of experience from full-time/part-time employment, voluntary work, paid/unpaid internship, and/or position of trust. Applicants must display academic qualifications and leadership experience. In addition, applicants should show an ambition to make a difference by working with issues which contribute to a just and sustainable development in their country, in a long term perspective.
Deadline: January 16, 2018
Dossier de candidature
---
Informations de contact
---