Bourses d'étude: Suède 2018 – Umeå University
---
Type de bourse
Bourse d'études Niveau d'études
Bac Date début de candidature
16 janv. 2018 Date fin de candidature
15 mars 2018
---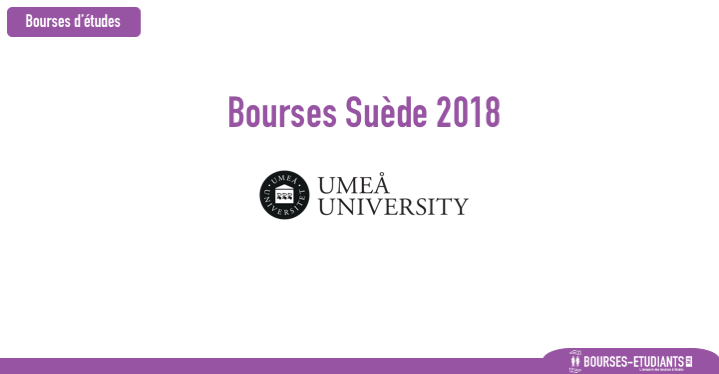 ---
Bourses d'étude: Suède 2018 – Umeå University
Umeå University offers scholarships to talented and high-achieving students from outside the EU/EEA.
SCHOLARSHIP APPLICATIONS
The scholarships application round for the 2018–19 academic year will open on 16 January 2018.
UMEÅ UNIVERSITY SCHOLARSHIPS FOR INTERNATIONAL STUDENTS
Umeå University offers scholarships each year, in conjunction with the Autumn term admission, to academically talented and high-achieving students. Scholarships offered are in the form of tuition-waivers. Selected candidates receive a full or partial waiver of the tuition fee.
Scholarship Application Eligibility
We welcome you to apply for scholarship if you have:
• A Umeå University programme as priority 1 at universityadmissions.se.
• Completed your study application before the application deadline
The selections are based entirely on the applicant's academic merit. A committee appointed by the Vice-Chancellor is tasked with selecting candidates for scholarships.
For autumn term 2017 intake, 42 scholarships overall were awarded to students from different disciplines, with an additional 20 students ranked in reserve.
APPLICATION TIMELINE
Scholarships offered by Umeå University
16 January 2018 – Umeå University Scholarship application opens
15 March – Scholarship application closes
6 April – Notification of Selection results
10 April – Umeå University Scholarship selection results announced
COST OF LIVING
The Swedish Migration Agency requires that students show that they can cover living expenses of SEK 8,064 per month in order to obtain a residence permit. Those who intend to study for one year or more must show that they can support themselves for 10 months per year.
Information from the Swedish Migration Agency about Residence Permits
Dossier de candidature
---
Informations de contact
---