Bourses d'étude Suède 2020 : Scholarships for International Students – Chalmers University of Technology
---
Type de bourse
Bourse d'études Pays
Suède Niveau d'études
Master Date début de candidature
01 nov. 2019 Date fin de candidature
15 janv. 2020
---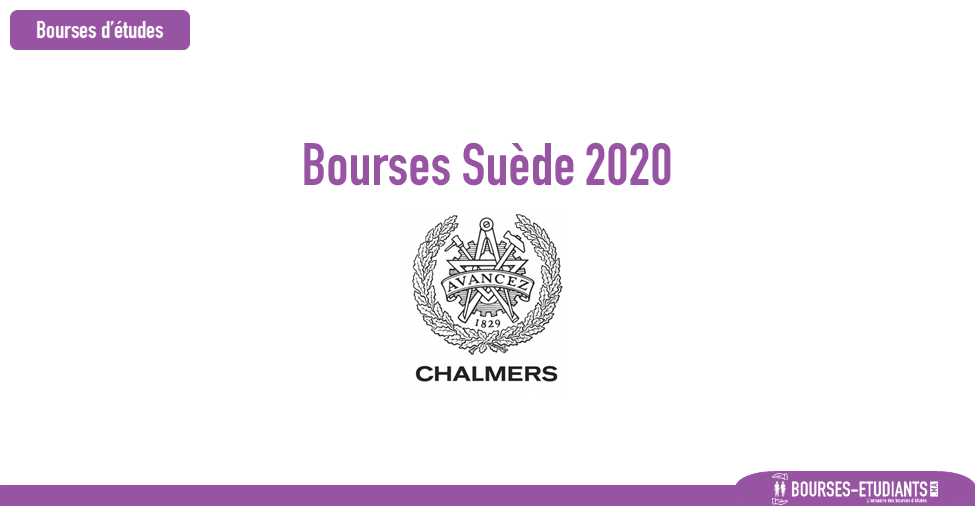 ---
Bourses d'étude Suède 2020 : Scholarships for International Students – Chalmers University of Technology
Chalmers University of Technology will be offering around 50 IPOET scholarships in 2020, funded by the Swedish Council for Higher Education, to prospective fee-paying students.
The university was founded in 1829 following a donation by William Chalmers, a director of the Swedish East India Company. He donated part of his fortune for the establishment of an « industrial school ». Chalmers was run as a private institution until 1937, when the institute became a state-owned university. In 1994, the school was incorporated as an aktiebolag under the control of the Swedish Government, the faculty and the Student Union. Chalmers is one of only three universities in Sweden which are named after a person, the other two being Karolinska Institutet and Linnaeus University.
Host Institution(s):
Chalmers University of Technology in Sweden
Level/Field(s) of study:
Unrestricted
Number of Scholarships:
50
Target group:
Citizens from non-EU/EEA countries
Scholarship value/inclusions/duration:
•  A 75% reduction of the tuition fees (4 semesters / 2 year programme)
• Students who excel during their first year of studies may receive an increased scholarship reduction, which covers 85% of the tuition fee during the second and final year of studies
•  No funds are transferred to the scholarship laureates
Eligibility:
• Citizens from non-EU/EEA countries who are required to pay tuition fees for Swedish university education
• 1st year Master's Programme applicants
The selection is based on the applicants' relative academic excellence, which primarily includes weighted average grade but also home university's stature (including position on global ranking lists) and priority order of the application for Chalmers Master´s programmes.
Application instructions:
Scholarship application opens on November 2019.
To apply, you must first make an online application to one or several Master's programmes at Chalmers at the website universityadmissions.se. Each applicant is assigned an 8 digit application number (from your application for Master's programmes at universityadmissions.se) and this number is required in order to complete the scholarship application. The deadline for scholarship applications is 15 January 2020.
Dossier de candidature
---
Informations de contact
---
Organismes proposant la bourse
Chalmers University of Technology Chalmers University of Technology is a foundation university with the board of the Chalmers University of Technology Foundation as its supreme decision-making body....