Bourses d'études : Suède 2018 – Chalmers University of Technology
---
Type de bourse
Bourse d'études Pays
Suède Niveau d'études
Bac Date début de candidature
12 déc. 2017 Date fin de candidature
15 janv. 2018
---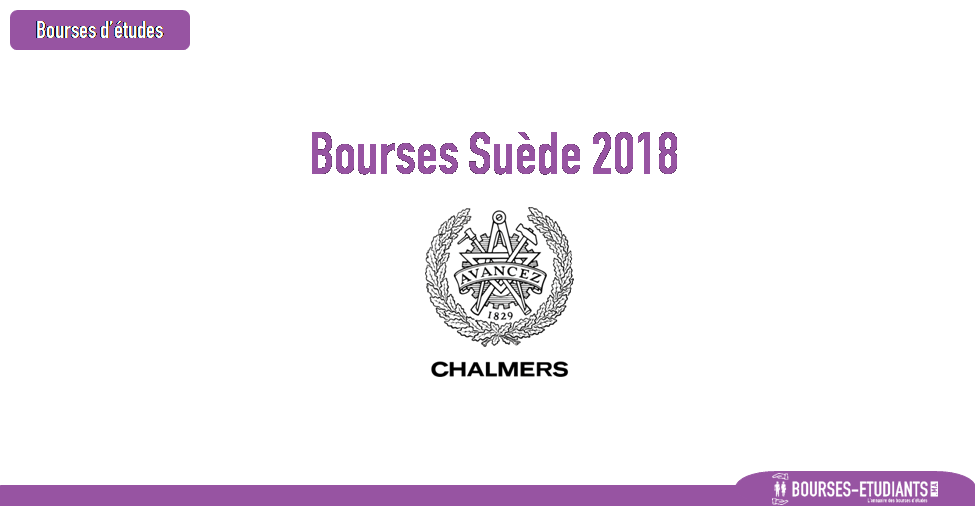 ---
Bourses d'études : Suède 2018 – Chalmers University of Technology
Description
Chalmers University will be offering around 50 IPOET scholarships in 2018, funded by the Swedish Council for Higher Education, to prospective fee-paying students. The scholarships are administered and awarded by Chalmers.
Selection
The selection is based on the applicants' relative academic excellence, which primarily includes weighted average grade but also home university's stature (including position on global ranking lists) and priority order of the application for Chalmers Master's programmes.
Fields of Study
Unrestricted – all of the current Master's programmes at Chalmers.
Available to
1st year Master's programme applicants
Citizens from non-EU/EEA countries who are required to pay tuition fees for Swedish university studies
Amount
A 75% reduction of the tuition fees (4 semesters/2 year programme)
Students who excel during their first year of studies may receive an increased reduction, which covers 85% of the tuition fees during the second and final year of studies
No funds are transferred to the scholarship laureates
Deadline: 15 January 2018
Scholarship application for the academic year 2018/19
The scholarship application is an online application, consisting of two steps. We encourage you to apply for scholarships as soon as possible, but no later than 15 January 2018, since this will greatly expedite the assessment process. However, there is no correlation between how early an application is made and the likelihood of receiving a scholarship.
Note, You must first make an online application to one or several Master's programmes at Chalmers at the website universityadmissions.se (see section 1-3 above). Each applicant is assigned an 8 digit application number (from your application for Master's programmes at universityadmissions.se) and this number is required in order to complete the application (step 2 below).
Step 1
Fill in and submit the request to require a personal link to the scholarship application form.You must make sure to use the same e-mail address as the one used in your application atunviersityadmissions.se
Step 2
Soon after you have submitted the request (step 1), you will be sent a personal link to the scholarship application form. Please note that it may take a few days until you receive the link. If you have not received it, please check your junk mail.
Make sure to have your 8 digit application number (from your application for Master's programmes at universityadmissions.se) at hand. This is of extreme importance, since your scholarship application is connected to your current application number on universityadmissions.se. The number will start with digit 1 and it is required in order to complete the application.
In this step you will also be prompted to submit a letter of (intent) motivation in your personal account at universityadmisisons.se. If you haven't done it already, be sure to do so before 1st of Februar
 Notification and mandatory confirmation requirement
Scholarship notifications will be sent out by e-mail by Chalmers between March and Mid-April.
In order to keep your scholarship offer, you have to confirm that you accept the offered scholarship. Instructions will follow in your scholarship offer notification. Make sure to confirm by the specified deadline.
 Related links
Scholarship regulations 2016 (pdf) for students awarded a scholarship managed by Chalmers
Dossier de candidature
---
Informations de contact
Tél
+46 (0)31-772 10 00
Email
redaktion@chalmers.se
Site web
www.chalmers.se
---
Organismes proposant la bourse
Chalmers University of Technology Chalmers University of Technology is a foundation university with the board of the Chalmers University of Technology Foundation as its supreme decision-making body. The university board  is responsible for the overal...