Bourses d'études : Allemagne 2018 – ESMT Berlin Business School
---
Type de bourse
Bourse d'études Pays
Allemagne Niveau d'études
Master Date fin de candidature
15 août 2018
---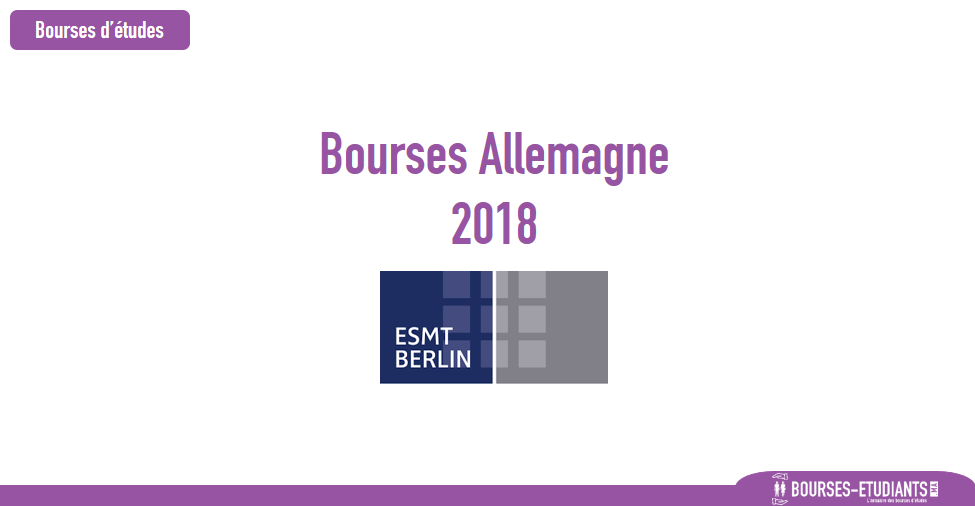 ---
Bourses d'études : Allemagne 2018 – ESMT Berlin Business School
The ESMT Master of Business Administration is a one-year, full-time international management MBA program. Focus areas include technology and innovation management, global sustainable business and entrepreneurship. Courses are taught in English at ESMT's campus in Berlin, Germany. ESMT accepts up to 70 talented professionals every year to join an intense program that runs from January to December. Students are given unparalleled opportunities for self-improvement and networking while learning to master global business administration from Germany's most international business faculty.
Awards available for outstanding candidates.
ESMT's MBA scholarship program helps make your goal of an international business career a reality. Supported by its 25 corporate founders, ESMT offers a number of partial-tuition scholarships for MBA applicants. Every year, there are also a limited number of prestigious full-tuition scholarships available.
Scholarships are allocated based on academic excellence, personal and professional achievement, particularly strong leadership potential, and superior interpersonal skills. MBA scholarships are restricted to self-funded candidates and are applied directly to the applicant's tuition.
To receive a scholarship, MBA candidates first fill out an online application to the MBA program. All applicants to the MBA program are automatically considered for any available scholarships.
Alumni Network Fellowship
The ESMT Alumni Network awards this scholarship to an outstanding applicant with a background in the non-profit sector planning to remain in non-profit after the MBA.
Number of Scholarships available: one
Value: Full tuition and fees
Eligibility:  Interested candidates must first be accepted to ESMT's MBA programs and express their interest in the scholarship when applying. In addition to a first degree, applicants must show several years of work experience in a non-profit organization and be committed to returning to the non-profit world. The deadline to apply is August 15.
Thank you for your interest in ESMT. By completing the form, you create your ESMT application. If you have already filled out the form, click here to login to your application or return to your VIP page.
To start your application for the Full-time MBA program, please follow this link.
Dossier de candidature
---
Informations de contact
---