Bourses d'études: Australie 2018 – Swinburne University
---
Type de bourse
Bourse d'études Pays
Australie Niveau d'études
Bac Date début de candidature
12 oct. 2017 Date fin de candidature
31 déc. 2017
---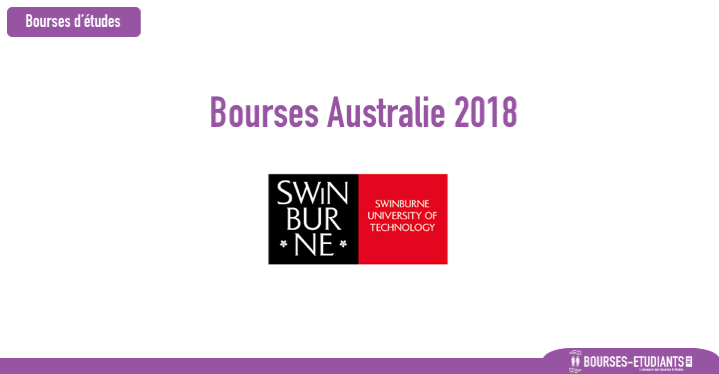 ---
Bourses d'études: Australie 2018 – Swinburne University
Swinburne International Excellence Scholarship – Undergraduate
Swinburne's undergraduate programs provide you with the opportunity to deepen your knowledge across a range of study areas, or specialise in one particular area.
High-achieving students who plan to study a bachelor program at Swinburne in 2018 may be eligible for this scholarship. These scholarships are awarded on academic merit.
---
Courses eligible
Any bachelor program or professional bachelor program.
Although no scholarship is offered on English language program (ELICOS) fees, students who commence ELICOS in any intake with a packaged offer to commence a bachelor program in 2018 will also be eligible for this scholarship.
---
Eligibility / selection criteria
You must be eligible for a bachelor program
You must commence your bachelor program in 2018
You must accept your scholarship offer within 4 weeks of offer date
Students who hold a conditional offer must accept their offer immediately after meeting their condition
You must not be:

A citizen of Australia or New Zealand, or hold permanent residency of Australia
Currently enrolled at Swinburne, unless you are enrolled in ELICOS only
In receipt of another form of scholarship or reduced fee arrangement
In receipt of any credit transfers or exemptions

Standard course progression rules apply. Scholarships will cease for students who do not meet standard course progression requirements
---
Value
Scholarships are valued at up to A$38,000.
Please note, scholarship amount will be distributed throughout the duration of your studies and will vary depending on your previous academic results.
---
How to apply
Students will automatically be assessed for a scholarship when applying for an eligible program at Swinburne. There is no need for a separate application.
Please visit our How to apply page for course application details.
---
Contact
Scholarship is open for 2017-2018 academic year
Dossier de candidature
---
Informations de contact
---