Bourses d'études : Australie 2018 – University of Sydney
---
Type de bourse
Bourse d'études Pays
Australie Niveau d'études
Bac Date début de candidature
21 juin 2018 Date fin de candidature
05 août 2018
---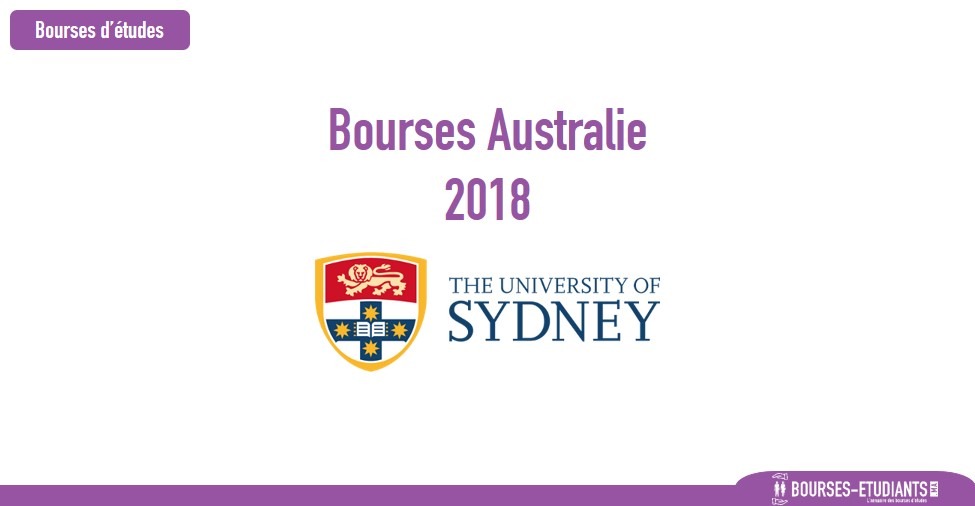 ---
Bourses d'études : Australie 2018 – University of Sydney
Bourses Maroc
LENDLEASE BRADFIELD URBANISATION SCHOLARSHIP
The Scholarship was generously donated by Lendlease and established in honour of John Bradfield who played a monumental part in shaping Sydney. The Scholarship aims to develop the potential of students and nurture Sydney visionaries who aspire to shape the city's future.
Open to :
Applicants can be either Australian citizens, Australian Permanent Residents, or International Students at the University of Sydney.
Students enrolled in their first or second year of an undergraduate degree in the following Faculties/University Schools:
Faculty of Arts and Social Sciences,
Faculty of Engineering and Information Technologies,
Sydney School of Architecture, Design and Planning,
University of Sydney Business School.
Applicants must be undertaking studies within one of the above listed faculties/University schools and interested in issues related to urbanism including without limitation, urban development, urban planning, urban design, project finance, project and/or facilities management and engineering.
Students must also have a Weighted Annual Mark (WAM) of 65. SAM for first year students – full-time.
Applicants cannot have studied more than 96 credit points in their degree program (including degree combined programs).
Selection Criteria :
The Scholarship will be awarded on the basis of:
academic merit, and
response to the advertised essay question:
What does success to Sydney's future as a global city look like to you? What is the greatest obstacle to it achieving that success and how would you overcome it?
Shortlisted applicants will need to make a 5 minute presentation using visual aids.
Applications will shortlisted by University of Sydney academic staff representing each of the above listed faculties/University schools. The final selection committee will consist of the same academic staff, the University Registrar or their nominees, up to two representatives from Lendlease and a media representative. The final decision rests with the University.
In acknowledgment of the Donor's intention to promote gender equality, the University will endeavour to award no less than 50% of the scholarships in each ten year period to female applicants
Value and Duration :
The Scholarship is valued at $10,000 per annum and is tenable for the full-time duration of the recipient's undergraduate program including combined degree programs.
The Scholarship annual value will be paid in two equal instalments after the census date of each semester.
Further Information and How to Apply :
| | |
| --- | --- |
| Application Form | Apply Here |
| Open Date | 21 June 2018 |
| Closing Date | 5 August 2018 |
The recipient may be invited to be an ambassador for the Lendlease Bradfield Urbanisation Scholarship and the University of Sydney.
The full Terms and Conditions for the Scholarship can be found here.
Dossier de candidature
---
Informations de contact
---