Bourses d'études : Canada 2018 – University of Alberta
---
Type de bourse
Bourse d'études Pays
Canada Niveau d'études
Bac Date début de candidature
01 oct. 2017 Date fin de candidature
18 déc. 2017
---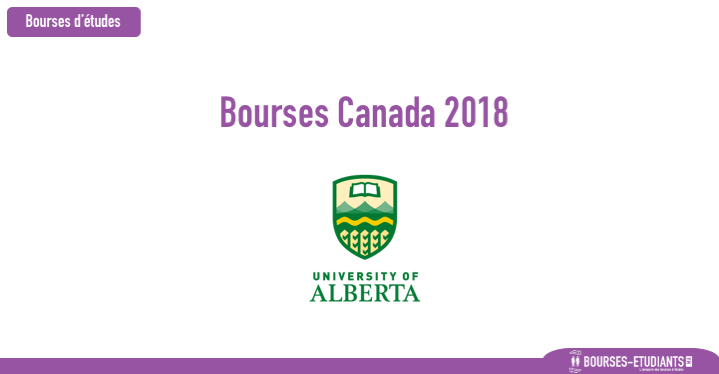 ---
Bourses d'études : Canada 2018 – University of Alberta
The University of Alberta offers a relatively affordable tuition and cost of living when compared with other major universities, as well as many scholarship opportunities for international students.
The University of Alberta provides millions of dollars in awards and scholarships to international students every year.
International Entrance Leadership Scholarship
Field of Study: Open
Value: $5,000
Quantity available: Up to 8
Conditions: Awarded to student(s) with superior academic achievement entering their first year of an undergraduate degree program and who are studying on a Study Permit. Selection based on leadership qualities as demonstrated by involvement in extracurricular and community activities and academic standing.
How to apply: In order to apply for scholarships, you must first apply for admission to a degree program at the University of Alberta. You will receive a CCID and password when you apply for admission and must use this to access the awards application. Students applying for this scholarship can apply through the Major International Entrance Scholarship in the application portal.
Need help applying? See Scholarship Application Tips
When to Apply: Applications for admission and awards open on October 1, 2017. The deadline to apply for awards, and for UAlberta to receive all supporting information, including reference contact information and transcripts, is December 18, 2017, by 11:59 p.m. MST.
Offers for this award will be made starting in March 2018.
Additional requirements:
Documentation required for admission must be submitted. This includes transcripts showing all completed courses and grades to date and proof of English Language Proficiency (see Transcript and Document Requirements). Make sure you send final or interim transcripts well before the award deadline.
Reference required. Please include complete reference contact information as indicated on the award application form.  We will only contact your references if needed.
Dossier de candidature
---
Informations de contact
---