Bourses d'études : Canada 2019 – Toronto School of Management
---
Type de bourse
Bourse d'études Pays
Canada Date début de candidature
01 mai 2018 Date fin de candidature
01 janv. 2019
---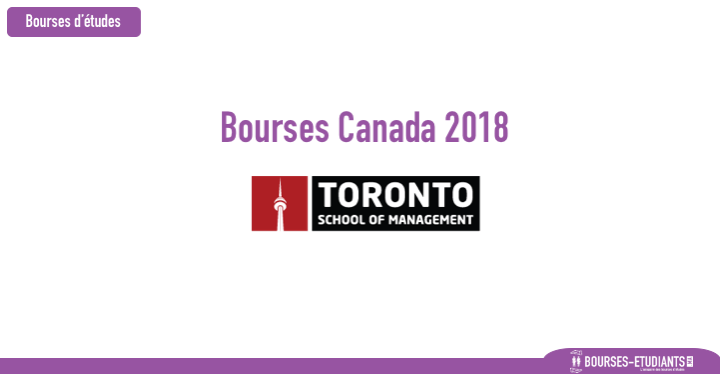 ---
Bourses d'études : Canada 2019 – Toronto School of Management
 Bourses Maroc
Bourses Maroc
Scholarships and bursaries are available for all of our programs and are open to new students applying this year. Both Domestic and International students who complete an application for future intakes will be considered for a partial tuition waiver for their first year of the program.
Scholarships and bursaries are assigned based on your previous academic performance, your future contribution in our community and your fit with TSoM, and will be paid towards your tuition fees at the start of your program. You may apply for our Scholarships and Bursaries in one of two ways:
You may send your scholarship application before starting your studies with us.
You may notify us of your wishes to apply for our Scholarships and Bursaries on anyone of our programs' application forms.
Please do note that students may only receive ONE (1) scholarship or bursary. We encourage students to review the conditions of each scholarship or bursary carefully and supply all required supporting documentation along with their applications.
ACCESS TO EDUCATION BURSARY
Applicable to domestic Canadian students, the Access to Education Bursary Program provides up to $14,500 to up to 200 deserving students each year. To qualify for the Bursary, applicants must demonstrate ONE of the following attributes:
An excellent academic background
Leadership in their past/current employment or within their community
Aspiration and willingness to contribute to the TSoM student and alumni community
Students may demonstrate any of the above attributes by producing evidence of their past academic achievements, providing references along with their applications, or writing a detailed Personal Statement attesting to why they should receive the Access to Education Bursary.
LOVE CANADA SCHOLARSHIP
Applicable to international students, the Love Canada scholarship provides up to $11,000 for diploma programs to up to 20 academically qualified students per intake (till September 2019). To qualify for the scholarship, applicants must demonstrate ALL of the following attributes:
1. Evidence of excellent (80%+) academic achievements (official transcript);
2. A resume including information demonstrating leadership within past/current employment and/or volunteering experience;
3. A 600-word essay expressing 'Why do you love Canada'? or 'Why have you selected Canada for your overseas study'?
DIVERSITY SCHOLARSHIP
This scholarship is for international students from around the world who are dedicated to pursuing and fulfilling their higher education and business goals.
The value of the scholarship will not be more than the value of your tuition. The scholarship amount will be paid towards your tuition fees at the start of your program.
Scholarship recipients are expected to act as ambassadors for TSoM. This means participating in outreach and alumni engagement initiatives in your home region once the scholarship is granted.
To be considered for this scholarship, applicants must provide their educational background documents at the time of applying to TSoM.
Dossier de candidature
---
Informations de contact
---