Bourses d'études : Chine 2018 – University of Electronic Science and Technology of China
---
Type de bourse
Bourse d'études Pays
Chine Niveau d'études
Doctorat | Master Date début de candidature
05 janv. 2018 Date fin de candidature
31 mars 2018
---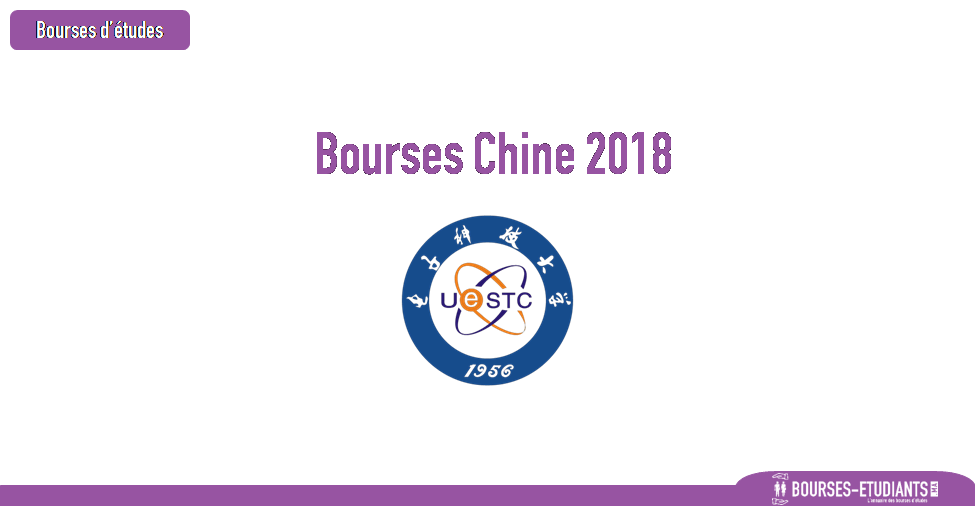 ---
Bourses d'études : Chine 2018 – University of Electronic Science and Technology of China
UESTC
I、Introduction to UESTC University Scholarship
Chinese University Program is a full scholarship for designated Chinese universities and certain provincial education offices in specific provinces or autonomous regions to recruit outstanding international students for graduate studies in China. It only supports graduate students. UESTC collaborates with this program.
Only available for graduate applicants.
 First class scholarship (Full scholarship): including tuition, accommodation on campus, medical insurance, and living allowance (1500 RMB/month); (available for master & PhD applicants)
 Second class scholarship (Partial scholarship): including tuition, accomodation on campus and medical insurance; (only available for PhD applicants)
Third class scholarship (Partial scholarship): including tuition and medical insurance; (only available for master applicants
II、Applicants
This scholarship is only for outstanding student who is coming for graduate degree study(Master & PhD degree programs) in UESTC. Scholarship students should complete their study within the set time; duration for scholarship specified in the Admission Notice cannot be extended in principle. (2 years formaster and 3 years for PhD)
III、Criteria & Eligibility
Applicants must be non-Chinese citizens and be in line with the qualifications of UESTC admissions;
Applicants should be healthy physically and mentally, can well adapt to the life and study in UESTC;
Applicants should abide by Chinese laws and regulations, and comply with UESTC regulations;
Applicants should be with positive learning attitude and good performance;
Applicants shall not win any other scholarship in the meantime;
Winners of the scholarship should be decided in the process of new student recruiting. Registered on campus students cannot apply for it. Any substitution or replacement of scholarship will not be accepted.
The applicant is obliged to truthfully fill out and submit application materials required by UESTC.
IV、Application Period
From December 20th to March 31st.
Dossier de candidature
---
Informations de contact
---