Bourses d'études : Chine 2019 – Nankai University
---
Type de bourse
Bourse d'études Pays
Chine Niveau d'études
Licence | Master Date fin de candidature
15 juin 2019
---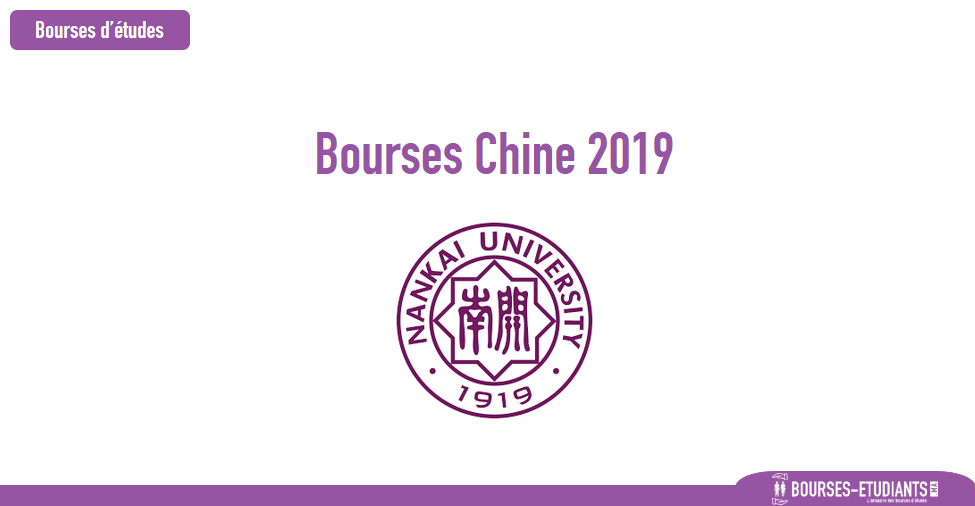 ---
Bourses d'études : Chine 2019 – Nankai University
The new Nankai University Scholarship is now available on offer to study Undergraduate as well as Master degree programs.  These scholarships are available Non-Chinese students.
Scholarship Provide: Nankai University is a public research university located in Tianjin, China. It is a Chinese Ministry of Education Class A Double First Class University. It was founded in 1919, by educators Yan Xiu and Zhang Boling.
Applicants whose first language is not English are usually required to provide evidence of proficiency in English at the higher level required by the University.
Degree Level: Scholarships are available to pursue undergraduate and postgraduate programme.
Available Subject: Scholarships are awarded to study any of the subjects offered by the university.
Scholarship Benefits: Scholarships amount:
Undergraduate: CNY 10000 /students/year
Master& PH.D: CNY 15000 /students/year
Eligible Nationalities: Applicant must be a non-Chinese citizen.
Entrance Requirements: Applicants must meet the following criteria:
Applicant must be a non-Chinese citizen.
Bachelor's degree applicants must have a high school diploma.
Master's degree applicants must have a bachelor's degree.
Doctoral degree applicants must have a master's degree.
Application Procedure: Nankai University Admittance
I. Submit application materials to the International Student Office prior to June 15th.
II. Interview (Informed by email).
III. Upon completing the application process and being formally accepted into Nankai University's programs, the applicant's information will then be submitted to the foreign student's admission committee for review. Only after being accepted to Nankai University can a student qualify for a scholarship.
IV. The International Student Section will announce scholarship results by the end of June.
V. Upon announcement, Nankai University International Student Office will mail applicants an Acceptance Letter as well as Form JW202 – Visa Application for Study in China and any other relevant documents.
Dossier de candidature
---
Informations de contact
---