Bourses d'études : États-unis 2017 – Mount Mercy University
---
Type de bourse
Bourse d'études Pays
États-unis Niveau d'études
Bac Date début de candidature
01 avr. 2017 Date fin de candidature
01 août 2018
---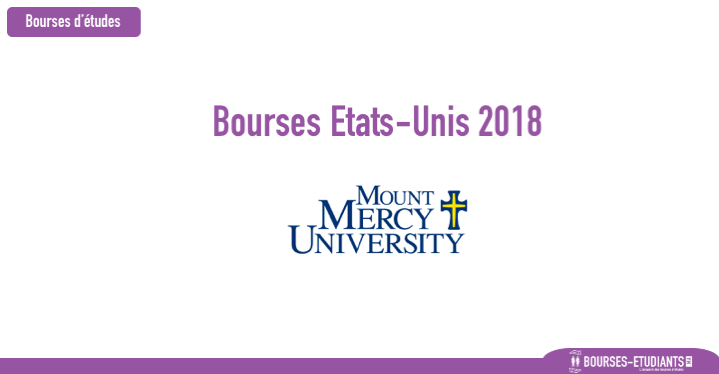 ---
Bourses d'études : États-unis 2017 – Mount Mercy University
Bourses Maroc
The University of Mount Mercy offers undergraduate scholarships each year to outstanding international students based on athletics, and special talents-music, drama, art, and writing. These scholarships are available for pursuing the undergraduate degree at Mount Mercy University in the USA.
The aim of the undergraduate Scholarship is to enable and encourage academically able international students.
Mount Mercy University, located in beautiful Cedar Rapids, Iowa, offers students a fulfilling education, promising people of all backgrounds solid preparation for a changing world. Our nearly 1,900 students come from around the globe, creating a vibrant, diverse and open-minded campus community.
Admission Guidelines
All required documents listed below must be on file by the following deadlines:
Fall Semester: August 1
Spring Semester: January 2
Strong consideration is given to applicants with the following:
Cumulative freshman grade point average of 2.75 or equivalent
Cumulative transfer grade point average of 2.50 or equivalent
Test scores from any of the following:*
TOEFL:  550 PBT, 213 CBT, 79 IBT
IELTS:  6
STEP:  Eiken (Grade 1)
PTE-Academic: Minimum score of 53 (no subscore below 51 for reading, listening, and speaking)
ACT:  Composite of 20 with subscores of 17 or higher
SAT: 1020 or higher* Test scores are waived for students completing Level 112 of ELS's English for Academic Purposes program or WESLI 700 level courses.
Students who do not meet the minimum grade point or test scores may still apply. The Admission Committee will review any files of those students who do not meet the minimum standards or who warrant concern. Any admission conditions and/or course recommendations will be determined on an individual basis by the Committee. If the student is an athlete, they must meet the guidelines to be eligible to play (per NAIA Article V, sections C and C.2).
---
How to Apply
A complete application file includes the following:
A completed paper or online application and personal statement
Official high school transcripts translated into English by a court-certified English Language Translator
Official college and/or foreign university transcripts (for transfer students) translated into English and evaluated by a foreign credit evaluation agency
Official scores from a Test of English Language Proficiency (TOEFL, IELTS, STEP Eiken, ACT or SAT)
Certification of funding sources (certificate of finance or letter with affidavit from bank)
A scanned copy of your passport to ensure we have the correct spelling of your name for SEVIS processing.  Please scan and email to [email protected] .
---
For Admitted Students

Once you are accepted, Mount Mercy will mail you an official admission letter and your I-20 form. With those two documents, your financial statement, and your passport, you can obtain an F-1 student visa from your nearest U.S. Embassy or Consulate.  The Office of International Student Recruitment and Integration will guide you through this process, and also provide helpful information on travel, packing, and preparing for your study in the United States.
‰ Submit your $200 enrollment deposit via Flywire – choose « Mount Mercy University ».  (Information on Flywire).  The deposit is $200 and saves your spot in the incoming class, allowing you to register for classes and reserve a space in the residence halls.
 Living on campus?  Be sure to fill out the residence life housing application.
---
Scholarships and Grants
Click here for a printable version of our scholarship opportunities and costs.
International Academic Scholarships  |  $10,000-$14,500
$14,500 – Minimum GPA of 4.0
$13,500 – Minimum GPA of 3.7
$12,000 – Minimum GPA of 3.0
$10,500 – Minimum GPA of 2.5
$10,000 – Minimum GPA of 2.0
Must be enrolled full-time to receive full award
Renewable annually for up to 4 years

International Residency Grant |  $3,500 
Must reside each year on campus
Renewable annually for up to 4 years

International TransferScholarship |  $1,000 
Available to international students transferring from a community college that has a guaranteed admission agreement with Mount Mercy.
Renewable annually for up to 4 years

Other Scholarships | amounts varies
Other scholarships opportunities include athletics, special talent, legacy, and honor/departmental awards.
Click here for more information.
Dossier de candidature
---
Informations de contact
---