Bourses d'études : Etats-Unis 2019 – NATA National Air Transport Association
---
Type de bourse
Bourse d'études Pays
États-unis Niveau d'études
Master Date début de candidature
27 nov. 2018 Date fin de candidature
28 déc. 2018
---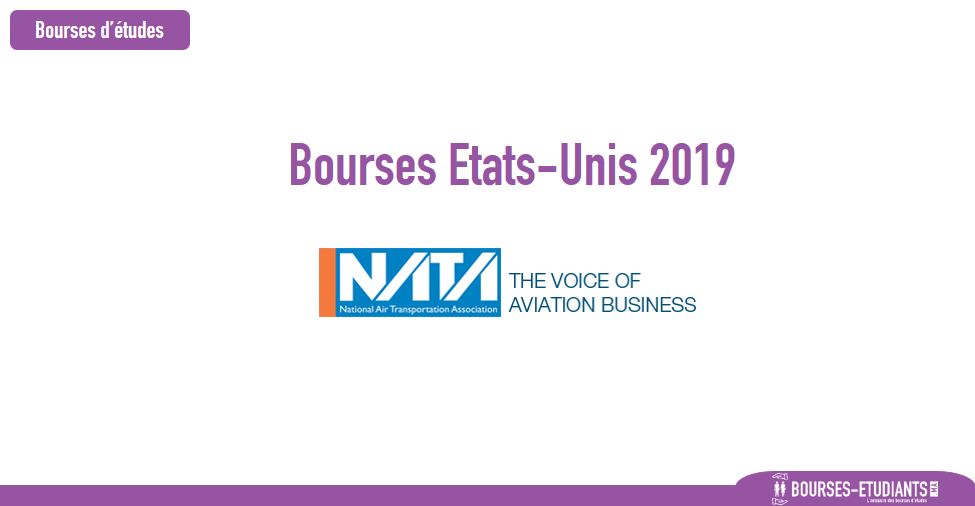 ---
Bourses d'études : Etats-Unis 2019 – NATA National Air Transport Association
NATA Business Scholarship, 2019 is offered for Bachelors, Diploma, Training & Short courses degree in the field of Aviation or pilot certification. You can apply to this scholarship here. The deadline for the sending your application is 28 Dec 2018. This scholarship is provided by National Air Transportation Foundation (NATF) and the value of this scholarship is Partial Funding, $2,500 . This scholarship is open for: Open to all nationalities.
The National Air Transport Association is offering scholarships to employees of NATA member companies to continue their education.
Eligibility for NATA Business Scholarship, 2019:
The studies should be directly related to furthering the skills applicable to working at an FBO, charter company maintenance facility or flight school.
The applicable training includes maintenance program under the aegis of Part 147 or 65, pilot certificate or rating under Part 61 or 141, or any aviation-related two-year, four-year or graduates degree program at an accredited college or university.
The candidates applying for NATA Business Scholarship, 2019 should be at least 18 years of age.
 The applicants are required to be nominated by a Regular or Associate Member Company's representative.
The candidates should have a commitment to general aviation.
The applicants must have a Student Pilot Certificate (or higher), a third-class medical certificate if they are applying for pilot certificates or ratings.
Documents Required:
The candidates applying for this scholarship, 2019 should submit two recommendation letters and an essay or resume of maximum 500 words.
Value of NATANATA Business Scholarship, 2019:
The recipients of the scholarship, 2019 get $2,500.
Deadline for NATA Business Scholarship, 2019:
The deadline for 2019 Applications is 28th December 2018.
Dossier de candidature
---
Informations de contact
---