Bourses d'études : Flensburg 2019 – University of Flensburg
---
Type de bourse
Bourse d'études Pays
Allemagne Niveau d'études
Master Date début de candidature
01 sept. 2018 Date fin de candidature
30 sept. 2018
---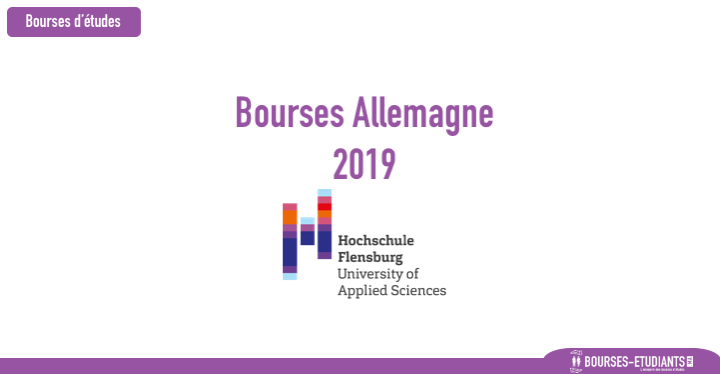 ---
Bourses d'études : Flensburg 2019 – University of Flensburg
Bourses Maroc 2019 
Situated on the German-Danish border at the end of a beautiful fjord, Flensburg, a city of seafarers and traders, is more than 700 years old. With its quaint alleyways and picturesque courtyards, Flensburg exudes a charm of its own – open to the world, but still on a human scale. A 10-minute bus ride takes you from the centre of the city to the campus. The campus, which the university has shared with the Flensburg University of Applied Sciences since 2002, offers all the facilities expected of a modern university, including student accommodation. The Energy and Environmental Management course is part of the Interdisciplinary Institute for Environmental, Social and Human Studies, which is located on the campus, just a 15-minute walk from the city centre.
Founded in 1946, Europa-Universität Flensburg is a small, young university with approximately 5,000 students. It is innovative and international, offering programmes in different fields of education science and management. The compact campus and the size of the university allow students direct and easy personal contact to both lecturing and administration staff.
Course focus :
Solving the problem of climate change and eradicating extreme poverty are the two big challenges of the 21st century. The energy sector is one of the key sectors that need to achieve sustainable development and growth, within both developing and industrialised countries. The 7th Sustainable Development Goal has been adopted by the UN in September 2015 to "ensure access to affordable, reliable, sustainable and modern energy for all" and is a guiding principle for the EEM programme.
Sustainable energy systems for social and economic development are therefore the focus of the 18-month Master's programme "Energy and Environmental Management in Developing Countries". The course of studies leads to the degree of a "Master of Engineering in Energy and Environmental Management" (Industrial Engineering). This degree entitles its holder to the professional title of "Wirtschaftsingenieurin" or "Wirtschaftsingenieur", which is legally protected in Germany.
The programme qualifies professionals to work in key positions of the energy industry, governments, NGOs and international organisations. It offers training in energy and environmental economics, energy technology and energy management. Since the programme specifically addresses developing countries, special emphasis is on improving access to modern energy services based on renewable energy, energy planning and project management while considering equality, sustainability and fairness.
Target group
Engineers and industrial engineers with work experience in the energy sector
Entry requirements
BEng or equivalent university degree after a minimum of four years of studies.
• Professional experience of at least two years in a field related to the course focus.
• Proficiency in the English language: TOEFL (80 iBT), IELTS (Band 6) or equivalent.
• Students with a technical engineering degree not having a proven qualification in economics must participate in a 2-month preparation module (bridging course) on economics, which begins in January every year at the university.
• For applicants without adequate knowledge of German, a German language course begins in January every year at the university (plus lessons accompanying the course thereafter). Participation is compulsory for DAAD scholarship holders
Degree awarded Master of Engineering (Industrial Engineering) in Energy and Environmental Management
Deadline : 30 September 2018
Contact:
Phone: +49-(0)461-805-25 03
Fax: +49-(0)461-805-25 05
Email: [email protected]
Website: www.uni-flensburg.de/eem
Dossier de candidature
---
Informations de contact
---